Samsung outs five NX Series lenses: super-zoom, pancake & more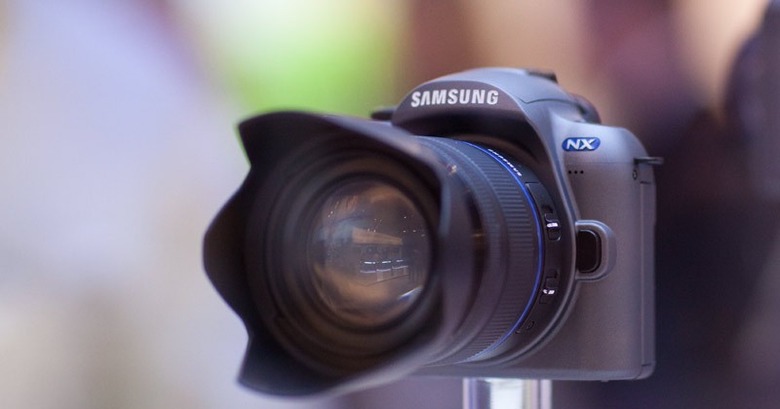 We may receive a commission on purchases made from links.
Samsung has announced a five-strong line up of new NX Series interchangeable lenses, doubling the options on offer for cameras like the NX Hybrid. Among the new array is a 18-200mm multi-purpose Long Zoom Lens and a 16mm F2.4 Ultra Wide Pancake, as well as a macro lens, portrait lens and a standard zoom.
The 60mm Macro Lens packs optical image stablization – as on the 18-200mm and 16-80mm – together with a Super Sonic Actuator (SSA) for faster, quieter auto-focus. As for the 85mm F1.4 CSC portrait lens, that has full time manual focus.
Finally, the 16-80mm Advanced Standard Zoom throws in OIS and Voice Coil Motor (VCM) autofocus. The five lenses will be released between May and December – see the table below for more details – with pricing tba.
Press Release:
Samsung Launches New 2011 NX Series Lens Line Up

NX Series further strengthened with launch of five new lenses, allowing every photographer to create professional quality images

SEOUL, Korea – February 21, 2011 – Samsung Electronics Co., Ltd, a global leader in digital media and digital convergence technologies, today announced five innovative new lenses for its NX camera system. The new lenses bring more premium innovation to the range, featuring class-leading technology such as a premium portrait lens and lenses for movie capturing, opening new creative avenues for NX users to explore.

All of the lenses are compatible with Samsung's unique i-Function system, which helps users create powerful effects easily through quick and convenient controls. The new launches, along with the five lenses released in 2010, mean that there are now 10 high-performance lenses available for the NX system, making this one of the most comprehensive ranges available in the Compact System Camera (CSC) market. Samsung's new lenses have been created to allow users to maximize the potential of their NX system cameras, achieve professional-looking results and enjoy taking photos whatever their level of photography experience.

The new lens range includes Samsung's 18-200mm multi-purpose Long Zoom Lens. This model features modes which are optimized for creating high-quality movie content with a single lens. The new long zoom lens also has a fast, silent Auto-Focus due to Samsung's use of Voice Coil Motor (VCM) technology, so users can capture important events without recording the sound of the camera's AF. The lens also features Optical Image Stabilization (OIS) to cancel out any hand movement and deliver crisp, clear images, even when a subject is far away.

Samsung has also launched a light, compact 16mm F2.4 Ultra Wide Pancake Lens. The bright aperture of this lens helps to capture wider images even in low light, and deliver a shallow depth of field. The new lens' compact size and sleek design make it the perfect companion to the stylish NX camera range, and its ultra wide angle is ideal for taking landscape shots and deep perspective pictures.

For the ultimate in super fast and silent Auto Focus, Samsung's new 60mm Macro Lens features a Super Sonic Actuator (SSA) to deliver a fast, quiet Auto-Focus and also has an Optical Image Stabilization so users never have to miss the timing of that perfect close up shot. For more advanced photographers, the lens offers the ability to manually fine-tune focusing using the Full-Time Manual Focus.

The Premium Portrait Lens also launched today is the ultra bright 85mm F1.4 CSC lens, designed for professional photographers. This lens also includes the SSA to provide a fast and silent Auto-Focus. Like Samsung's 60mm Macro Lens, the 85mm Premium Portrait Lens also includes the Full Time Manual Focus, giving advanced photographer's greater control over their preferred settings. The bright F1.4 lens offers the ideal solution for capturing perfect and professional looking portrait pictures of friends or loved ones.

Samsung's 16-80mm Advanced Standard Zoom Lens is optimized for taking great movies and still shots. Like the 18-200mm long zoom lens, it has a fast, silent Auto-Focus and Optical Image Stabilization. To make capturing great footage easy in any situation, the lens includes VCM modes ranging from landscape to portrait.

"At Samsung we are committed to ensuring that we remain at the cutting edge of imaging technology, and these five new lenses are testament to that ambition and the growing strength of compact system camera photography," said Mr. Hyunho Chung, executive vice president and head of the Digital Imaging Business, Samsung Electronics. "These are products that a professional photographer would be proud to use, but we make them so easy to use that a novice could get amazing results every time, and that is a credit to our strong R&D team. We are continuing to innovate in this exciting market and we have more significant developments planned for the future, which will add to our growing strength in the compact system camera market."