Samsung Notebook 9 Pro released with lesser specs than "Pen"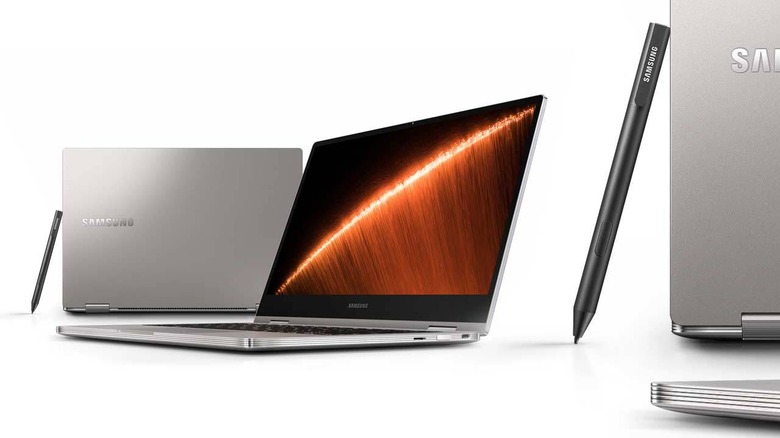 The Samsung Notebook 9 Pro was announced to have a release date and a price, at last, after its initial showing at CES 2019. This device was revealed alongside a relatively close piece of hardware called Samsung Notebook 9 Pen. What's strange about these devices is the fact that all models have the ability to work with a stylus – it's just that the Pen model has an official S Pen while the Pro uses an "Active Pen".
The Samsung Notebook 9 Pro has a 13.3-inch Full HD display with 6.7mm bezel and a brightness of up to 350nits. That's just a TINY bit more impressive than the Pen version of the device, which comes with a 13 or 15-inch display. The Pro rolls with an 8th-gen Intel Core i7 processor (8565U) and either 8GB or 16GB LPDDR3 RAM.
Two versions of the Notebook 9 Pro exist, both with the same display. The lesser of the two has 256GB PCIe NVMe internal storage, while the grander has 512GB. Both come with the same processor and the RAM mentioned above, amounts respective: smaller to lesser, larger to the one more grand.
Both devices weigh in at approximately 2.84 lbs, and both have the same dimensions of 12.1 x 8.1 x 0.55-inches. The Notebook 9 Pro comes with 2x Thunderbolt 3 ports, 1x USB-C port, one combo headphones/mic jack, and one microSD card slot, regardless of configuration.
This notebook line is made with aluminum and glass, comes with an HD Camera above its display, and has 2x 1.5W speakers. A fingerprint reader is included with this notebook, as well as a fully backlit keyboard.
The lesser of these two configurations of Samsung Notebook 9 Pro will cost the end user approximately $1,100 USD. The grander will cost around $1,300 USD, and let no person make the mistake of believing that the word "Pro" means a device more impressive than a device in the same brand with the name "Pen." I mean really. Look at the Samsung Notebook 9 Pen full details if you do so dare – don't be too shocked!