Samsung Notebook 9 Pen released online only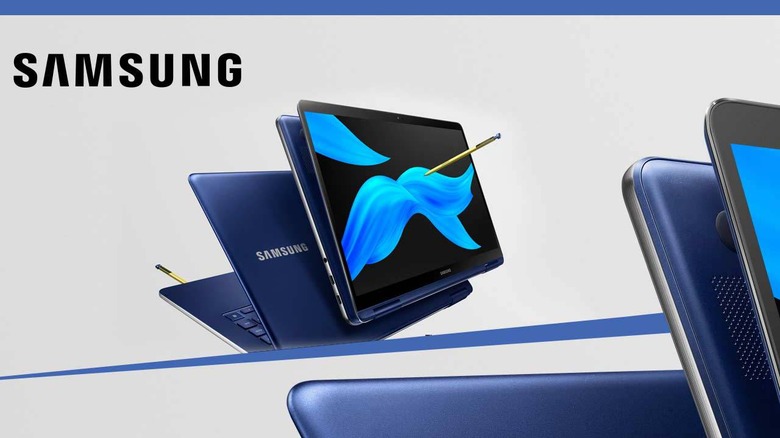 Those waiting for the newest Galaxy Note-like device with an S Pen will find it in the Samsung Notebook 9 Pen. Meanwhile the Samsung Notebook 9 Pro looks about as sleek and refined as any Samsung notebook has ever before. Both devices were first revealed back at CES 2019. Both devices are now set to be available on March 17th, 2019.
The Samsung Notebook 9 Pen has a 13-inch display with Full HD resolution and up to 500 nits brightness. This machine has an Intel Core i7 processor under the hood (8565U) and Intel UHD Graphics 620. This notebook has 8GB LPDDR3 RAM and storage at 512 GB (PCIe NVMe SSD).
This notebook runs Windows 10 Home and can be locked with both Facial recognition and fingerprint recognition. Ports around the edges include 2x Thunderbolt 3, 1 USB-C, one Headphones/Mic combo jack, and a card combo slot for UFS and microSD cards.
This machine has a backlit keyboard and a built-in S Pen you may recognize. It's delivered with the same yellow body as the Galaxy Note 9, which was also released in a tone of blue just like this notebook. Base configuration of this notebook comes in at approximately $1,400 USD.
The Samsung Notebook 9 Pen is also available as a 15-inch display-toting machine with either internal or external graphics. The 15-inch display still has Full HD resolution, though – so you're really not getting a significant amount more bang for your buck there.
You're really going to want to look to the graphics, which ramp up to an NVIDIA GeForce MX150 (2GB) on the highest end. That external graphics solution brings the notebook's price up to right around $1,800 USD. That, again, is with the 15-inch display instead of the 13-inch, but with the same processor and pretty much all the same features otherwise.
The Samsung Notebook 9 Pen will be made available starting on March 17, 2019. It'll be sold on Amazon and at Samsung's online store at that time. This device may be available for sale at additional locations in the future, but for now it's online only.