Samsung Music Hub beta release hands-on
This week the folks at Samsung have allowed a select few to get a hands-on experience with their brand new Music Hub, an application which will at first only be available on the Samsung Galaxy S III. This application is at first glance a mix between each of the greater streaming music applications out there: Google Music and Spotify seeming particularly comparable. When you get in deep, though, you'll find that it's not only the nicer bits of each of the top brass music apps on the market, it's got a pretty nice overall feel as well.
This application will open up to a grid of selectable sections for you on your smartphone – there's no tablet version yet, but we're hoping in the near future this app will be blasted to all Samsung devices. You'll need to sign in with your Samsung account (the same you use for your Media Hub) and, if you want, your 7digital music account as well.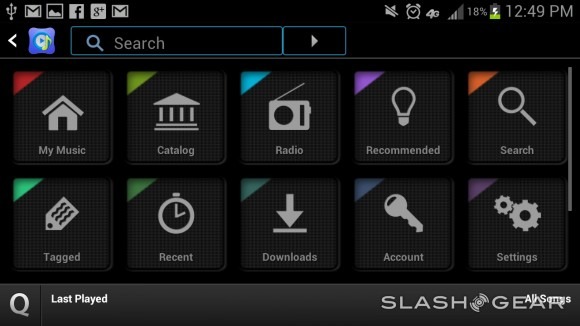 The grid consists of 12 different options:
• My Music
• Catalog
• Radio
• Recommended
• Search
• Tagged
• Recent
• Downloads
• Account
• Settings
• Help
• About
This menu brings you not only streaming access to songs you've uploaded from your desktop of laptop via Samsung's servers, it will play music that's currently housed on your phone as well. You can also get streaming tunes from Samsung's catalog with 7digital, add these tracks to an offline playlist if you've got a premium account, or download albums for a fee. You can also access a massive amount of internet radio stations. If you're unsure of what you want to work with, start by browsing the Catalog.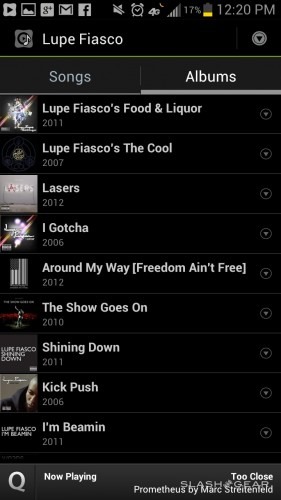 There you'll see a selection of musical genres, one of which you must choose. Inside each genre you'll see the music split up by Artist, Album, and Song. Some songs are playable all the way through while some, like Hugh Laurie's tunes, are limited to 30 seconds unless you opt to purchase.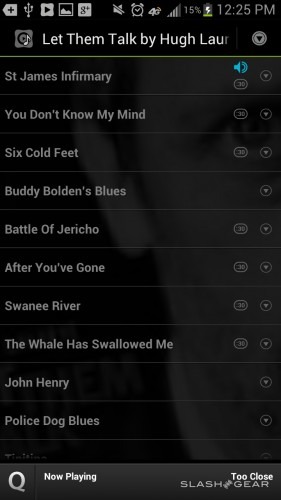 In My Music you'll find all of the tunes you've got on your device, streaming from your Samsung account, and music you've purchased – as well as music you've added to your streaming collection via 7digital. In other words, you've got music from so many places you wont know what to do with it all. Here you'll have tunes split up by Albums, Artists, Playlists, and of course you'll have "All Songs" as well.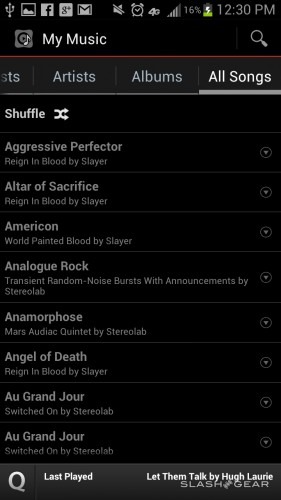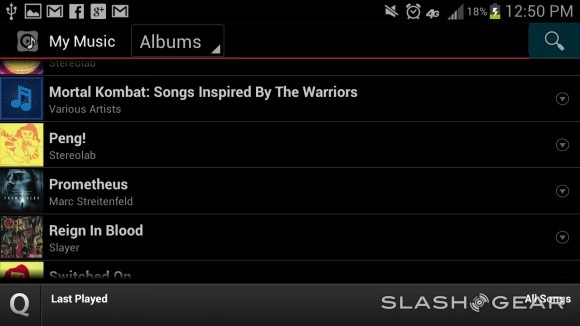 These albums are split up by name or, if you're looking at an album list, by name and album cover – where applicable. You can access this music also from the Music Hub website that Samsung will be launching alongside the app. From the site you'll also be able to upload music to Samsung's servers. In this way you'll find this application ecosystem to be very similar to Google Music.

Music uploaded to the site (and subsequently accessible by you from your Galaxy S III) automatically has formatting for albums and brings up album covers where Samsung is able to detect them. You can also add album covers and do some arranging here if Samsung wasn't able to go the mile you wanted.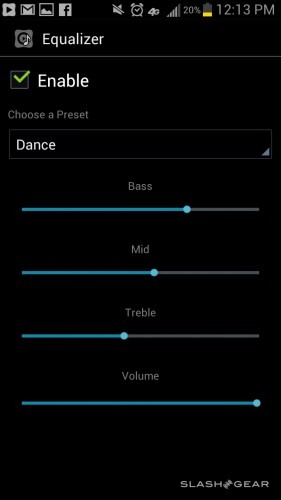 You can tag you music, you can see recent tunes in the app, you can track your downloads, do some basic equalizing, search for tunes (both in the catalog and in your own library at once) and you can adjust your settings galore. The best part of the whole show is the actual Currently Playing screen. Why? Because it looks great and you can switch back and forth from track to track with a swipe of your finger, just like Spotify but looking just a little bit more like iTunes – and all of it in the end looks pretty darn good together.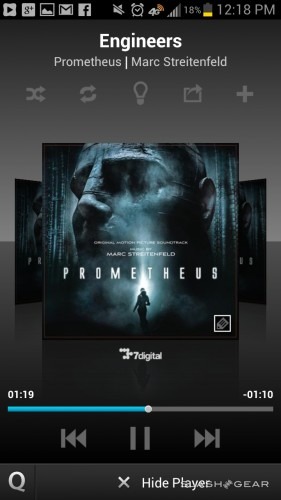 This app, subscriptions, premium accounts, the website, and everything else will be available to Samsung Galaxy S III users SOON. Until then, think about how long it'll take you to transfer everything over from Google Music. It might be worth the time spent!