Samsung Mobile Displays aim for AMOLED top-spot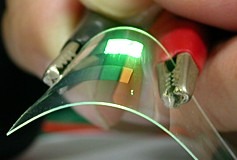 Samsung's Mobile Display division have reiterated their focus on AMOLED technology this week, with project CEO Ho-moon Kang making bold predictions about his organisation's position in the sector.  Speaking at his inauguration on Tuesday, Kang announced that "with [our] AMOLED business, Samsung Mobile Display will seize the worldwide display market."  The newly-appointed CEO is one of those to profit from Samsung's recent company reshuffle, which saw the mobile display division spun off from Samsung SDI.
In December, Samsung SDI slipped to second place for the overall OLED shipments, trailing 10-percent behind rival RiTdisplay in raw figures.  However despite the lower market share, the company made more money from their business, thanks to AMOLED's comparatively high selling price.  Only weeks earlier, Samsung SDI had announced its intention to cease PMOLED development, a less expensive version of OLED technology.
Samsung Mobile Display's split from Samsung SDI comes as SDI announced net profits of 38.9 billion won ($28.28 million) in 2008, a sharp turnaround from its $430m loss in 2007.  Samsung has formed two new groups of "good" and "bad" performing divisions, and made sweeping changes to its executive-level management.