Samsung knocks Nokia from global phone top-spot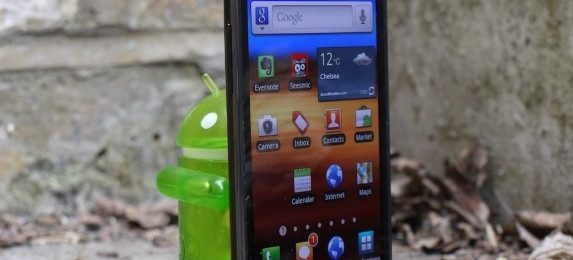 Samsung has ousted Nokia from the cellphone top-spot, taking the number one position in handset sales worldwide, according to research firms. New figures from IHS iSuppli and Strategy Analytics confirm that Nokia has finally slipped from its perch at the top of the cellular tower, the company's dwindling sales over the past few quarters driving it down to 22.5-percent marketshare in Q1 2012; in contrast, Samsung took 25.4-percent of the worldwide mobile phone marketshare in the same period, while Apple's stellar iPhone sales recently have pushed the company to 9.5-percent of the global marketshare.
"[Nokia's] volumes were squeezed at both ends, as low-end feature phone shipments in emerging markets stalled and high-end Microsoft Lumia smartphones were unable to offset the rapid decline of Nokia's legacy Symbian business" Strategy Analytics executive director Neil Mawston said of the new figures. "Nokia was the world's largest handset vendor between 1998 and 2011, for 14 years, before finally yielding top position to rival Samsung this quarter."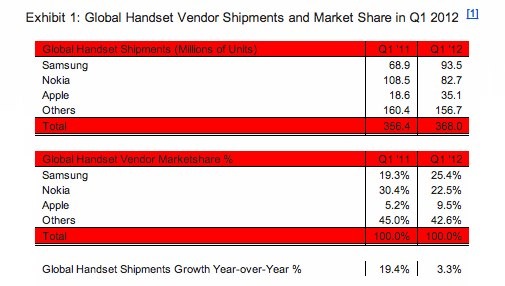 In smartphones, quarterly growth was down across the board: Apple dipped 5-percent from Q4 2011 to Q1 2012, and Samsung dropped 11-percent. Nokia and RIM led the fall, however, with dives of 39-percent and 21-percent respectively, while LG struggled with a 19-percent drop. Holiday sales are often cited as the key reason for a successful Q4 versus a difficult following quarter, but not all product portfolios are created equal and both Apple and Samsung have succeeded with broadly different strategies. Apple has a few, focused devices that it puts all its efforts behind, keeping the smartphone shipments top-spot this past quarter, while Samsung takes a wider approach, with a large selection of devices with minor differences for each price and usage point.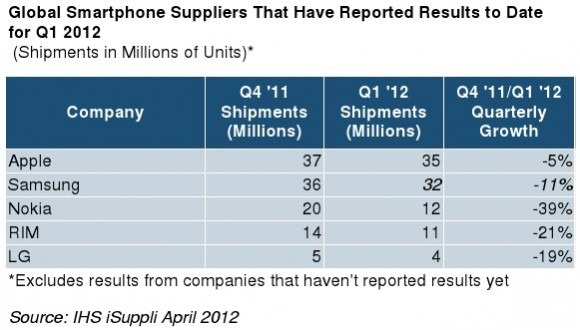 Nonetheless, in cellphones overall, the market contracted from Q4 2011, with Nokia, LG and RIM still looking the least stable of the top firms. It's worth noting that none of these figures include Motorola Mobility yet, as they're based on the stats currently reported.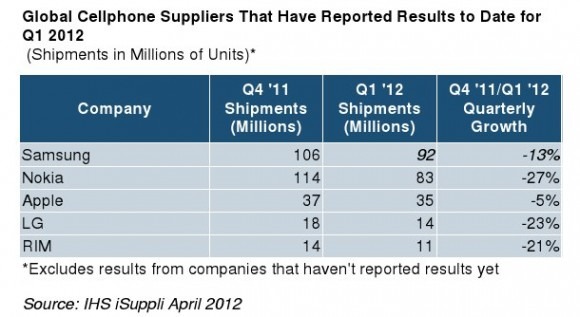 Overall, then, the mobile phone market is looking cautious. Despite the position shuffling at the top of the chart, overall handset sales grew only 3.3-percent worldwide; Strategy Analytics estimates 368m unit sales, while IHS iSuppli claims smartphone shipments are the only part of the industry which will grow in 2012. The company estimates global smartphone shipments will rise by 35-percent overall this year, all other segments declining, with predictions that the overall cellphone business will grow by 7.4-percent by the end of the year.