Samsung Instinct S30 Gets Official: $130 From April 19th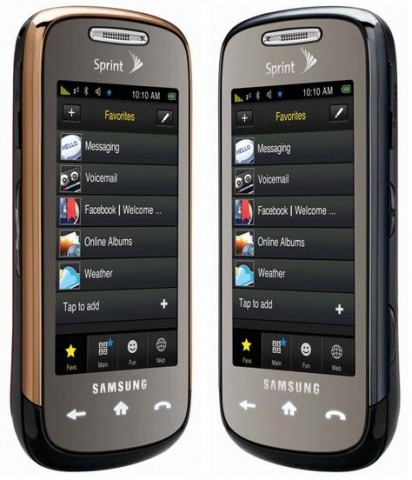 After their Korean cousins flaunted it yesterday, Samsung USA and Sprint have officially announced the Instinct S30, follow-up to the best-selling Instinct touchscreen phone.  The Samsung Instinct S30 has a 3.2-inch touchscreen, 2-megapixel camera, GPS and Bluetooth 2.0, as well as the Opera Mini 4.2 browser, speech-control (which Sprint are calling Speech to Action) and a new on-screen QWERTY keyboard.
There's also access to Live Search for Sprint, Visual Voicemail, Sprint TV and the Sprint Music Store.  Samsung even add two preloaded games: Guitar Hero – World Tour and Are You Smarter Than a 5th Grader. 
The Samsung Instinct S30 will be a more flexible device for developers, too, with access to the core Java APIs for messaging, multimedia and Bluetooth, together with contacts/calendar and file access.  Those same APIs will be rolled out to the original Instinct through an OTA update over the next few months. 
You'll be able to pick up the Samsung Instinct S30 in either Cobalt Metal or Touch of Copper from April 19th.  It's priced at $129.99 with a two-year contract, and pre-registration is open now.
Press Release:
Samsung Instinct s30, Exclusively from Sprint, Adds Attractive Styling, Instant Messaging, Improved Web Experience and Enhanced Open Development Capabilities to Popular Instinct

All the Best of Award-Winning Instinct, Including Visual Voicemail, Speech to Action with GPS Integration, Full Touch-Screen and the Speed of America's Most Dependable 3G Network, Coming Soon on New Instinct s30

Samsung Instinct s30 Fact Sheet (pdf)"

LAS VEGAS–(BUSINESS WIRE)–Mar. 31, 2009– Sprint (NYSE:S) and Samsung Telecommunications America (Samsung Mobile) today announced the upcoming availability of Samsung Instinct® s30™, a successor to the iconic Samsung Instinct touch-screen phone that made its debut last summer exclusively from Sprint. Instinct s30 offers full touch screen functionality and the broadband speeds of America's most dependable 3G network.*

Instinct s30 raises the bar with built-in instant messaging, an improved Web-browsing experience through both the default browser and Opera Mini 4.2 as well as the popular games "Guitar Hero® – World Tour" and "Are You Smarter Than a 5th Grader" preloaded to keep consumers connected and entertained while on-the-go. Instinct s30 offers a thinner streamlined design for a smoother feel in the user's hand with two color options – Cobalt Metal or Touch of Copper.

Advanced features balance business and personal needs

Instinct s30 is ideal for customers looking to simplify and increase the productivity of their business and personal lives with quick access to corporate calendar functionality via Microsoft® Outlook®. Sprint Mobile Email Work provides access to corporate email, contacts and calendar from Microsoft® Exchange Server 2000, 2003 or 2007 accounts, or IBM Lotus Domino accounts at no additional charge.

Like its predecessor, Instinct s30 has the following industry-leading features:

Expansive touch-screen featuring localized haptic feedback giving users a gentle vibration as they use the virtual QWERTY keypad

Live Search for Sprint, powered by Microsoft, provides easy access to directory information on-the-go, GPS-enabled directions, interactive maps and one-touch click to call access

Visual Voicemail, allowing users to listen to messages in their order of preference and manage them with a simple tap of the screen

Sprint TV®, with an extensive selection of channels and on-demand programming

Sprint Music Store, allowing users to browse and wirelessly download full-length songs directly to their phone for just 99 cents each

Advanced stereo Bluetooth® 2.0

SMS voice and text messaging with threaded text

True HTML Web experience from both the enhanced embedded browser and the addition of Opera Mini 4.2 with a desktop-like browsing experience

2.0 megapixel camera with camcorder

Instinct s30 offers a Speech to Action button, which provides many functions using voice activation including call, text, picture messaging, traffic, movie, sports, news and search. Speech to Action brings the user seamless integration with Sprint Navigation, powered by Telenav, with GPS-enabled audio and visual turn-by-turn driving directions, one-click traffic rerouting and more than 10 million local listings.

"Samsung Instinct s30 is proof that it is possible to improve on even one of the most successful mobile phones," said Bill Ogle, chief marketing officer for Samsung Mobile. "Instinct s30 offers people a new way to enjoy a fast and fun user experience with their phone."

More Open for Developers

Instinct S30 will also be more "open" than its predecessor, with access to core Java APIs (application programming interface), including messaging, multimedia and Bluetooth, which allow developers to take advantage of the phone's features. By providing this open access, Sprint is providing what developers have been seeking and making it possible for them to create more sophisticated and innovative new applications for customers to use on the Instinct family of phones.

Developers will have open access to the following Java APIs when creating applications on Instinct s30:

Multimedia: recording audio, playing media files such as MP3 songs, streaming content and using the camera to take pictures

Messaging: sending and receiving messages

Bluetooth: establishing connectivity to send/receive data with peripherals

Contacts/Calendar: reading and writing to contacts/address book, and reading and writing to events

File Access: reading and writing to the internal file access on the handset

"We are excited to introduce Instinct s30 into our portfolio in a few weeks as we continue the tradition of innovative and easy-to-use touch-screen devices that will appeal to a broad array of our customers," said Kevin Packingham, Sprint senior vice president of product and technology development. "The original device surpassed our highest expectations for both customer interest and industry accolades. The enhancements on Instinct s30 make it even more versatile for our customers, and access to core Java APIs, such as messaging and multimedia, will make it even easier for more developers to create new applications."

Sprint plans to extend access to these Java APIs to the Instinct s30's predecessor, Instinct, within the next few months through an over-the-air software update. The Java APIs will then be available on all future Java-enabled Sprint phones.

In providing open access to these capabilities, Sprint is creating a leading open software environment for developers to create innovative applications. Sprint's industry-leading Application Developer Program (http://developer.sprint.com/instinct) further supports development in an open environment by providing an extensive set of free resources, including a kit with Instinct programming templates and device emulation, sample applications with source code, developer guides and developer forums.

Industry-leading Value with Simply Everything

The most popular rate plan for Instinct users, Sprint's Simply EverythingSM plan, provides unlimited nationwide calling, texting, email, Web browsing, GPS navigation and much more for only $99.99 per month. Comparable yearly messaging and data plans on Verizon and AT&T cost the consumer an additional $475**. Sprint's Simply Everything Family plan, with unlimited voice, data and messaging for two customers, is $955 cheaper per year than Verizon's and AT&T's similar plans.

Everything Data plans are a great value starting at just $69.99 per month for 450 anytime minutes of talk time with unlimited data, including texting, email, Web browsing, GPS navigation and exclusive content such as NFL Mobile Live™ and NASCAR Sprint Cup Mobile™. Unlimited mobile-to-mobile calling to other Sprint customers and free nights and weekends starting at 7 p.m. are included in these affordable plans.

Within a few days after its release, Instinct became the fastest-selling EVDO handset in Sprint history. Instinct accounted for more than 20 percent of all Sprint handsets being sold during the first two weeks of availability and continued to sell at a record pace through the 2008 holiday season. Instinct users consume data at a rate of approximately five times more than any other Sprint device, especially music and other downloads, text messaging and GPS navigation.

Beginning on April 19, customers will be able to purchase Instinct s30 through Sprint retail stores, Web (www.sprint.com) and telesales (1-800-SPRINT1) for $129.99 at launch with a two-year agreement, $70 instant savings and $100 mail-in rebate. Pre-registration is now available at www.sprint.com/SamsungInstinctS30.  
[via GadgetReview]