Samsung HomeSync Android media box hands-on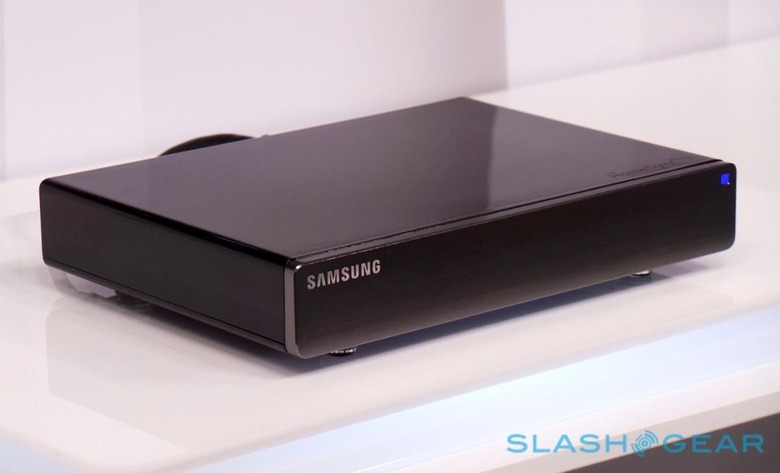 Samsung can't help itself, spraying Android over every possible device, and the latest to get the Google treatment is the HomeSync. A media streaming set-top box – though not a Google TV box – the HomeSync is more a way to further integrate Samsung's phones and tablets into your digital life, rather than a standalone gadget in its own right. In fact, your Samsung handset is what controls the whole thing.
The HomeSync box itself is the size of a couple of stacked DVD cases, finished in metallic-effect plastic, and with nothing on the front bar an LED indicator. On the back, meanwhile, there's a microUSB port, two USB 3.0 ports, an HDMI output, and an S/PDIF digital audio output, along with an ethernet port. Inside there's a 1.7GHz dualcore processor, together with a 1TB hard-drive, 8GB of space for apps the like, 2GB of RAM, and WiFi a/b/g/n (2.4/5GHz) plus Bluetooth 4.0.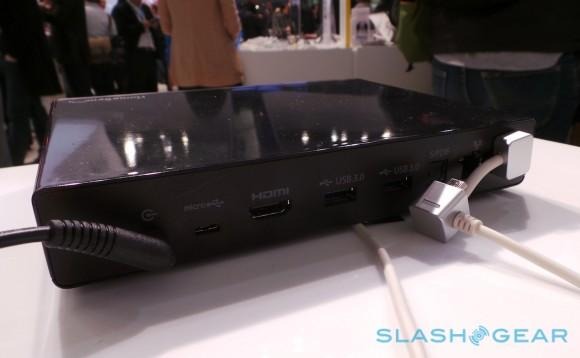 That hard-drive is used for local storage, including offloading content from your phone or tablet, though as you'd imaging the HomeSync is also set up to stream from the cloud. It integrates with the AllShare app on Samsung mobile devices, too, for one-touch streaming, though we had a little trouble getting a Galaxy Note II to push photos and video directly to the connected TV.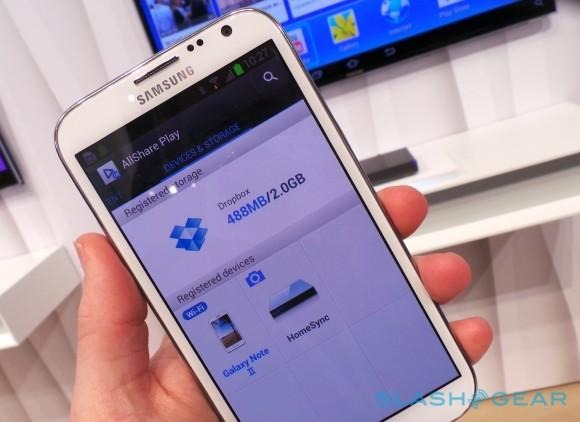 Android 4.2 Jelly Bean is running under the hood, with a customized UI to suit the living room environment. An app on your Samsung phone turns it into a wireless keyboard and remote – the display can either be used as a traditional trackpad, or you can physically wave the phone around to move the on-screen mouse cursor – with NFC used to easily pair handset to STB.
From then, you can use screen mirroring, push Full HD content wirelessly through the HomeSync box to your TV, or use local software such as the gallery, video player, and YouTube player. Samsung tells us that you should be able to install any app in the Google Play store too, including Netflix, though we weren't able to test that since the Netflix app itself wasn't offered in the regional store the demo hardware was set to.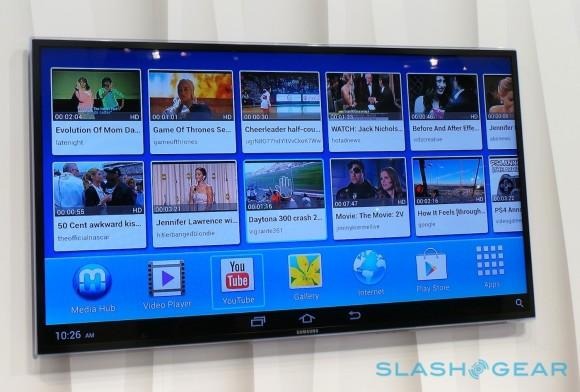 Up to eight individual user accounts will be supported, each with its own locked-down section of the 1TB drive. Those hunting more local storage will be able to use the USB 3.0 ports to add external drives.
Samsung says the HomeSync will hit the US in April, though is yet to confirm pricing.