Samsung Hercules 4.5-Inch Android Dual-Core Spotted?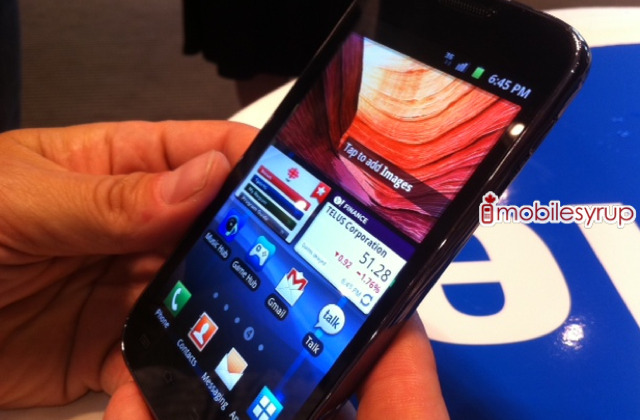 What could be the rumored Samsung Hercules has just turned up at an event in Canada and gotten its first snapshot released for all to witness. This is the super-sized 4.5-inch Android 2.3 smartphone similar to what's been released on AT&T called the Samsung Infuse 4G. Only, this one's expected to be more powerful and will support faster data speeds.
The Samsung Hercules was first mentioned in May, when a T-Mobile roadmap leaked along with some specs for the giant handset. The Hercules is expected to sport a 4.5-inch Super AMOLED Plus display with 480x800 resolution on a body that also has a rather thin profile. The guys at MobileSyrup, who got the snapshot, say the device is like a mix between a Galaxy S II, Nexus S, and Infuse.
Although sporting the same size screen and general aesthetics of the Infuse, the Hercules is also expected to sport a powerful Qualcomm 1.2Ghz dual-core processor and Category 24 HSDPA support for up to 42Mbps—a HSPA+ speed that's superior to that of the Infuse.
[via Android Community]