Samsung Gear VR with Controller hands-on: S8 gets a 3DoF remote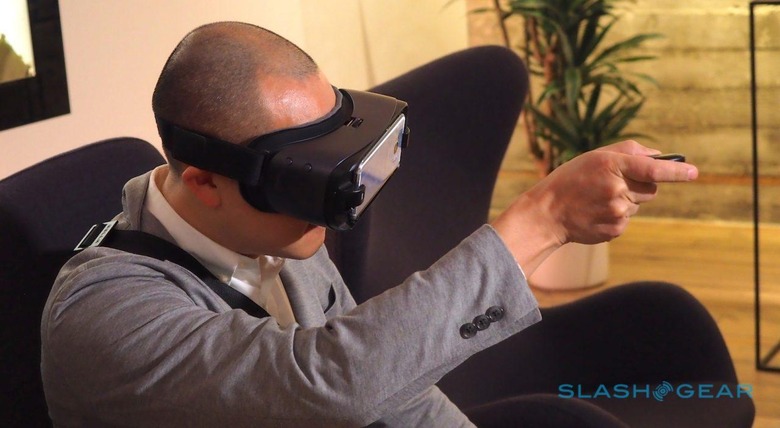 Along with the new Samsung Galaxy S8 and S8+ there's a new Gear VR with Controller to turn the Android smartphones into a virtual reality experience. Though the headset itself is much the same as the existing Gear VR, though now with a dock inside that accommodates the new flagship phones, what's new is the Oculus-powered Gear VR Controller. As we've seen from Google's Daydream and other VR systems, that opens the door to far more interaction.
Though Oculus may have had a big hand in designing the new Gear VR Controller, it actually looks more akin to an HTC VIVE handset than anything else. At 108.1 x 48.1 x 38.2 mm and 64.3 grams it has a flared head topped with a clickable trackpad; that does just what the trackpad on the side of the Gear VR does, ensuring backward compatibility with existing apps and games. Underneath, there are buttons for Home and Back, as well as volume controls.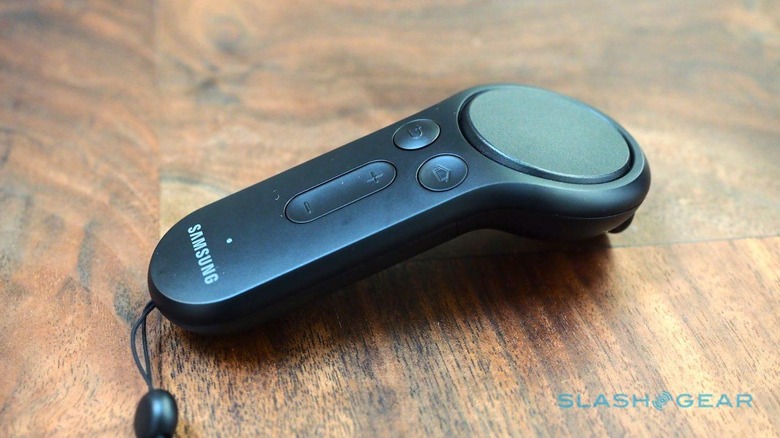 Underneath, there's a trigger for selecting items or shooting in FPS games. Inside Samsung has squeezed an accelerometer, gyrometer, and magnetic sensor, so that the orientation of the controller in 3D space can be tracked. If the 3 degree-of-freedom (3DoF) tracking drifts, you can hold down a button to reset it, just as with the Daydream controller.
Unlike Google's handset, however, Samsung has opted for a removable battery rather than a rechargeable one. The whole thing runs on a pair of AAA batteries, with Samsung suggesting that you'll get around 80 hours of use – or forty days based on two hours of active time per day – before you need to replace them. Sadly the useful little dock for the Daydream controller that Google designed into the Daydream View headset hasn't been borrowed for Samsung's design, though you do at least get a lanyard to tether it to your wrist.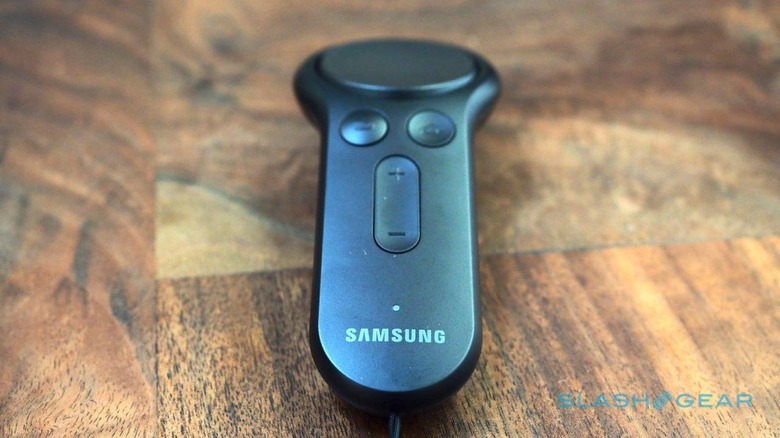 As for the new Samsung Gear VR, that measures in at 207.8 x 122.5 x 98.6 mm and weighs 345 grams without a phone in place. It has a 101-degree field of view, and accelerometer/gyrometer/proximity sensors. In addition to the new Galaxy S8 and S8+, which have a USB Type-C port, it'll work with the Galaxy S7 and S7 edge, the Note 5, and the S6/S6 edge/S6 edge+ with the included adapter.
Samsung will bundle the new Gear VR and the Controller with preorders of the Galaxy S8 and Galaxy S8+, the process for which kicks off tomorrow, March 30. It'll also sell the new Gear VR Controller separately, and if you have an existing Gear VR headset you'll be able to pair the two via Bluetooth.
NOW READ: Samsung Galaxy S8 hands-on
As for titles that actually make use of it, according to Samsung there are around 70 games and other apps in development now. Oculus plans to release an SDK for other developers to get on board soon. The new Gear VR with Controller will go on sale April 21st, priced at $129.99. The Gear VR Controller itself will be sold separately for $39.99 from the same date.