Samsung Gear Sport Review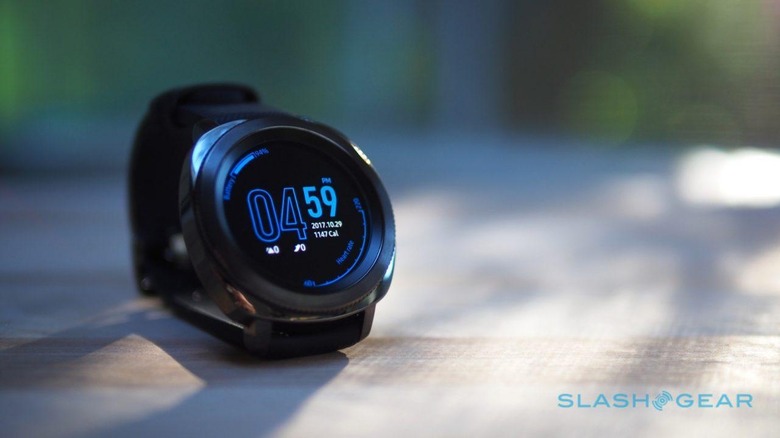 EDITORS' RATING: 7/10
The smartwatch never had it easy. On the one hand, offer too small a list of skills and people question your value; on the other, do too much and the resulting complexity can overwhelm the wrist. Perhaps the Samsung Gear Sport, therefore, signposts the route through that tricky balance: by focusing resolutely on healthy living, can it also bypass those lingering questions of "why shouldn't I just use my phone?"
Samsung's circular OLED is still nice, both colorful and straightforward to read outdoors, but the Gear Sport has a little less of it than its Gear S3 sibling. At 1.2-inches it's a fraction smaller than the other watch, and combined with the fairly chunky case it leaves the Gear Sport feeling less refined and more like Samsung prioritized function over form.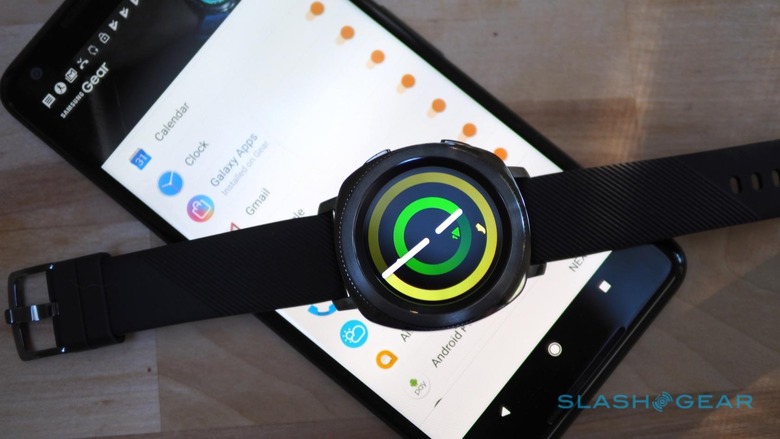 The black model is sober and discreet, while the blue version edges toward toy-like. At least you can change the bands readily: Samsung used a standard 20mm strap, so while it will have rubber and leather options of its own by the end of the year, you can basically fit any band of that size yourself.
On the side there are buttons for back – holding it down opens up Samsung Pay – and the app menu. Running around the display is the scroll wheel, which remains Samsung's jewel-in-the-crown of smartwatches. It's so tactile, you'll invariably find yourself fiddling with it whenever your fingers are otherwise idle.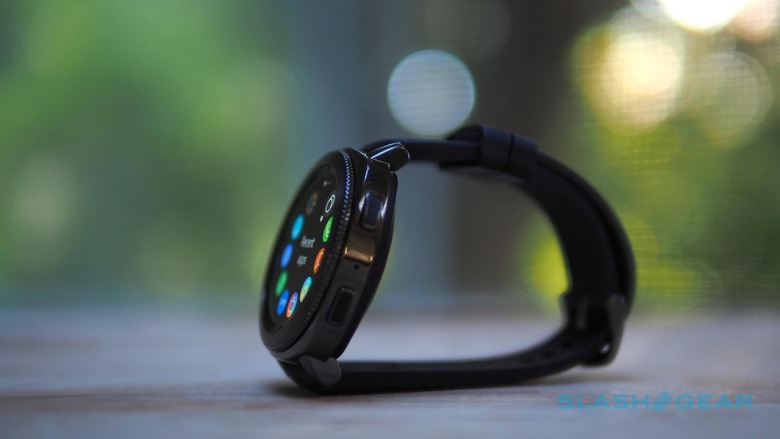 As the name implies, the main advantages of the Gear Sport are centered around health and fitness. There's still a heart-rate monitor, but the algorithms have been improved for extra accuracy. It'll record continuously during exercise, though you can scale back the frequency so as to prolong battery life.
GPS is also onboard, opening the door for standalone tracking of runs even if your smartphone is at home. You get 4GB of onboard storage to load your own music, too, for those phone-free times. You can pair up a set of Bluetooth headphones direct to the watch, such as Samsung's new Gear IconX 2018. Unlike the Gear S3 – or the Apple Watch Series 3 indeed – there won't be an LTE edition of the Gear Sport, though since it runs Tizen any app for the S3 should work on the Sport too.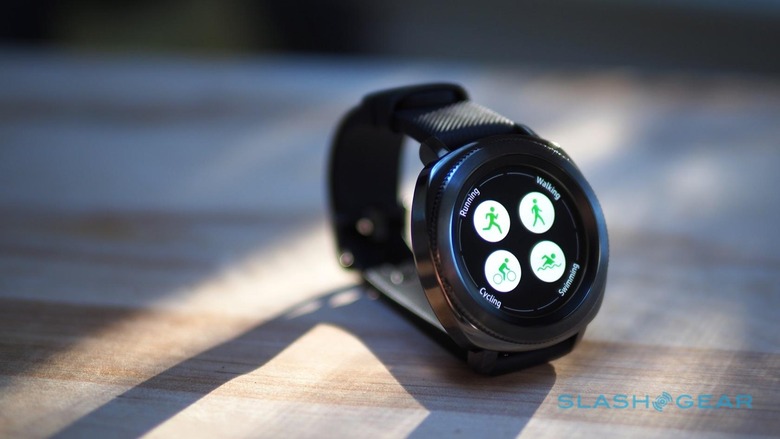 Auto-detection of activities like running or swimming has been carried over, and there's 5 ATM water resistance for taking the Gear Sport down up to 50 meters in the pool. New, though, is nutritional advice. Samsung says the idea is to help wearers make sensible decisions around their calorific goals: the watch will prompt you to increase your activity if you're on track to miss your calorie plan.
Samsung is pushing its partnerships with the Gear Sport. There's Under Armour Record, Speedo swim tracking, MapMyRun, MyFintnessPal, and Endomondo, but I got more use out of Spotify's offline mode. You'll need a premium subscription to the music service, but that given you can cache playlists to the smartwatch for offline playback.
What I liked most, though, were the more subtle ways the Gear Sport tries to insinuate its way into your daily life. Periodically, if you've been sitting still, it'll recommend stretches that can help avoid discomfort while on long flights. There are workout programs baked into the watch itself, so even if your phone isn't on you there's a virtual coach to talk you through best-practice.
Meanwhile, the Gear Sport has Samsung Connect integration too. Samsung's smart home platform brings gadgets like connected lights, locks, and more to the wrist, including anything that works with SmartThings. You can configure up to ten profiles – such as "Home", "Away", or "Romance" – and have your lights, thermostat, and more all adjust in sync with the tap of a single button from your wrist.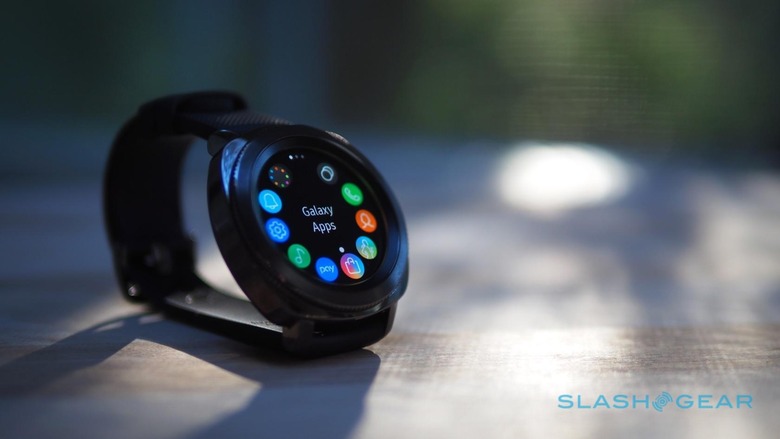 Alternatively there's control over individual devices, though scrolling through a more complex smart home setup can get frustrating. Times like those, it's easier to whip your phone out and do it from there. Right now, Samsung's implementation is still a little raw in places, too: the Gear Sport can pick up on a movement notification from your connected camera that hits your phone, for instance, but you can't see any preview photos or video from it on your arm.
The other big thing Samsung is pushing is Samsung Pay. Hold down the back button, and you can choose between your registered credit cards and make payments by holding the watch near a compatible terminal. Unfortunately, there's only NFC support, not Samsung's magswipe-mimmicking MST system.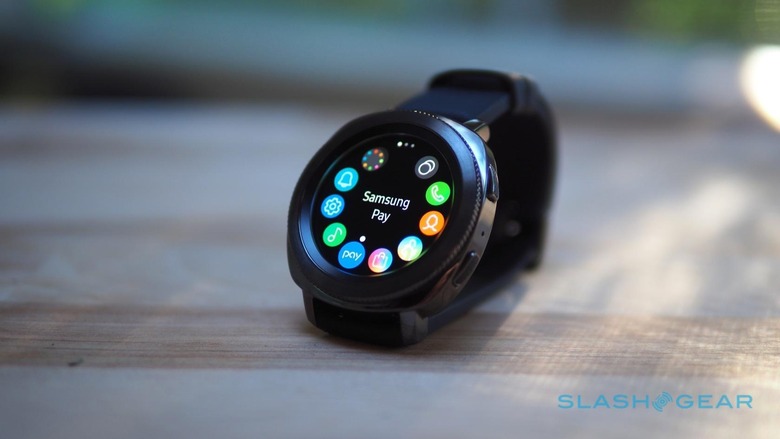 Samsung says the Gear Sport's 300 mAh battery should last a couple of days on a charge. How accurate that is will depend on how much you use GPS, I found. Sessions with tracking active can chew through battery life in short order: figure on leaving your smartwatch on its wireless charging stand on a nightly basis. In contrast, if used primarily for notifications, you can easily get through two days or more.
Wrap-up
For more general use, the style advantage of the Gear S3 still pushes it ahead in my eyes. You can get a handsome Gear S3 Frontier for the same $299.99 as a Gear Sport will set you back, indeed. Either way, you're undercutting the Apple Watch Nike+ Edition.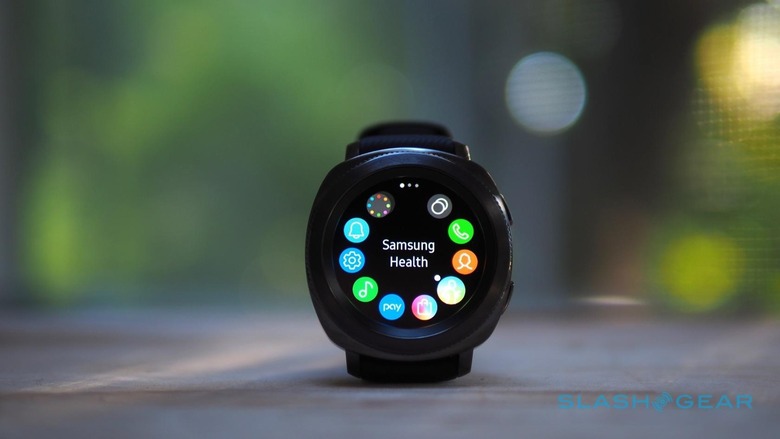 Nonetheless, fitness tracking remains the number one purpose wearables wearers have for their wrist-mounted gadget, Samsung's research says, and seen through that lens the Gear Sport ticks all the right health boxes. From the standalone fitness routines and music playback, to the ability to work out with the bare minimum of tech on you and yet still have the ability to hit up the store or remotely unlock your front door, this newest addition to Samsung's line-up is built around exercise. If you're a health devotee, there's plenty here to keep you on track whatever your goals.