Samsung Gear Fit: 5 things we love (and one we hate)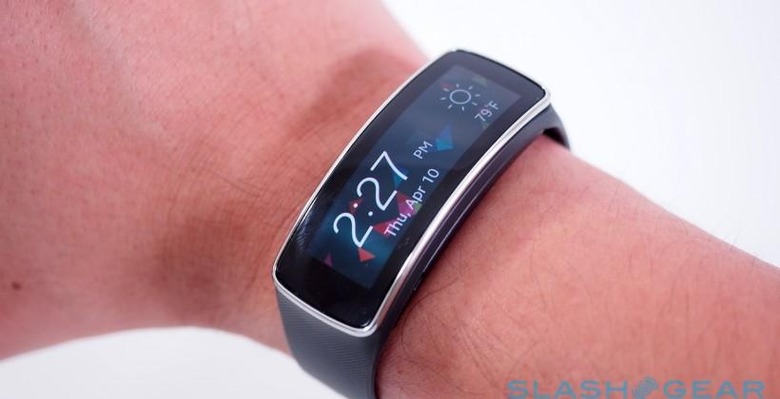 Samsung's Gear Fit and Galaxy S5 are here, promising a brace of new features and a reboot to the South Korean company's wearables strategy. Our full reviews of both are well underway, but as it's perhaps the more unusual of the two devices, we thought we'd share some of the highlights from the Gear Fit that have caught our eye. Read on for five things about the Gear Fit we love, and one early frustration.
Water-Resistant (so you can get alerts in the shower)
Water and electronics generally don't mix, but while Samsung doesn't recommend going swimming with the Gear Fit, it's resilient enough to be worn in the shower or brush off getting caught in a downpour. It also means you don't miss alarms and alerts when you're away from your phone.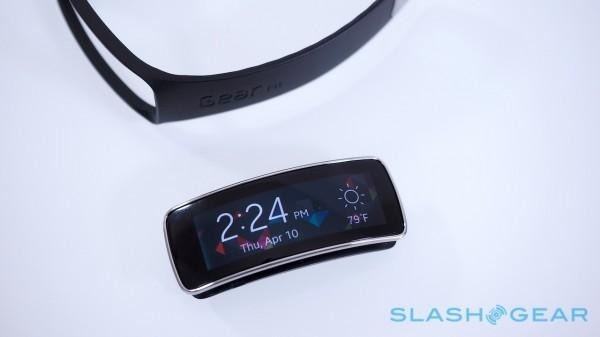 Is that useful? It is when you're in the shower and an important message comes in from friends or family: Gear Fit doesn't just show an icon, but previews the message itself, whether it was an SMS, Google Hangouts IM, or through Facebook Messenger. Unfortunately you can't reply with a custom message, only a preconfigured on, which can also be used to reject incoming calls.
It's actually discrete
When it comes to phones, usually a more powerful vibration motor is better: otherwise you won't feel it when your phone is in your bag or an outside jacket pocket. For a wearable, however, discretion is key: you're far more likely to feel a vibe-alert when it's right on your wrist.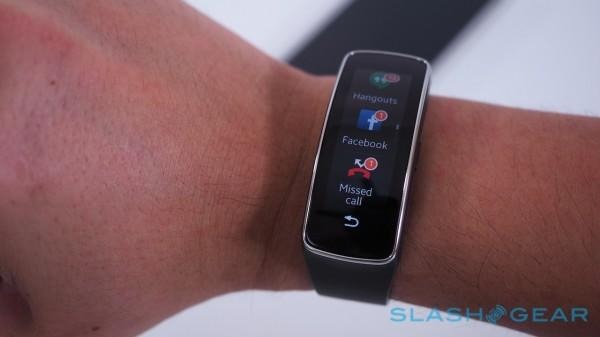 Unfortunately, many of the wearables we've played with over the past twelve months seemed to have missed that memo, shipping with vibration motors that are so powerful you can hear them as well as feel them. That's a shortcut to being told to turn it off altogether when you're trying to watch TV with your significant other. Thankfully, the Gear Fit is a whole lot more subtle with how it buzzes.
The display looks incredible
Samsung knows a thing or two about displays, and the curved AMOLED on the Gear Fit is at the cutting edge. Bright and vivid, it's like a chip off the Galaxy S5 that's been grafted to your wrist, and after Samsung listened to feedback since Mobile World Congress and added a vertical mode for icons and text, it's now not such a contortion to view.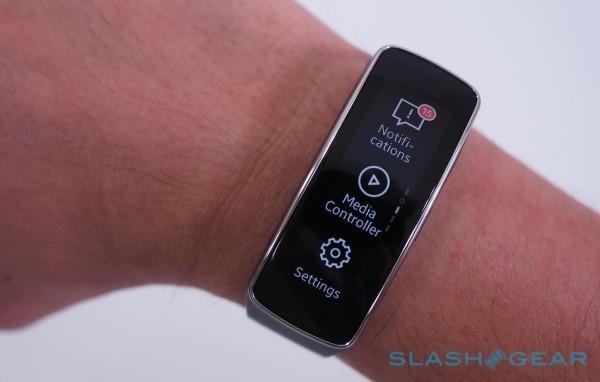 Being so narrow, that could make text in messages and emails difficult to read, but you can tap the display to cycle through font sizes. Thankfully the touchscreen is responsive to Samsung's interface of taps and swipes, too, since you don't get S Voice support for voice control.
You don't look like you're wearing two watches
Marketing wearables to those who haven't already given up their regular wristwatches in favor of the clock on their phone was one obvious approach to cracking the segment, but watch-styled products like the original Galaxy Gear then forced people to choose between them (else look foolish wearing two watches at the same time).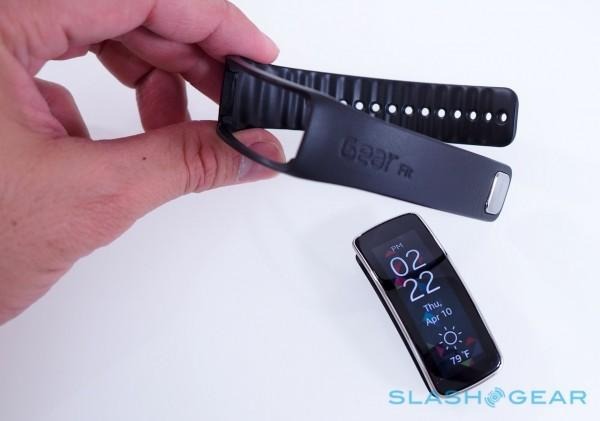 In contrast, the Gear Fit could easily be mistaken for a somewhat chunky fitness tracker, like the Jawbone UP24 or Fitbit Force. Indeed, in our testing we've kept our regular watch on our left wrist and the Gear Fit takes the "wearable" spot on the right, and nobody has looked at us strangely. You can also swap out the bands for different colors: ours is black, but Samsung will offer brown, blue, green, orange, and red, too.
It's easy to use
Samsung has opted for a few big icons at a time as well as a number of different UI themes, and they're clear and easy to jab a finger at to control, just as you want from a glanceable device like the Gear Fit. We're fans of the black background, too; while the brighter colors are eye-catching and show off the capabilities of the AMOLED well, black is far less distracting.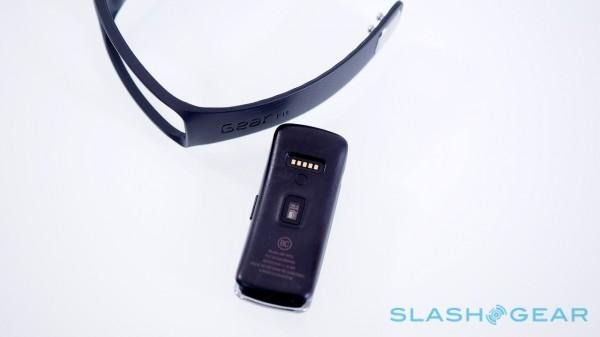 All of the functions are easily accessed through a menu structure that doesn't rely too greatly on sub-categories, including the heart rate monitor and pedometer, which feed data into S Health. As long as the Gear Fit is near your phone, meanwhile, it can automatically bypass the lockscreen, which is particularly convenient.
Unfortunately, unlike the Gear 2 and Gear 2 Neo, the Gear Fit doesn't run Tizen which puts some serious limits on third-party app support. Effectively, they'll be invitation-only, with developers needing to work closely with Samsung to accommodate the wearable's proprietary architecture.
And for the downside... it's Samsung-only
Pebble's lingering advantage is that it works with iPhone, iPad, and most Android devices. In contrast, the Gear Fit comes with a list of compatible phones and tablets, but they're all from Samsung: the company has no plans to embrace any other manufacturers.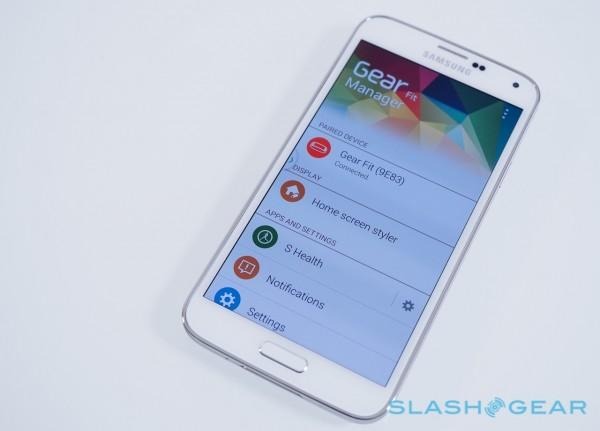 That's a downer, since we'd liked to have used the Gear Fit with other Android phones, at least, even if iOS support is too much to hope for; the well-constructed band would be a particularly good match for the HTC One M8, for instance. It also leaves Samsung on potentially shaky ground once the first Android Wear smartwatches arrive, running Google's wearable-centric version of Android.
Of course, we'll have much more on the Samsung Gear Fit in our full review – not to mention our review of the Samsung Galaxy S5 – like the heart rate sensor, S Health integration, and sleep monitoring, so stay tuned for that!