Samsung Gear 360 Review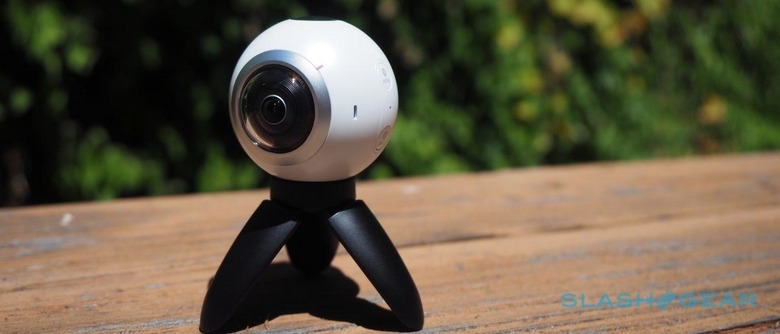 EDITORS' RATING: 6/10
Samsung hasn't just made a bet on virtual reality being the future of entertainment, with the Gear 360 camera it wants VR content creation to be accessible to the masses, too. Hot on the heels of the Gear VR headset comes the perfect camera companion to actually shoot your own 360-degree photos and videos, though it finds itself in the early stages of what may well be a significant learning curve for users.
You can't accuse the Gear 360 of being discrete. Samsung has opted for an aesthetic I'm calling "tiny octopus robot" rather than the slim candybar that Ricoh, LG, and others have adopted. It looks good, and Samsung's plastics feel sturdy, but it's hardly pocket-friendly: while you can slip a Theta S into your front jeans pocket, trying to do the same with the Gear 360 is a non-starter.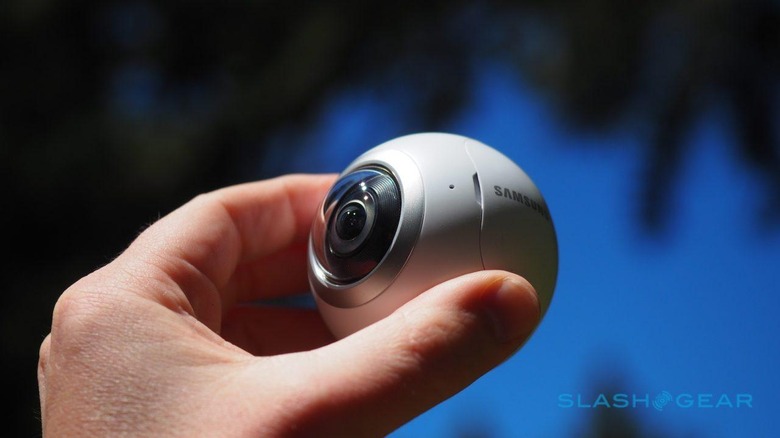 If there's an upside, it's that the space has given Samsung plenty of room for controls and ports. Power and menu buttons are on the side, while a shutter button is on top, next to a tiny but functional monochrome OLED screen that shows battery status, shooting mode, remaining time/photos, and the basic settings. Dig a fingernail under the panel on the side, meanwhile, and you find the microSD slot, removable 1,350 mAh battery, and a microUSB port for charging.
Samsung includes a diminutive tripod in the box, which also has a lanyard hole; it screws into a standard-size tripod mount, however, so you can use the Gear 360 with any regular tripod or, indeed, an suction mount for your car windshield or similar. There's also a carry pouch and a cloth to clean the two bulging lenses; that keeps the bulk down, but I suspect the bag wouldn't be much help if you drop the camera.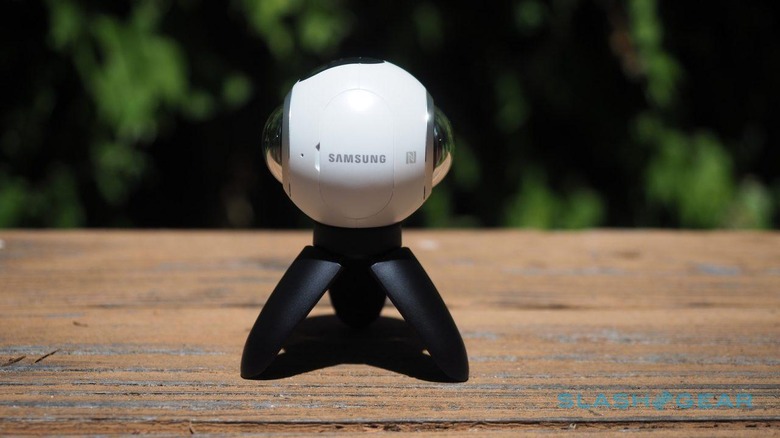 It's not intended to be a true action camera, though it's surprisingly rugged. Samsung opted for IP53 water and dust resistance, which amounts to making the Gear 360 splash-proof and capable of standing up to the odd spray of grit. What it's not is properly waterproof, so forget about introducing it to an actual octopus on your next dive. All the same, after a suction-cup car mount gave way and dropped the camera twelve feet onto concrete we expected it to be a goner, but it survived and kept filming.
There are four core modes on offer. Still images and video are the two obvious ones, but Samsung also includes time-lapse – snapping a 360-degree still at a set interval from 0.5s to 60s, then stitching them all together into a single video – and video loop. The latter can be set at various intervals from 5 minutes up to the maximum capacity of your microSD card, and basically stores the most recent footage from that period.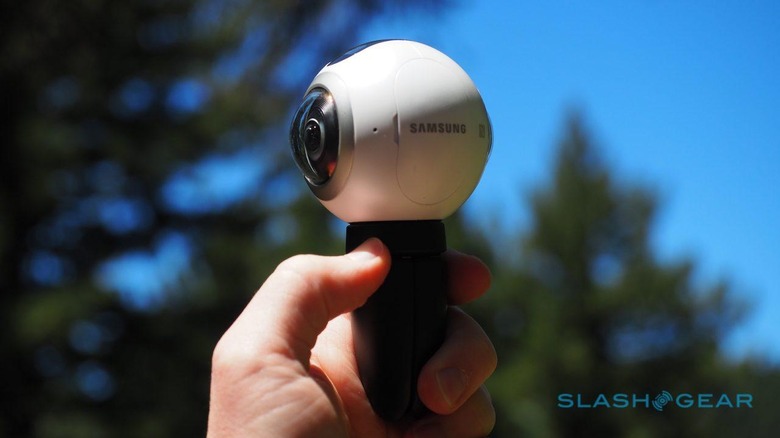 What's impressive is that Samsung has made switching between all those modes – as well as adjusting a fair few settings – possible on the Gear 360 itself. You can change photo resolution (14MP or 30MP) and video resolution (from 1920 x 960 up to 3840 x 1920), along with time-lapse video size (up to 3840 x 1920) and whether the camera uses both lenses, just the front, or just the rear.
It's also where you find the timer setting, which can be adjusted from off, through 2, 5, and finally 10 seconds. That's one of the most important features of the Gear 360, since it's what gives you the chance to hit the capture button and then scamper out of the frame (or pose dramatically – your choice). Otherwise, you'll end up with photos and videos that show you leaning in.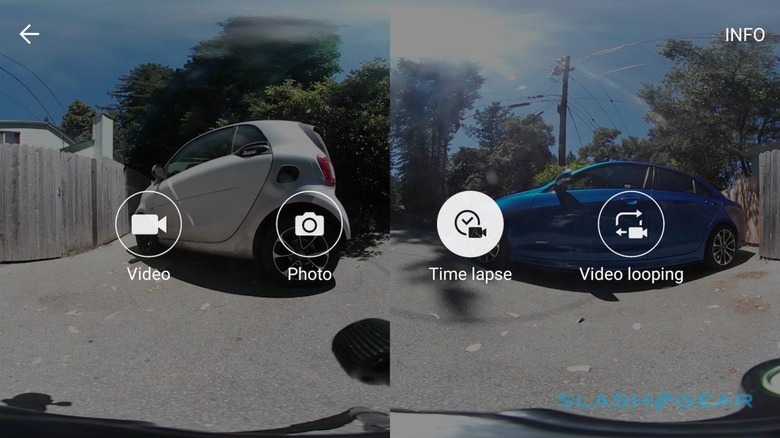 All of the actual photography settings – like white balance and exposure – are set to automatic if you're using the Gear 360 standalone, but you can play with them if you connect a smartphone. You'll need one of a short list of compatible handsets, mind: right now that means the Galaxy S6, S6 edge, S6 edge+, Note 5, S7, and S7 edge, along with the upcoming Note 7. They're the only phones that Samsung's Gear 360 Manager will run on, sadly; if you're an iPhone user, you're out of luck.
Once paired, Gear 360 Manager connects up to the camera automatically when you run it, and swiftly at that. The UI is much akin to Samsung's regular camera app for its phones, though with the ability to see either a panoramic view stitched from both lenses, a 360 view that can be scrolled with a fingertip, or a split view with two panels, one for each lens.
Manual settings include white balance, ISO from 400 to 1600, exposure from +/- 3.0 in 1/10th of a stop increments, and resolution, as well as the ability to toggle HDR and sharpness on/off. If you're in time-lapse mode you can adjust the interval between shots in the app too; the Gear 360 remembers your most recent setting, even if it's powered off or disconnected from your phone.
Best of all, there's minimal delay after recording before you can take another photo or start recording video again.
Framing with a 360-degree camera is a different experience than most of us are used to. It's not so much about positioning – after all, everything around the Gear 360 is going to be in the snap – as it is height. Samsung's dinky little tripod is good for impromptu shots, and the legs snap together to make a useful handle, but the best results often come when the camera is fairly high up off the ground which means locating either a regular tripod or something tall enough to stand the Gear 360 on top of.
Once you've captured a photo or video, it needs to be stitched before you can see it properly. That happens on a per-view basis when you tap each item in the "Gear 360" tab in the app, the processing time depending on factors like length and resolution. As with the camera preview, you can choose between a 360 view – moving with a finger-drag or, optionally, as you physically move the phone – a panorama, or a split-screen with each of the two stills or videos.
What's somewhat counter-intuitive is that processed media isn't automatically stored to your phone. If you want a copy from the camera, you need to save it manually (you can select multiple thumbnails and save them all in one fell swoop, mind); otherwise, every time you view something stored on the camera's memory card, you'll need to wait for the processing to take place every time.
Doubly-frustrating is the fact that there's no apparent way to store 360 photos or video on a memory card, which means you're limited to the generally 32GB of in-phone storage on the Galaxy S7.
Alternatively, Samsung offers a free Windows app – Gear 360 ActionDirector, developed by Cyberlink – that does the stitching on your desktop, as well as offering editing of 360-degree video. Unfortunately for Apple fans there's currently no equivalent for macOS.
If you have a Gear VR you can clip your phone into the headset and move your head to explore photos and video. Still, since you probably want to do more than just enjoy your clips on your own device, there are a few sharing options too.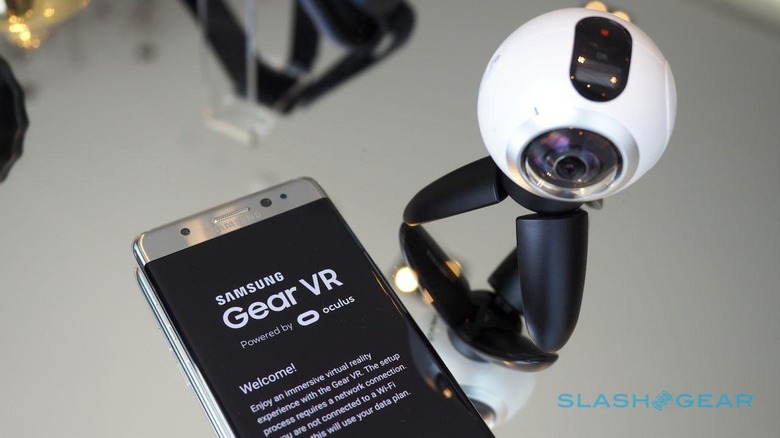 Originally launched as the oddly named Milk VR, and subsequently retitled Samsung VR, the company's own virtual reality library supports both professional content – including movies and apps – and user-generated content uploaded from the Gear 360.
You'll probably get more traction on Facebook, mind, which can now handle both stills and video embedded in the timeline. If your friends are viewing on a mobile device they can physically move it to pan around the frame; if they're on a desktop, they can use their mouse instead. Unfortunately, uploading to Facebook involves a noticeable loss of quality along the way.
If YouTube is your platform of choice, you can share directly from the Gear 360 Manager app or after editing in ActionDirector. As is also the case with Facebook, though, exactly what people will see will depend on which browser they're using.
View in Chrome, for instance, and you get a regular video you can drag around to see from every angle. In Safari, though, you have a single equirectangular view that's not interactive.
Your last option is Google Street View, the app for which connects directly to the Gear 360 and allows you to share 360-degree stills of different locations. Obviously that's a more niche application than Samsung VR or Facebook, but it does have an unexpected side-effect: you can use the Street View app for iPhone to remotely trigger the camera and have stills – though not videos – saved to the iOS camera roll.
Samsung's stitching can prove underwhelming, and the Ricoh Theta S generally does a more seamless job at merging the two frames; obviously neither can truly compete with some of the more expensive 360-degree cameras out there. There are noticeable lines where the edges of the two wide-angle lenses overlap: just how noticeable depends on what's in the frame. Mangled faces worthy of Joseph Merck are an occupational hazard in crowd scenes; in contrast, landscapes can be blurred together with far more finesse.
Honestly, though, there's a limit to what you can expect from a two-lens camera: not for nothing do the 360-degree systems from Nokia, Facebook, GoPro, and others come entirely bristling with six or more sensors.
They come with sky-high price tags, too. Figure on spending $30k for Facebook's rig, and double that if you want Nokia's OZO. Panono's camera is cheaper, at $1.5k, but only shoots stills not video.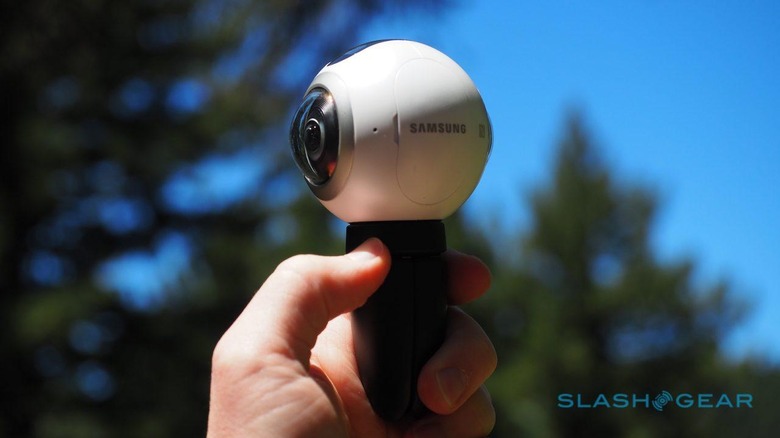 In short, they're all big numbers for a regular consumer to consider spending on a 360-degree camera, especially as the uses for such a system are still fairly tenuous. Carrying the Gear 360 around with me, I've been struck by just how rare it is that I want to take a spontaneous circular photo.
NOW READ: Ricoh Theta S review
I'm not saying there's no need for them, more that it requires a shift in thinking in order to get the best out of the Gear 360's abilities. Habits we've fallen into in framing and perspective need to be reconsidered: what traditionally makes a great photo or video is not necessarily the same as what makes a great 360-degree photo or video.
In the Gear 360's favor is that it's both a relatively affordable and sufficiently high-quality way to not only dip a toe into 360-degree and VR, but one that most users won't then quickly outgrow. Nonetheless, it's far from an essential addition to your photography toolkit, even if you're an owner of one of the few smartphones on Samsung's list of supported devices, so for most a wait-and-see approach might well be wise.