Samsung Galaxy XCover Promises Hardcore Android Action Resistance

It appears that Samsung will be joining the squad of Android device ready for rough tumbling, water dunking, and the rest. This device appears very much to be running a brand new version of Samsung's TouchWiz interface over Android and certainly will be running Android 2.3.x Gingerbread upon release. This device is next in line right after the recently Tegra 2 confirmed Samsung Galaxy R which we saw NVIDIA give a hands-on treatment to this morning and will be released very soon.
This Galaxy XCover is aimed at those who like to play rough, it being the first Android device in the world with IP67 certification which applies to top protection against dust and temporary immersion (in liquid substances.) This device, as shown, can handle water, dust, mud, and being photographed by high-quality cameras in perfect lighting situations. This device will be rolling out with a scratch-resistant (perhaps even Gorilla Glass grade) sheet of glass up front of a 3.6-inch display with a 3.2 megapixel camera on the bac along with a volume up/down on the left, a power button on the right, and a rubber-covered headphone jack at the top.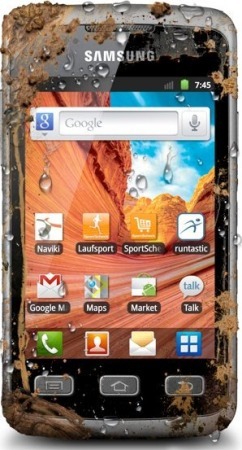 This device is thus far only slated for release in Germany for October, this being another ominous sign that Samsung isn't doing very well with getting devices released here in the United States as the Galaxy S II has yet to be released, the same being true of the Galaxy R as well. This device, once released, should be amongst the most rugged devices we've yet seen on the Android market, sitting right alongside the Casio G'zOne Commando and the Motorola Defy.
The big question here is if this device will aim to fight alongside the mid-range of Android devices on the market, or if it'll have higher aspirations. It all depends very much upon the processor – details about which we have no clue thus far.
[via Android Community]