Samsung Galaxy X: 3 ways this folding display phone could flex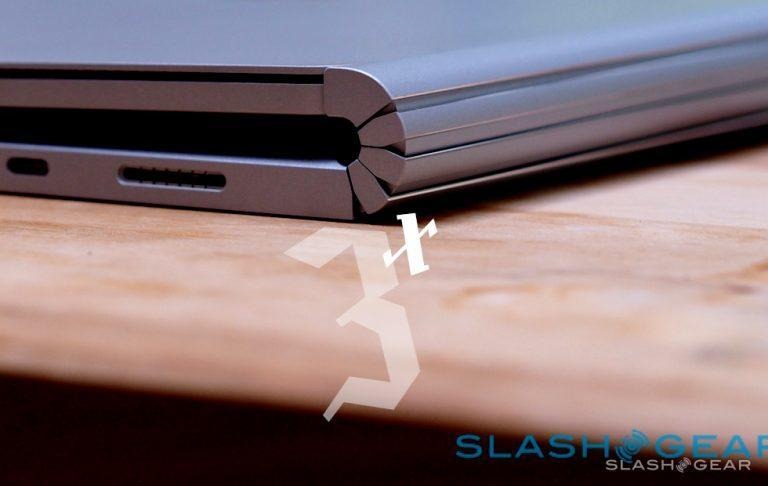 The Samsung Galaxy X had our attention when we first saw Samsung fold a display, right before our eyes. It was amazing to see how the company – at least the Samsung Display portion of the company – was able to take something that seemed so fragile, and treat it like something far more robust. That was well before we heard rumors of the name Samsung Galaxy X – now we're well into hardware patents season. Today we're going to look at several ways in which Samsung tested the possibilities in flexible displays for a mobile device.
Each of the different ways Samsung has publicly proposed a flexible display-toting device should be folded are shown in drawings below. Each of these drawings come from the same set of documents originally filed in August of 2017. That leaves well and above enough time for the company to get their ducks in a row and start folding real hardware up for devices that could go on sale as early as Q3 of 2018.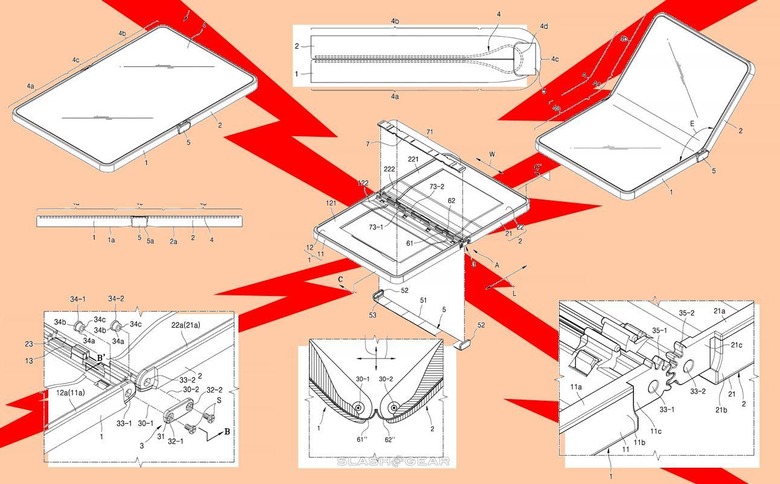 The first set of drawings here show the Galaxy X with an internal hinge. The hinge creates a space where the display can fold in and create a semicircle. This semicircle makes for far less stress on the display than it would suffer folding flat.
This device will undoubtedly be thicker than the average Samsung Galaxy S or Galaxy Note. Better safe than sorry when it comes to a new sort of display, especially before real-world stress testing.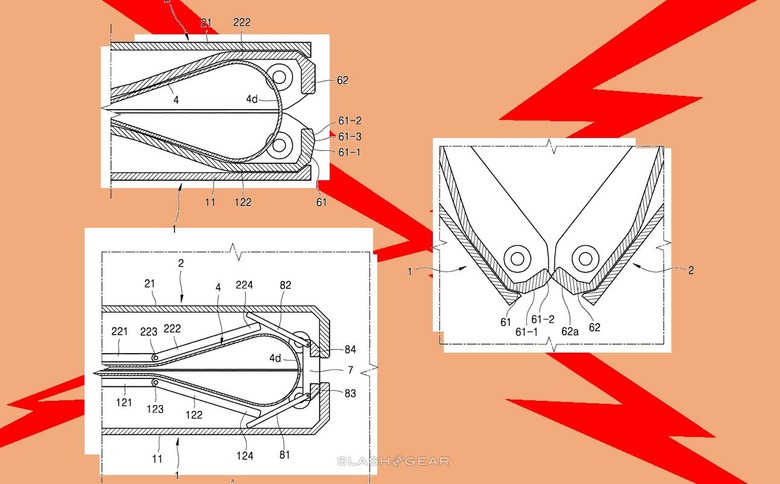 In the drawings immediately above you'll see the intense amount of thought put into getting the folding point of the display right. This is the most absolutely crucial part of the device, as pretty much everything else can be executed with traditional means. That, and the software – which will also be interesting to see, but will wait for another day!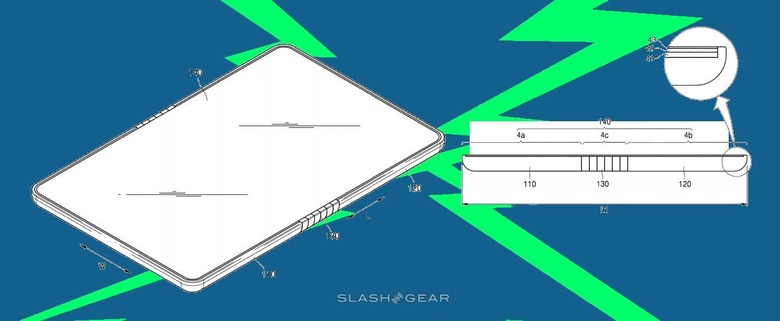 Another iteration of this folding smartphone, Samsung Galaxy X, shows a segmented approach. This version of the device has somewhat of an armored look – like an armadillo or a beetle. Each segment adds a dimension of protection for the display, which also folds in and around in a semicircle for a minimal amount of stress.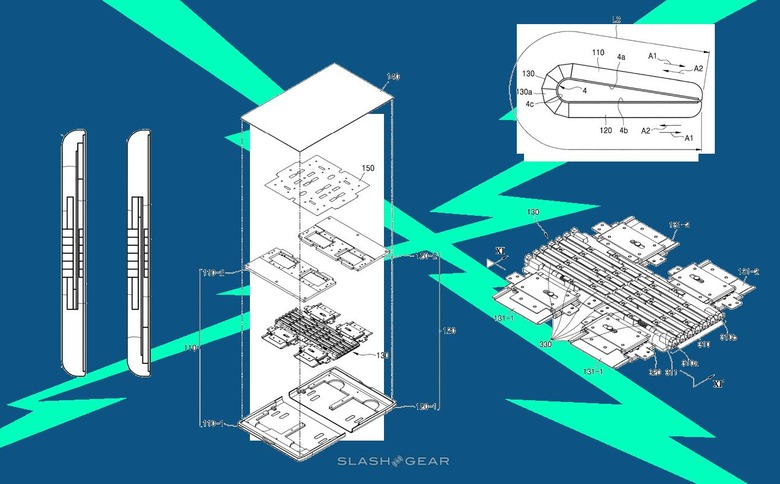 A third approach has a segmented approach not unlike the second set of drawings, but on a much more tiny scale. Each tiny piece of metal works with each other tiny piece of metal to create a spine for the folding phone which protects and guides the folding display. The end result is a phone the folds with a space at its center, something like the
NOTE: The lead image in this article is also the Microsoft Surface Book. Microsoft didn't include a folding display in this notebook, but they did pave the way for the wider hinge device as shown. Now a smartphone with something similar going on won't look quite so out-of-nowhere.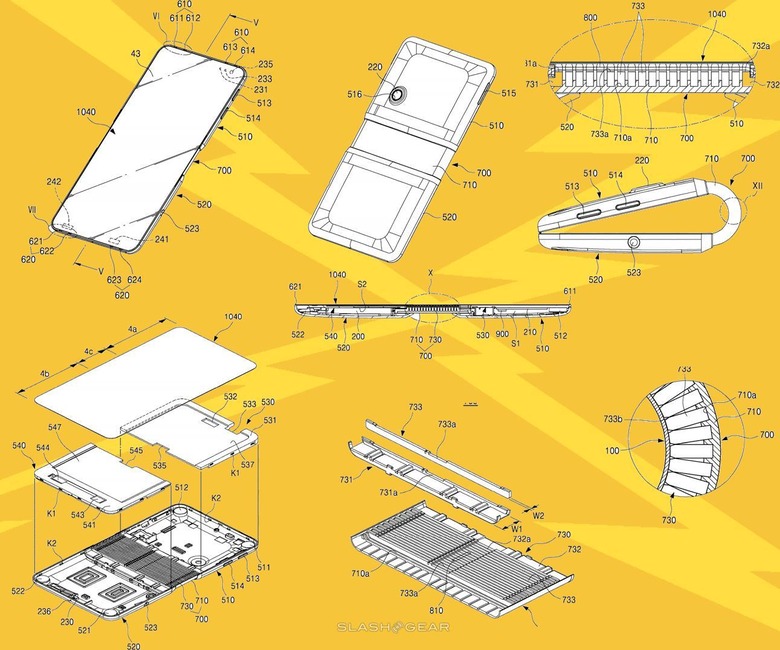 These designs are just one part of the puzzle. Samsung needs to be able to market a device like this, and make some cash from what's undoubtedly be a cautious new base of users. As such, we suspect they'll be delivering on their first iteration of this project in a limited form,
not unlike the original "Galaxy Round."
The curved display originally found in the Galaxy Round went on to become the
. After that, it went on to be the Samsung Galaxy Edge (in several forms,) and has not been rebranded as a feature called the Samsung Infinity Display.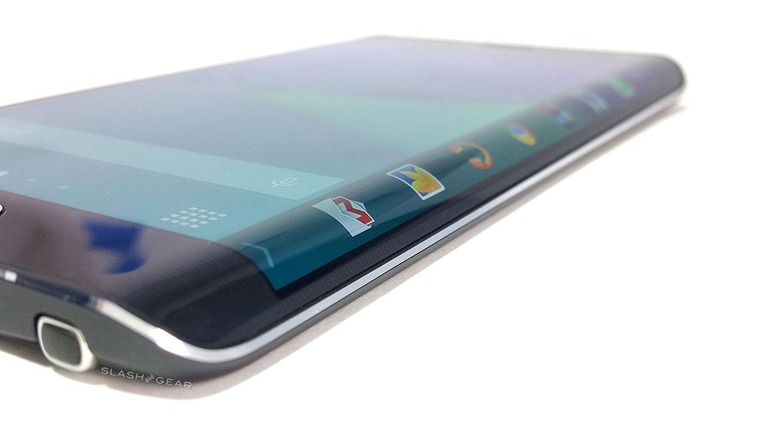 We'll expect some sort of similar process with the first wave of foldable devices from Samsung. Rumor suggests that the first live products may come as early as July of 2018. We'll seeya there!