Surface Book 2 Review (15-inch): The MacBook Pro eater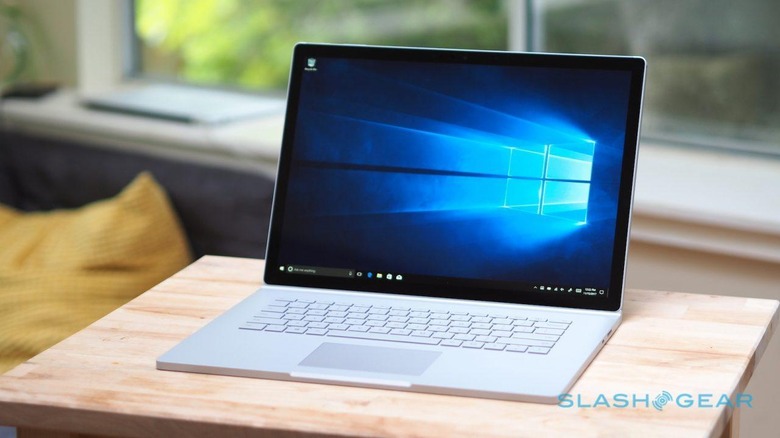 EDITORS' RATING: 9/10
If you were crafting a recipe for the perfect performance notebook, the Surface Book 2 15-inch wouldn't be a bad place to start. Microsoft's move to "lead by example" in Windows 10 laptops still wows, with its detachable screen and crisp, premium hardware, even two years after its original debut. Still, for all its battery life and design cred, the
wasn't perfect. Embracing USB-C, a larger 15-inch screen, and some of the beefiest specifications this side of a gaming PC, the Surface Book 2 sets out to give Apple some nightmares.
Microsoft hasn't strayed far from its original design, even with this new, larger model. In fact at first glance you could easily mistake the Surface Book 2 for its predecessor. Brushed metal, that distinctive hinge which looks like a caterpillar coiling, and a general weightiness that, in 15-inch form at least, edges into just outright heft.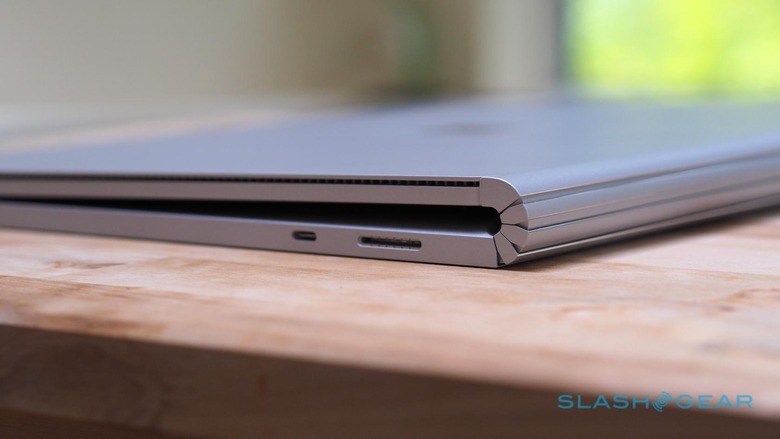 Indeed, at 4.2 pounds, the Surface Book 2 15-inch is almost 0.2 pounds heavier than a 15-inch MacBook Pro, and more than 0.8 pounds more than the entry-level, 13-inch Surface Book 2. You notice the size increase more when you detach the screen section to use as a tablet. The 13.5 x 9.5 inch slate is larger than an iPad Pro 12.9, and getting toward the point where using it standing up could become tiring after a while.
Microsoft's stunning PixelSense display will probably sooth many of those complaints, mind. The company has them custom-made for the Surface Book 2 and, frankly, they're beautiful. In the case of the new, 15-inch model it's running at 3,240 x 2160 resolution, with a 1,600:1 contrast ratio. Colors are vivid and punchy, the blacks are like peering into the universe, and it doesn't matter whether you're viewing in landscape or portrait orientation, either way it's simply a great panel.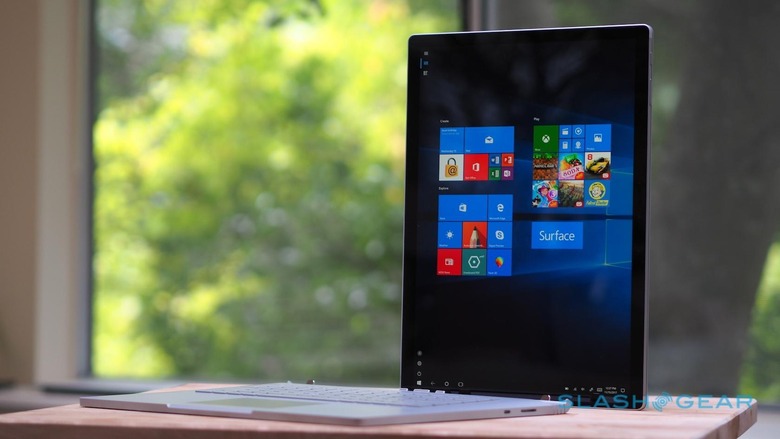 The keyboard is carried over from the 13-inch model, which is no bad thing. I think Microsoft missed a trick by not making the touchpad larger, however: there's wasted space. Of course, you can reach up and prod at the touchscreen instead, or use the – now optional – Surface Pen or Surface Dial if you prefer.
The other notable change is the addition of a new port. A single USB Type-C has been added on the right side of the keyboard, replacing the Mini DisplayPort that used to be there. It's alongside the magnetic Surface Connect port, while on the opposite edge there are two USB Type-A 3.1 ports and a full-sized SDXC card reader. A 3.5mm headphone jack is on the upper right edge of the screen.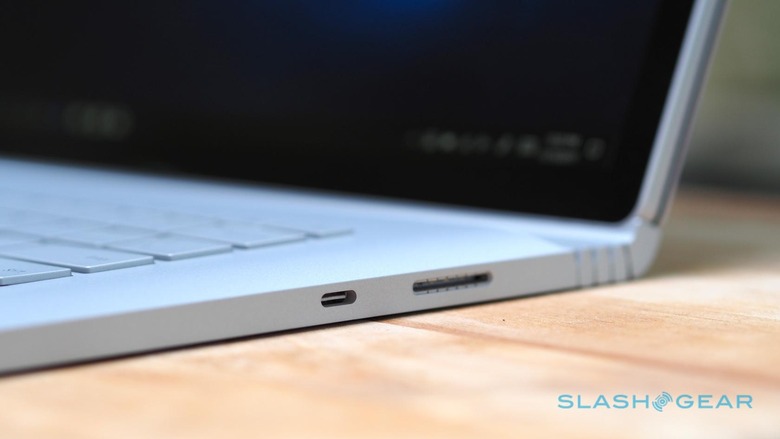 I'm pleased to see Microsoft get on the USB Type-C train, though I do wish it had gone further than it has. The Surface Book 2 supports USB-C 3.1, but not Thunderbolt 3, which means what you can do with the port isn't quite as comprehensive as on, say, a MacBook Pro or some other Windows notebooks. You can charge the Surface Book 2 with it – though the supplied power supply still uses the Surface Connect port, and still has a (very useful) USB Type-A port for charging an accessory – and plug in a single external display at up to 4K 60Hz resolution.
However, without Thunderbolt 3 there's no dual display support. Since the optional Surface Dock gets two of the PCIe lanes, if you're plugging in that you can then only run a display of up to 2880 x 1800 60Hz resolution from the USB-C port. Maybe most critical for content creators, there's no support for an external GPU (eGPU), which generally requires Thunderbolt 3's speeds.
At least with the 15-inch Surface Book 2 you get some seriously potent graphics built-in. There's an NVIDIA GeForce GTX 1060 in the keyboard section, with 6GB of dedicated GDDR5 video memory for it to use. It's paired with an 8th-gen Intel Core i7-8650U quadcore processor and 16GB of RAM as standard.
It makes for a system that is, to put it briefly, exceptionally powerful. I started out in Geekbench, with the Surface Book 2 scoring 4,409 in the single-core test, and 13,186 in the multi-core. Then, I turned to PCMark 10, where it managed 5,006 overall (7,362 in Essentials; 5,087 in Digital Content Creation; 6,372 in Productivity; and 7,117 in Gaming).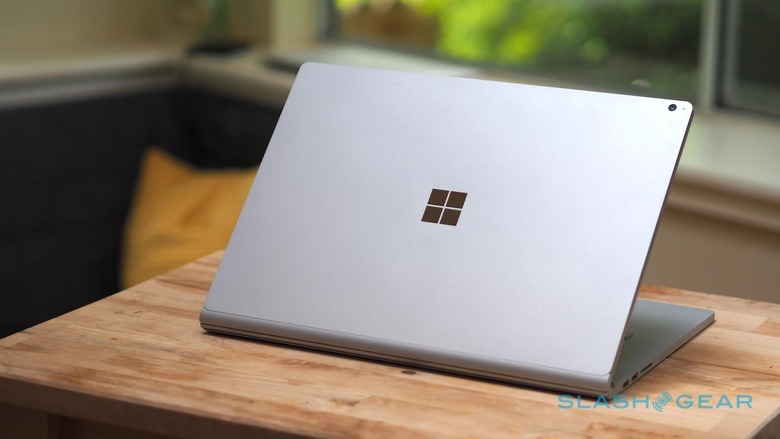 Next I looked at 3DMark. That offers a variety of tests benchmarking both graphics and processor, of escalating intensity depending on how well-spec'd your machine is. In the Time Spy test, the Surface Book 2 scored 3,451 (23.18 fps in graphics test 1; 19.69 fps in graphics test 2). Then I switched up to the more difficult Time Spy Extreme, which looks at 4K DirectX12 performance and multi-core processors, and which is said to be roughly three times more demanding than Time Spy. There, the Surface Book 2 scored 1,570 (10.45 fps in graphics test 1; 9.10 fps in graphics test 2).
The flip side to performance, mind, is battery life. Microsoft quotes an ambitious 17 hours from the 15-inch Surface Book 2, though that's for playing a looped video. The reality, as always, is that how much runtime you'll get depends entirely on what you're pushing the system to do.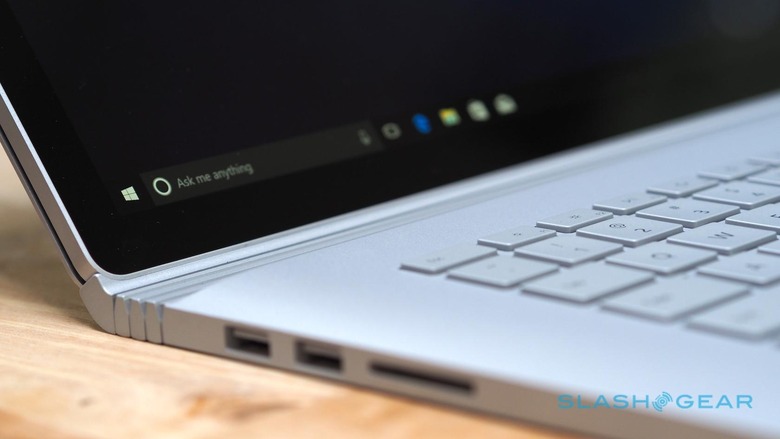 To get an idea how intensive gaming or 4K video processing might impact the notebook, I ran repeat loops of the Time Spy Extreme stress test. Unsurprisingly the Surface Book 2 lasted only a fraction of the time, though it did better than I feared might happen in this worst-case scenario. I got around 2hrs before the batteries in the base and the screen were depleted.
Suddenly, Microsoft's decision to bake an Xbox Wireless receiver inside – something the 13-inch Surface Book 2 doesn't get – makes a whole lot more sense. I'm no gamer myself, but I know plenty of people who'd love a hardcore gaming notebook that isn't either ten pounds in weight or some LED-flashing monstrosity of molded plastic. Sure, this isn't going to keep up with the very finest from Alienware, Razer, or others, but to even be mentioned in the same breath is an achievement.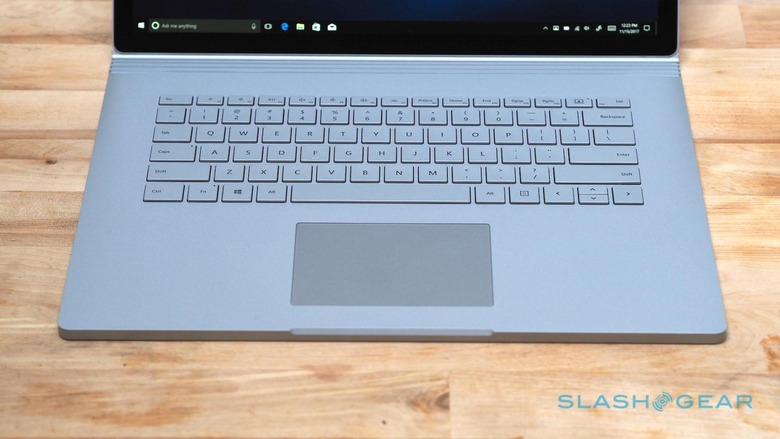 You do, of course, pay handsomely for it. The cheapest Surface Book 2 15-inch comes in at $2,499 with 256GB of SSD storage. Upgrading that to 512GB pushes it up to $2,899, while a full 1TB sees it climb to a heady $3,299. That's a long way from the $1,499 starting price of the cheapest 13.5-inch, Core i5 model (which happens to be entirely fanless, too).
Cross-shop that with a MacBook Pro, though, and Microsoft's numbers start to look a little more competitive. Max out the processor and RAM on Apple's latest 15-incher, match the Surface Book 2's 1TB of storage, and you end up spending $100 for a slower processor from Intel's previous-generation, not to mention less potent graphics.
Wrap-up
Look, I'm a realist. I know the PC vs Mac battle comes down to more than just specs: the Surface Book 2 runs Windows 10, and many macOS users are going to be reluctant to jump ship for that reason alone. All the same, I'm hoping this disparity in price and performance lights a fire underneath the MacBook team, because there are plenty of people who'd like grunt like this with an Apple logo on the lid.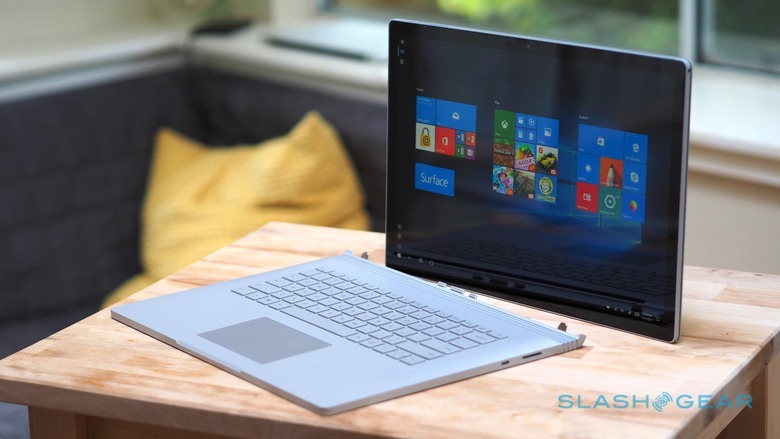 If you're a Windows fan, though, there are several very good reasons why the Surface Book 2 should be top of your list when it comes to upgrading your laptop. Only the absence of Thunderbolt 3, and the fact that you get a single USB-C port mar the experience. Otherwise, the Surface Book 2 wraps cutting-edge performance in a beautifully made package, and if that's not giving Apple sleepless nights then they're not paying enough attention.