Samsung Galaxy Watch Active2 official with magical digital bezel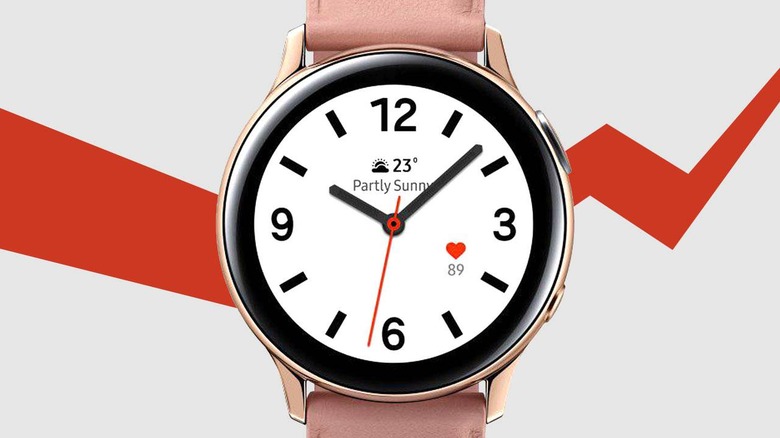 There's a bit of digital magic going on with the next Samsung smartwatch with what they're calling a "digital bezel" of sorts. They've previously released Samsung Galaxy Watch devices with a physical rotating bezel – this has gone over well. Now they want to simplify – so they've kept the bezel's abilities whilst removing the physical rotation – but how?
In reality, it's difficult to imagine going from the full-fledged physical rotating bezel to a digital bezel without issue. We'll see how it goes when we get a review unit in-hand (or on-wrist) soon. The functionality's gone from the physical movement of a metal element to a vigilant sensing of fingers moving around the rim of the watch.
SEE TOO: Our big giant Samsung Galaxy Watch Review
Two editions of this watch will be released, including 44mm and 40mm in diameter. There'll be two different styles, as well. One style is made with "lightweight aluminum" with a Fluoroelastomer (FKM) Band. The other version works with a "premium solid stainless steel" body and a leather strap right out the gate.
This device has a fairly enticing set of features that've not been released on previous Galaxy Watch devices. We'll see soon whether these various features (as shown above and below) will be released for previously-revealed Galaxy Watch wearables.
Above you'll get a closer view at the various specifications of this smartwatch as it's released this week. This device will come in a Bluetooth edition first, then additional versions soon. This first version will be available on September 27th, 2019 for approximately $280 USD for the 40mm version. The 44mm version will start at right around $300.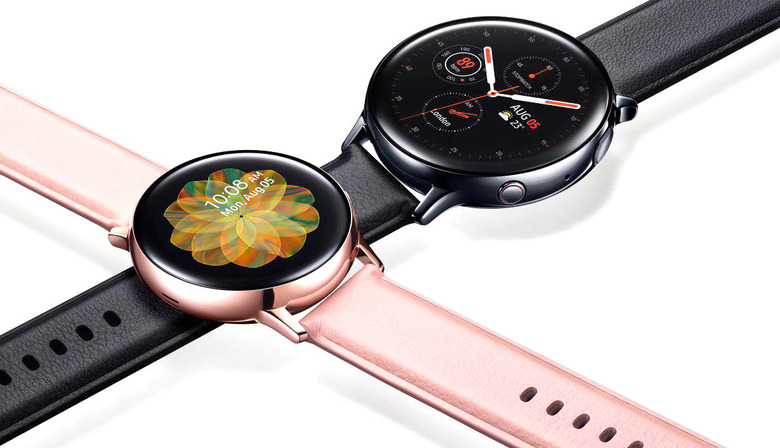 Pre-orders start on September 6th and last until September 26, 2019, on Samsung dot com and through "select retailers." Pre-orders will get a free Wireless Charger Portable Battery – where available.
UPDATE: Galaxy Watch Active2 LTE edition will be available starting September 27th, 2019, too! That version will cost just a bit more – we'll know more about higher-tier pricing soon!