Samsung Galaxy Watch Review: Just Right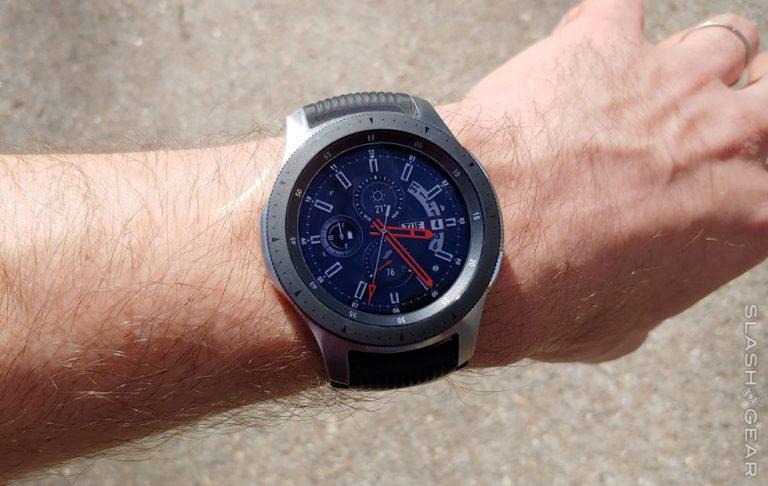 EDITORS' RATING: 9/10
We may receive a commission on purchases made from links.
The Samsung Galaxy Watch follows the tradition of the Galaxy Gear S smartwatch line with a new brand and a new outlook on life. The Galaxy Watch uses the newest version of Tizen to deliver a wrist-bound smart wearable device experience that's both powerful and feels natural. The Galaxy Watch is the first smartwatch I've worn that I've not taken off (and left off forever) immediately after my review. In this watch, Samsung's delivered something special.
Hardware
The Look: The watch I'm reviewing here is thick and wide. I have the black/silver 46mm version of the device – there's also a 42mm version available. This version of the watch is both shiny and subdued; it's somehow both flat and vibrant. This watch makes most other smartwatches look like toys.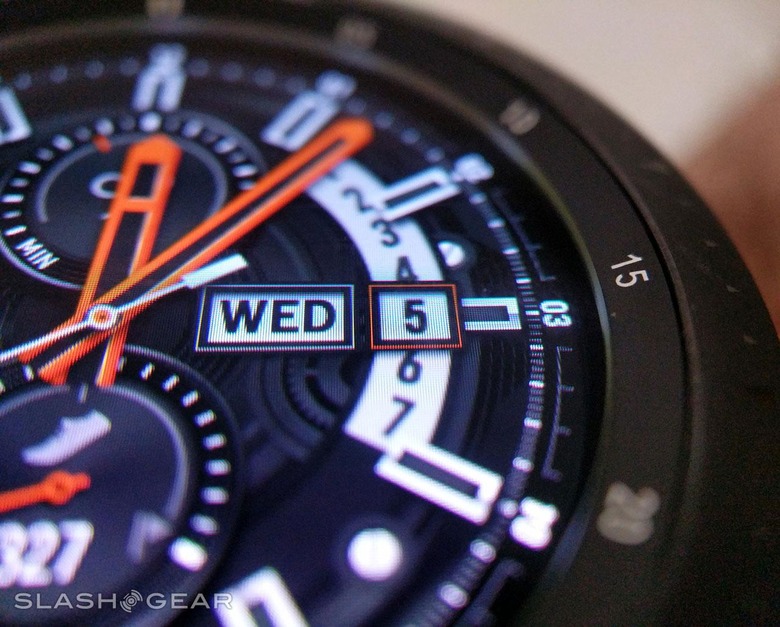 Display: The display on this smartwatch doesn't hold back. With a 1.3-inch Super AMOLED panel with 320 x 320 pixels across it, I'm provided as sharp a view as I could ever ask for. The device's software provides an environment that could be navigated by dial and buttons alone, but allows multiple controls to be used in concert should I wish to do so.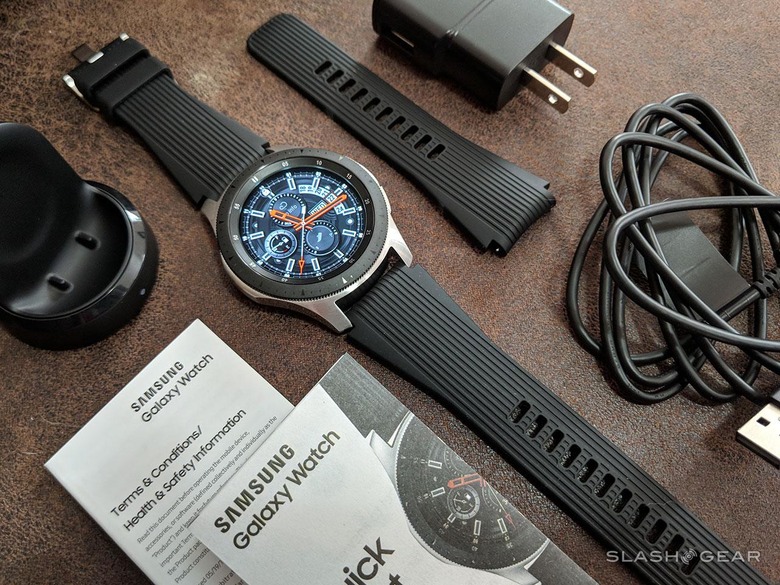 In-box Strap: The watch strap provided with the watch was comfortable and strong in the time I've used it. The box provided one piece of replacement strap – the longer side without the clasp. Samsung made a number of alternate straps available when this smartwatch was first put on sale.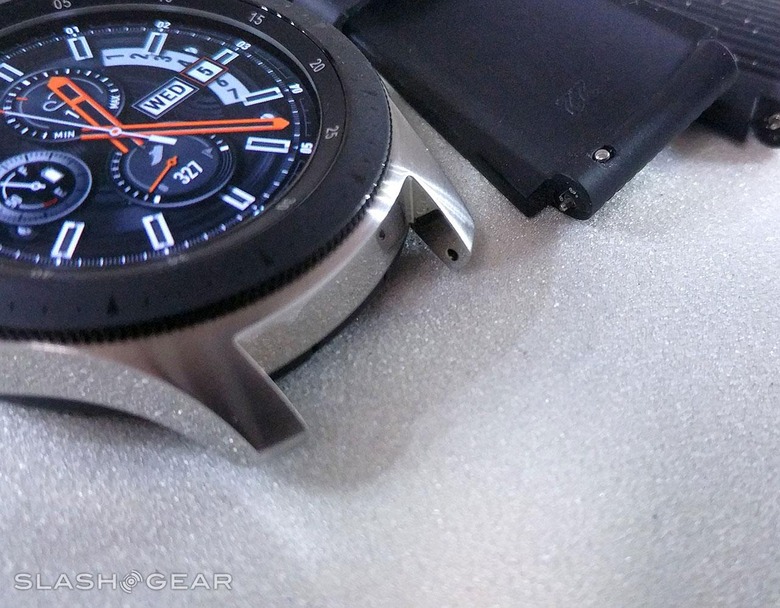 Galaxy Watch Specs:
• Sizes: 46mm or 42mm.
• Screen size: Either 1.3-inch or 1.2-inch.
• Screen type: Circular Super AMOLED, 360 x 360.
• Battery: 472mAh in 46mm, 270mAh in 42mm.
• Chipset: Exynos 9110 Dual core 1.15GHz.
• RAM: 1.5GB in LTE variants, 768MB in Bluetooth.
• Storage: 4GB.
• Software: Tizen 4
• Ruggedness: MIL-STD-810G
• Waterproofing: 5ATM
Size Re: Sleeping I wore the watch to sleep once – that was enough for me. I can't imagine wearing a watch this large to bed ever again. I'll keep it off for the time being, if only because this one time I wore it, I woke up more than once after having inadvertently knocked it against the headboard of the bed. SEE: More on sleep in the software section below.
The Dial: Functionality with the watch's spinning dial make the whole Galaxy Watch experience feel different from all other devices. Imagine the first time you used an iPod, way back when the iPod was first released. Now take that movement through lists and options and place it here, on the Galaxy Watch, activated by a ring around the face of the watch.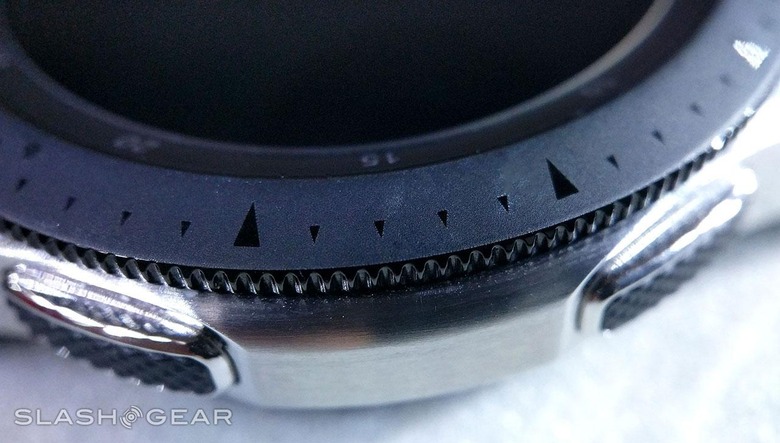 Moving in and out of features, apps, and options with the dial is a fun and entertaining bit of functionality. It's not new to the world with this watch, but it feels new here and now. With this dial, the touchscreen, and the two buttons on the side of the device, I found navigating the watch to be simple and intuitive.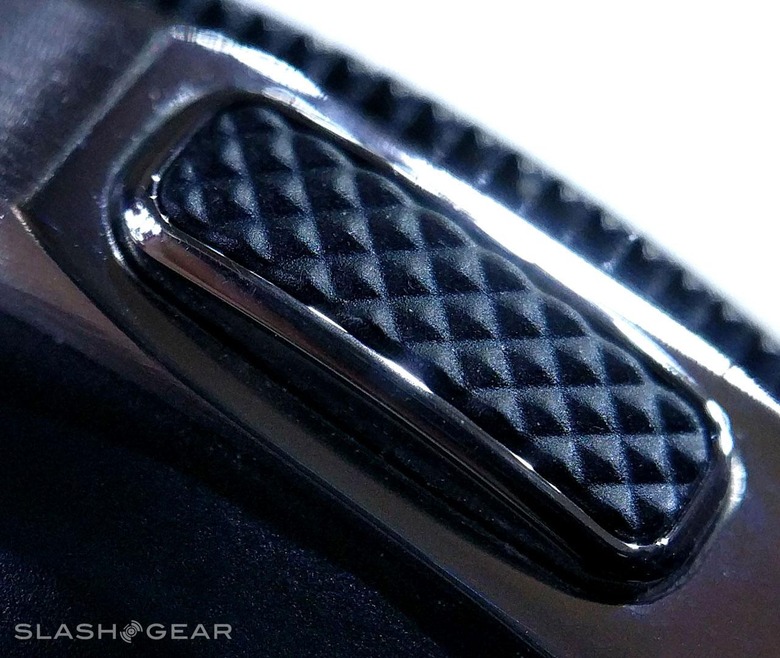 Mics/Speakers: The microphone setup on this device is surprisingly good – not quite as clear as a Galaxy smartphone, but still decent. There's a speaker on this watch as well that's not particularly loud, but does sound quite nice and balanced in close proximity. Just like I'd like my watch to be – since it's not a movie screen, after all.
Bixby or Non: This device can access Bixby, but you don't have to worry about Bixby's existence if you're not a fan. Unlike its smartphone brethren, this watch has no "Bixby Button" that's limited to that one function. It does have two big fat textured-top buttons that open up apps and turn the phone on and off, which is exactly what I'd like them to be used for.
When I wanted to access Bixby, the mic setup on the device was quite sufficient to hear at an arms-length from my face. I must admit I didn't find a need to use Bixby beyond basic tests – but then again, I rarely use any other voice assistant in my everyday life on any device, much less this most obvious place to plant one.
Software
Tizen OS / Setup: Tizen 4 is slick and smooth. The only downside I found to using Tizen here on this smartwatch was the number of apps I needed to download to get it to connect to a non-Samsung Android device. Despite the fact that I needed 4 (four!) apps to connect, the process connecting this watch to an LG V35 Thinq and a Google Pixel 2 XL was surprisingly straightforward.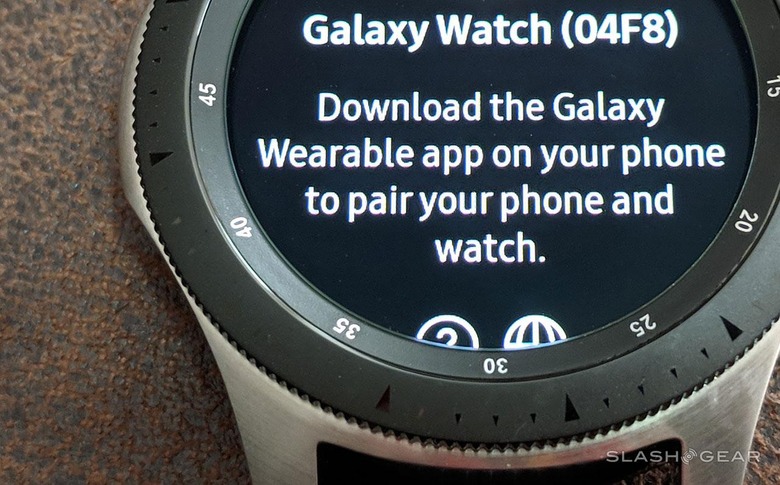 Automatic: Because I have a significant amount of activity going on in my life at any given time, this device's automatic deployment of features is much appreciated. I'm speaking mostly about the automatic tracking of steps, pre-installed apps for all advanced functions of the watch (like its altimeter and barometer), and automatic control of music apps via remote control for my phone.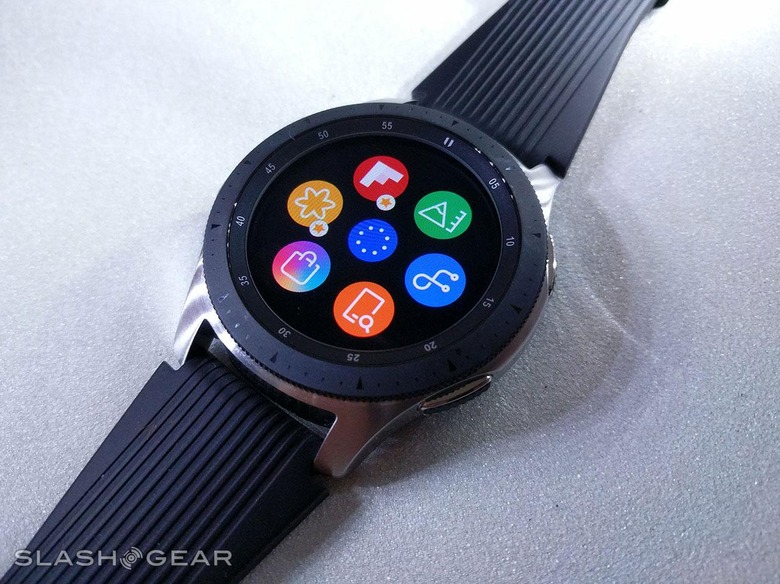 Music: The Galaxy Watch detected that I was listening to music with YouTube Music on my Android smartphone. Without the need to install any additional software, I was able to control volume, play/pause, next track, and previous track. And I could see the cover of the album that was playing on the watch – again, all automatically.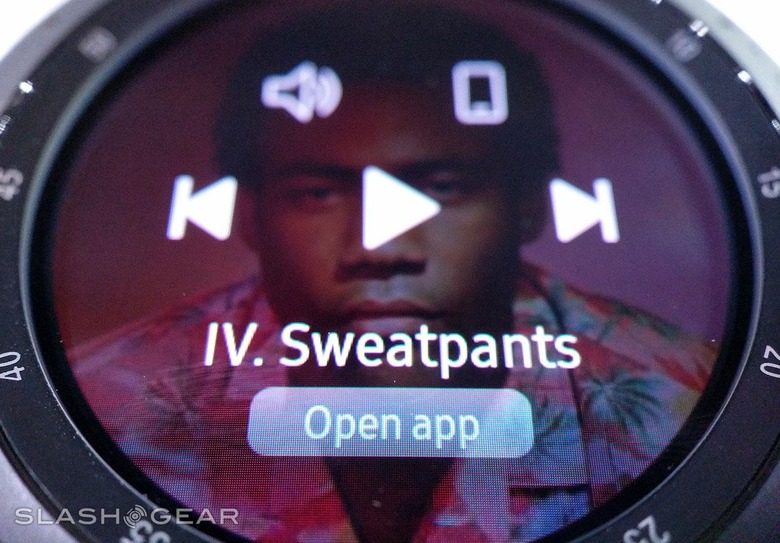 Samsung Pay: The process to set up Samsung Pay was simple. The most difficult part was actually physically picking up the phone to call my bank to get my card approved for use with the device, but that was over in short order. Once it was up and running, it worked great.
It's a bit unfortunate for those Samsung device users of the past that this device only works with NFC, not MST. But based on the number of times I've used this device to pay for anything, it really hasn't made a difference to me just yet. The software part of Samsung Pay on the Galaxy Watch couldn't be simpler.
Sleep Tracking: Despite my one experience with the watch on whilst sleeping, I did enjoy seeing the stats the watch collected while I was asleep. If I were to ever find myself in need of these statistics in the future, I could get: motionless sleep time, length of sleep, and amount of REM sleep. Samsung can say how "efficient" my sleep is – but there's little reason why I'd want this info since it's not really explained in any sort of depth.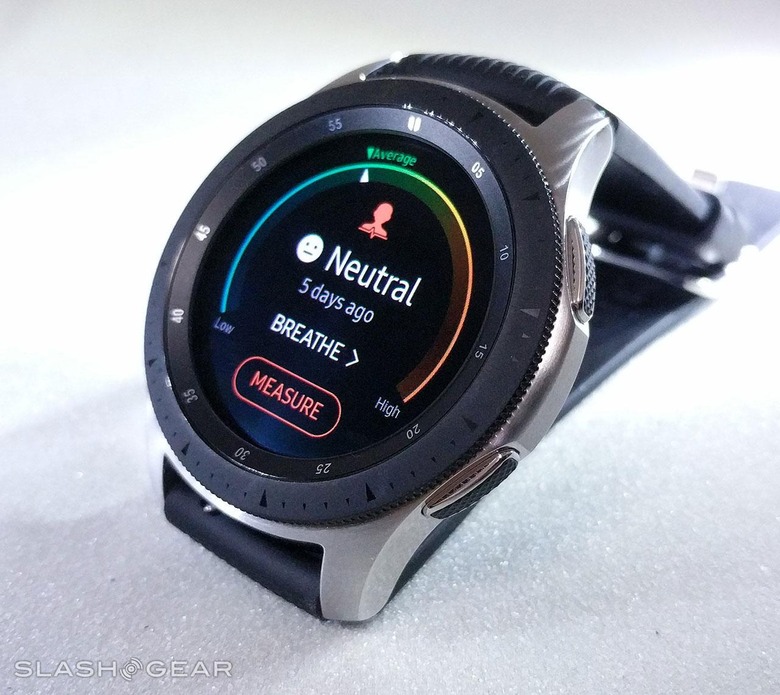 Activity Tracking: The Galaxy Watch can track a whole bunch of different sorts of activities, if you'd like. A total of 40 different sorts of activities can be tracked by the Galaxy Watch, including some of the most common on-the-go, like walking, jogging, and just plain getting up and moving around.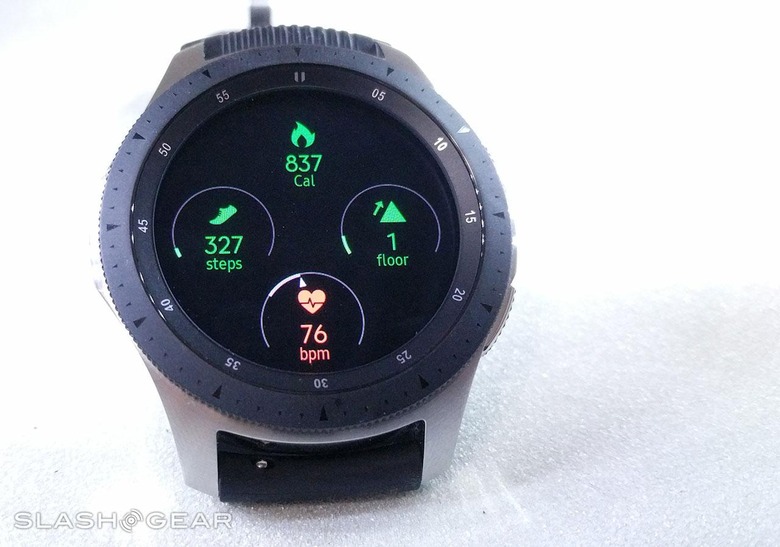 That last bit is the place where the Galaxy Watch most affected my life. Whenever the watch detected that I'd been largely inactive for a long enough period of time, it reminded me to get active. The watch basically gave me a helpful nudge to get me out of my chair.
I have a tendency to fall into a trance-like state when I'm writing news, moving from story to story without getting up from my chair. The Galaxy Watch told me this might not be great for my health. I've long been a lazy adversary of the gamification of exercise, but this watch got me to stand, walk, and to exercise for extended periods of time. I was genuinely surprised and pleased by the fact that I felt compelled to be active.
Battery Life
This device lasts a healthy amount of time on a single battery charge. Whenever I got to the point at which I was less than 15% battery, the watch notified me with a prompt. The watch asks whether the user wants to switch to Low Power Mode, and has a switch to turn said LPM on with a tap.
Whenever I switched to Low Power Mode, the watch basically froze the battery in time, it was so slow to drain. What might've only been an hour remaining on the watch turned to multiple hours. Granted, there was a tiny bit less functionality (and no fancy watch faces), but it retained several features just the same.
• Include Grayscale screen
• Include Calls
• Include Messages
• Include Notifications
• "Limit performance"
• Turn off Wi-fi
• Turn off Fancy color watch faces
With this feature on, the watch face shows battery level, the date, time, steps taken, and "Power Saving: ON." And there's a button that says OFF because this mode is only really meant to be used sparingly. But you COULD use it all the time, I suppose, if you wanted battery life that lasted days and days.
I've not yet tested the FULL limits in Power Saving Mode, but given the extension of the last few percentage points well and above what I'd otherwise gotten in standard mode, chances are good Power Saving Mode can last more than a 3 days on one charge. Without Power Saving Mode, the Galaxy Watch lasts more than 2 days on a single charge.
Verdict
The Samsung Galaxy Watch is an extremely capable piece of hardware, and a pretty great companion for my phone. This is the first smartwatch with which I've not gotten annoyed at for its less-than-intuitive user interface, or its lack of usable apps. Here I've got what I need, plus additional features I could use if I felt I needed more.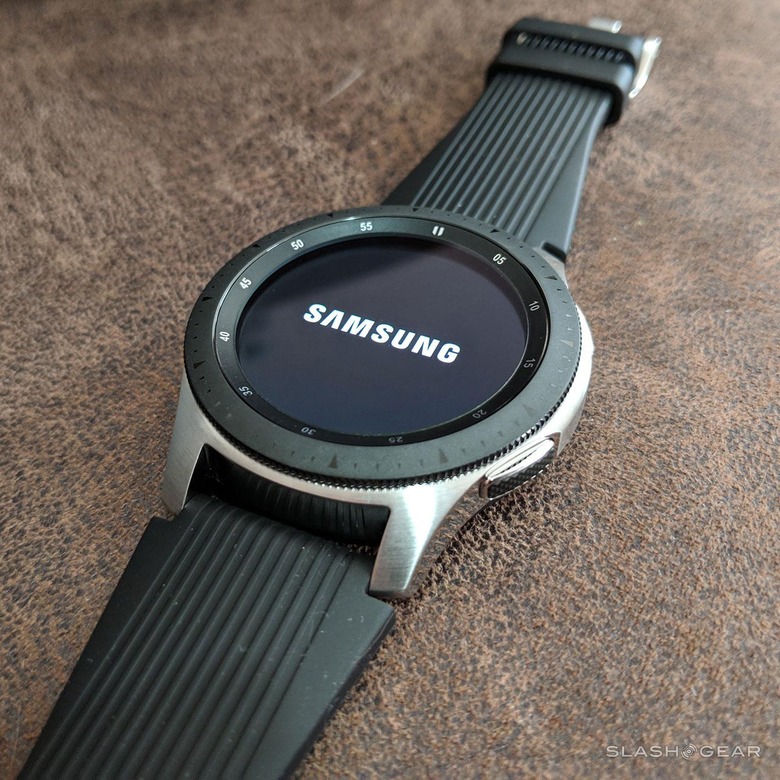 Perhaps most importantly, with a device of this size (tiny), this is the first smartwatch I've used with a capable OS that's lasted more than a day and a half on a single battery charge. That's perfect for me, a person who regularly has trouble remembering to charge devices, even when they're central to my everyday human functionality.
The Galaxy Watch can do a lot more than I've demanded it do. The fact that I didn't feel like I needed to hunt for interesting features to form judgement on this smartwatch made me believe in the usefulness of its form. It did what I wanted, then when I wanted more, it did more.
This device is made for people that already have a watch, either a non-smart watch or a first-wave smartwatch. Buying a Galaxy Watch will replace your current wrist-bound time-telling hardware with a device that's at least as nice, if not a whole lot more powerful. It's also not half bad to look at, and it makes for a fine addition in your already fashionable personal wardrobe.
The Samsung Galaxy Watch I reviewed here costs around $350 USD from Amazon – that's for the Bluetooth 46mm edition. There's also a Bluetooth 42mm edition for $330, and a pair of LTE versions now as well. The LTE 42mm costs $380, and the 46mm costs $430 USD.
SlashGear uses affiliate links, and sometimes if you buy something we'll get a small cut of the sale