Samsung Galaxy Tab's Bluetooth Stylus/handset spotted for sale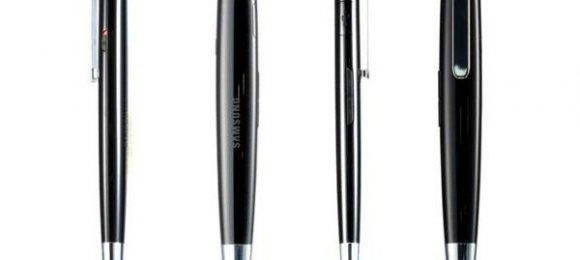 Like most of the tablet's accessories, Samsung's Bluetooth stylus for the Galaxy Tab wasn't on show at the IFA 2010 launch, though the company did confirm to us that it's certainly part of their official line-up.  Now a product page at UK retailer Play has been spotted, offering preorders of the capacitive stylus for £49.99 ($79) and tipping an October 4th release date.
The specifications are just as Samsung explained to us: the stylus has a capacitive nib, for writing and drawing on the Galaxy Tab's capacitive touchscreen, but also includes a Bluetooth module.  That supports MultiPoint – so it can be paired with both the Galaxy Tab and a second Bluetooth device, such as your regular cellphone – and allows you to answer or reject calls remotely.
Play's description makes no mention of it, but Samsung told us – and the tiny grill you can see near the top in the image above – that the Bluetooth Stylus would also work as a hands-free kit, held to your ear as you would an old-fashioned phone handset.
[via Engadget]