Samsung Galaxy Tab: second helping [Video]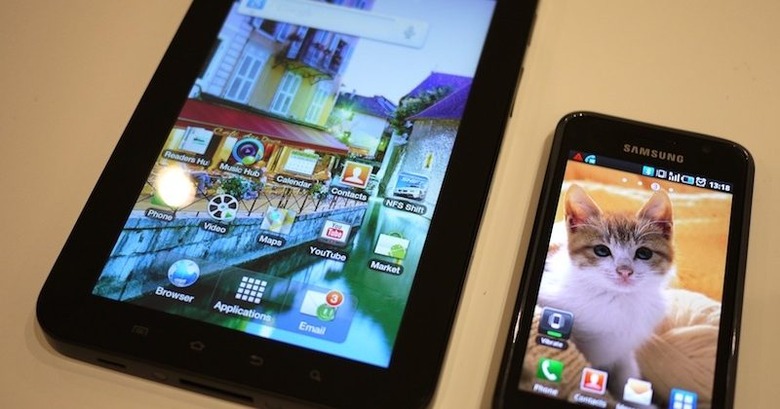 We may receive a commission on purchases made from links.
Samsung's Galaxy Tab is shaping up to be the device of IFA 2010, and while we spent some hands-on time – complete with video – with the Froyo slate right after the launch yesterday, we thought we'd head back today to see if our positive first impressions held true.  After the cut, more hands-on video and pictures of the Galaxy Tab, plus details on launch plans, Samsung's intentions for future tablets, and more!
Second time round, the Tab proved equally appealing.  It's well-sized for the hand, and, unlike the iPad, you can actually slot it into an inside jacket pocket without tearing the seams.  Side by side with the Galaxy S, and the Tab's LCD panel does a decent job holding its own against Super AMOLED.  Although 4-inches versus 7-inches doesn't sound a vast difference, as you can see in our comparison photos it's actually a considerably increase in screen real-estate.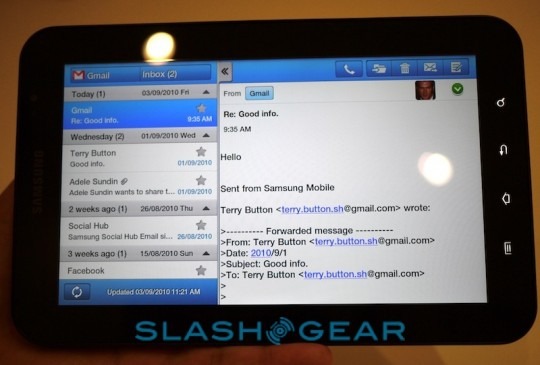 That's allowed Samsung some extra flexibility in their custom software, with the email app – that supports multiple accounts, including POP, IMAP and Exchange among others – offering a two-column view in landscape orientation that's similar to the iPad.  You can pick from a unified inbox or separate views by account, and you can adjust the split between the two columns to resize as preferred.  The calendar app, too, pulls in appointments from multiple accounts, all color coded, including Facebook dates and others.
Samsung Galaxy Tab hands-on:
[vms 99fe63f3e0041f02638a]
For multimedia, meanwhile, Samsung has partnered with 7digital to offer on-device DRM-free audio files.  That can obviously be mixed with side-loaded content.  7digital doesn't offer video, but you can view content via Samsung's AllShare streamed over wireless connections.  Thanks to the HDMI dock you can output 1080p Full HD video to your HDTV, complete with 5.1-channel surround sound, and there's also Samsung's free "QWERTY Remote Control" app for operating their IP-connected TVs.
While Samsung has ticked all the boxes for Android Market inclusion, of course most current apps aren't scaled appropriately for the slate's 1024 x 600 display.  To accommodate that, the company has built in some clever app-resizing that stretches standard software (say, designed for WVGA smartphones).  While you might expect apps to look blocky, the end result is actually pretty impressive; we'd say it looks better than, say, iPhone apps running on the iPad, and it's all done automatically and supports screen rotation (if the app itself does).
In terms of accessories, Samsung will be of course offering the HDMI Dock we spotted yesterday, together with a regular desk dock and a keyboard dock for those wanting to enter large amounts of text.  A stylus suited to capacitive touchscreens will also be on offer.  They also confirmed the unusual Bluetooth stylus spotted last week; it turns out that the stylus works as a Bluetooth handset – a pen-sized Moshi Moshi, as it were – which can be kept in your shirt or jacket pocket and then used as a hands-free kit when calls come in.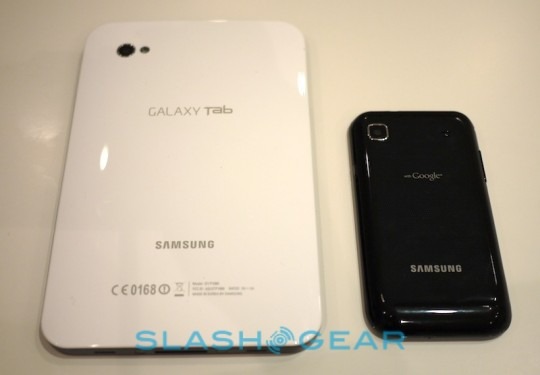 Despite the rumors and speculation seen online, Samsung told us that the Galaxy Tab's price has still not been finalized.  That's because they're still in talks with carriers, negotiating subsidies and data packages.  The Galaxy Tab will actually launch in Italy first, later in September, shortly followed by the UK before the end of the month (we've heard Vodafone are the likely carrier, though obviously Samsung wouldn't confirm that).  The expectation is that broader availability – including the US – will happen in October 2010, with Samsung preparing multiple versions of the Galaxy Tab for different US carriers, just as they have done with the Galaxy S smartphone.
Samsung told us that the Galaxy Tab is, unsurprisingly, just the first in what they see as an expanding range of tablets that will launch throughout 2011.  That range will include larger and smaller versions – the company wouldn't tell us which is coming next, though we wouldn't be surprised to see a bigger-screen Tab intended to directly challenge the iPad and potentially running Android 3.0 Gingerbread or 3.5 Honeycomb –  as well as models that target different sub-segments.  This first Galaxy Tab, for instance, has a 3-megapixel camera, partly because of size restraints but also, we were told, because the model is intended predominantly for media consumption and browsing, rather than content creation.  Future Tab slates could approach things differently.
Samsung is also working closely with Google on Android development, with regular "high level meetings" and plenty of shared code.  That bodes well for how much work they – and indeed other tablet manufacturers – may have to do to finesse Android for larger-screen devices, reducing the amount of customisation and thus helping cut down on OS upgrade delays.  The company couldn't say, though, whether developers would have access to their own particular customized apps on the Galaxy Tab, such as the new calendar app, but they will be able to easily produce their own software suited to the 1024 x 600 display.
Head over here for our first Samsung Galaxy Tab report, including more video!