Samsung Galaxy Tab hands-on [Video]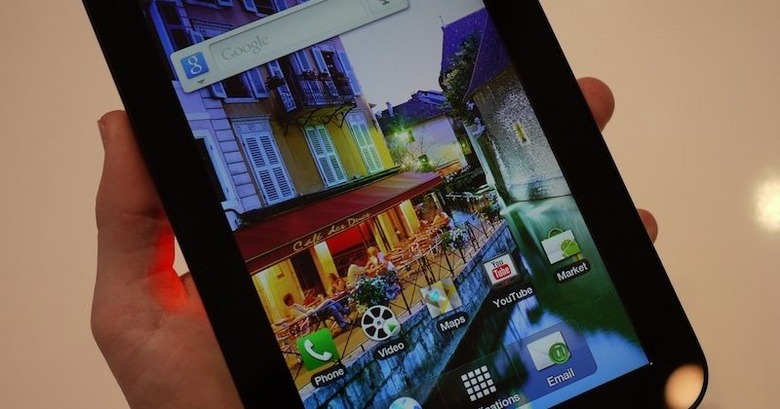 Samsung's Galaxy Tab is official, and we have to say we're impressed. We grabbed some hands-on time with the 7-inch Android 2.2 slate right after Samsung announced it, keen to see whether it's actually the filofax replacement they suggested it was. Turns out, though it may be down three inches on the iPad, that doesn't mean it's especially less usable.
In fact, the Galaxy Tab nestles into the hand quite nicely, with all but the smallest hands probably able to grip it with the tips of their fingers. The 1024 x 600 touchscreen is bright, colorful and responsive, while the TouchWiz 3.0 UI is familiar for anyone that has used the latest Galaxy S family of smartphones. We're still not huge fans of Samsung's custom UI, but it makes more sense dealing with the bigger display real-estate on offer on the Tab.
Samsung Galaxy Tab hands-on:
[vms c728867a567e8c1bb4e5]
The hardware is a little on the plasticky side, but still feels solid and creak free. It's light, too – 380g on the spec sheet generally means very little, but in the hand it hardly feels more than a large-screen smartphone. You can certainly hold the Tab in landscape orientation with one hand, without feeling the strain in your wrist as you would with the metal-bodied iPad. It's slim, though we reckon it might not actually fit into an inner jacket pocket unless it's particularly wide and deep.
Samsung has tweaked various parts of the native Froyo experience to better suit the Tab's display and form-factor. There's a new email and calendar app – the latter far better than what comes as standard on Android smartphones – together with a Kobo/Zinio ereader app that looks pretty good in portrait mode (the screen is simply too cramped for the two-page layout). Android's regular camera app is present, and you can flick between the main 3-megapixel camera and the front-facing video camera.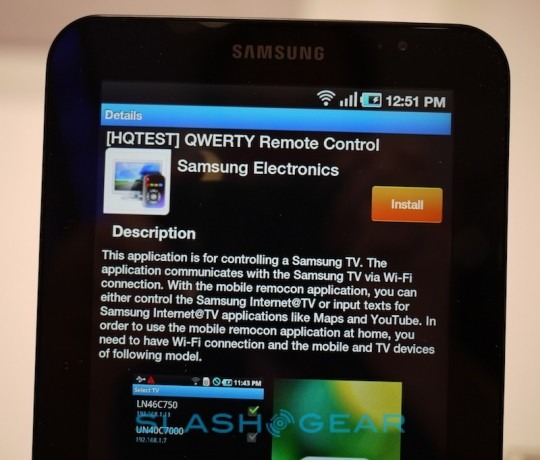 Samsung operate their own application store alongside the usual Android Market, though currently the only title listed is "QWERTY Remote Control". Intended to be used with Samsung's IP-connected HDTVs, it turns the Galaxy Tab into a wireless remote. While we couldn't try it out – several Samsung TVs were listed, but you need to authenticate them on the screens themselves and we didn't have access to them – it's just the sort of app tablet manufacturers should be offering to further bed the slates into consumers' digital homes.
The only accessory we spotted was Samsung's HDMI dock, a simple stand with an HDMI port on the side and the Galaxy Tab's dock connector on the back. No word – like for the Tab itself – on pricing, though we're guessing the company will be looking to offer it alongside the slate when it reaches the UK in September 2010.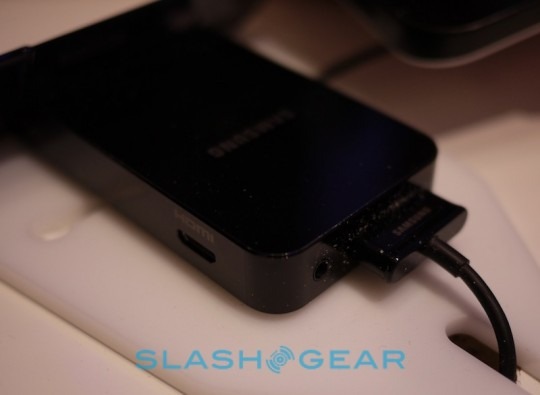 Is it "better" than the iPad? That's one of those questions everybody will be asking, but in our experience this is a very different device to Apple's slate. While plenty of people are using the iPad as a notebook/netbook replacement during travel, for everyday use it's a large and perhaps cumbersome thing to be carrying. Instead, the Galaxy Tab feels more like a Dell Streak rival, though we'll need to get them side-by-side to see how the hand-feel (and pocketability) compare. Nonetheless, we're very impressed by Samsung's first attempt at an Android slate, and we're looking forward to getting our hands on a review unit for a longer play.
Update: More hands-on video, photos and information on the Samsung Galaxy Tab here!