Samsung Galaxy Tab 7.7 Full Size Keyboard Dock Review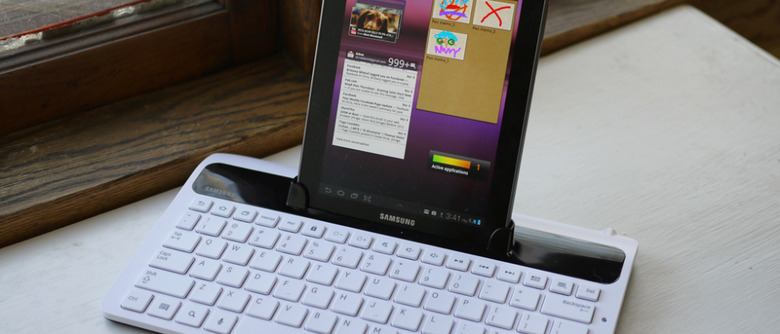 Just this past week we got our hands on the Galaxy Tab 7.7 LTE, a perfectly excellent tablet from Samsung carried by Verizon and reviewed and full by us. This week we've got our hands on the official Full Size Keyboard Dock, as it were, and it's looking to be the perfect companion for this already pretty nice little device. What we're going to look at here in this relatively brief review is build quality, speed of connection, and expansion abilities – spoiler: it does pretty good in all these categories.
Build Quality
This device looks and feels every bit as high quality as a Samsung smartphone. It's not made with a lot of aluminum as the Galaxy Tab 7.7 is, so it doesn't match up perfectly as far as materials go, but it feels right nonetheless. This is a keyboard dock I plan on using until I've got to send the Galaxy Tab 7.7 review unit back, I guarantee you that.
Ease in Use
You open the box, you place your Galaxy Tab 7.7 in the dock, and... oh that's it. Really that's all you need to do – just so long as your Galaxy Tab is charged up, the keyboard dock will be charged up out of the box and you'll be able to go with it right away. After you've used it for a while you may have to plug the dock in to the wall with the 30-pin Samsung jack on the side using the cord you got with your Galaxy Tab, but other than that it's perfectly simple. There's no software you have to download, no options you have to tap, nothing like that – it just works instantly.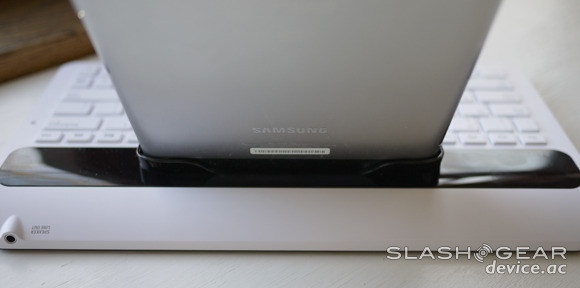 Expandability
There are three ports on this device, and one of them is right up top where the tablet connects to the keyboard. When you connect to the tablet, it is, again, an instant connection with no configuration, but just as important is this: it's not to loose and its not too snug. Samsung has had some experience with making docks for their billion different sized smart devices over the past couple of years – and it shows here in this excellent glove of a device.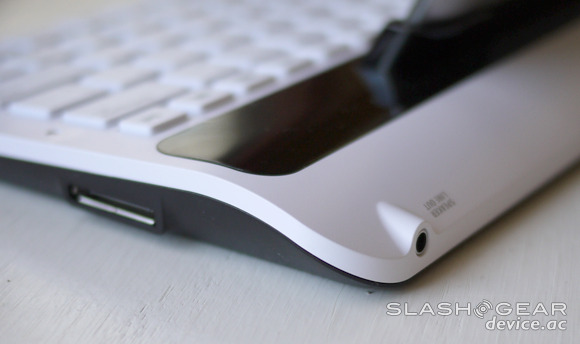 On the back of the device there's a headphone jack that'll double as a speaker jack since you've already got a headphone jack up on top of your tablet, and on the side there's another 30-pin Samsung port so you can plug into the wall or your larger computer to transfer files. There's no USB ports, Samsung's own USB Connection Kit for the Galaxy Tab line being the one responsible for that action. We'd prefer a USB port in the first place to avoid the middle-man, but perhaps Samsung is attempting to keep everything clean and simple.
Wrap-up
This keyboard dock is made to be just as high quality as the tablet is, and it looks and feels just like it was made to hook up with the tablet as one full product. There's no knowing whether you're going to use the dock on a daily basis unless you've had a similar experience with tablets in the past, but here's another spoiler for you: it's fun enough to use that you might as well just drop the cash on it right now. Key on into the future of convertible tablets!
This device is available from Verizon today for $79.99 online – grab it!