We've had our fair share of looks at child-friendly tablets in the past: they've never really found their way to the main showroom over the past several years. Something must have struck a note for Samsung, on the other hand, as the Samsung Galaxy Tab 3 Kids has appeared this week complete with yellow coloring and a bright orange bumper. This device works with essentially the same hardware as the Samsung Galaxy Tab 3 7.0, only here coming with a series of accessories, unique software, and that lovely eye-searing tone.
Inside this machine you've got a 1024 x 600 pixel display with a 1.2Ghz dual-core processor, complete with 8GB of internal storage joined by a microSD slot able to work with up to 32GB cards. The rugged rim of this device is made up of two different interchangeable pieces of rubbery plastic. One simply covers the edges of the tablet, the other works with a handle so the child can carry the tablet around like a sack.
As for the software, this device will be pre-loaded with educational apps, games, and entertainment from front to back. A selection of child-friendly e-books will be pre-loaded and a dedicated Application Manager will be available to the parent to pick and choose what's available to the child at any time. This whole process is password protected so the parent can rest safe knowing the child wont be accessing anything odd when they're playing on their own.
This device works with a 3-megapixel camera at its back and a 1.3-megapixel camera at its front, and features 1GB of ram so that dual-core processor can hum with a wide variety of kid-friendly apps. Also appearing with that case with the handle – called the "Kids Case", as it were – is a so-called "C Pen". We'll see how this pen differentiates from the original Samsung S Pen provided with Galaxy Note devices soon enough.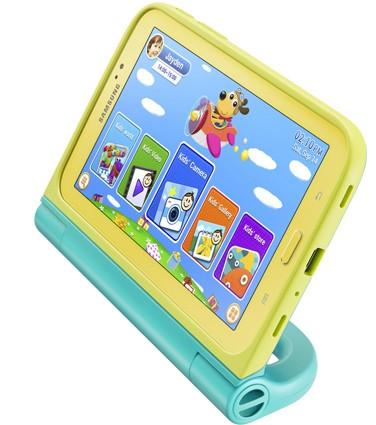 This device will be coming to Korea first in September and subsequently – though not specifically dated – across China, Europe, Africa, South America, South East Asia, the UK (though they note availability will be announced "in due course), and of course the USA. Pricing has not been announced in any way shape or form, though we'd expect it to match that of the Galaxy Tab 3 7.0 to a degree.
Have a peek at the Samsung Galaxy Tab 3 7.0 timeline below to learn more about the hardware that'll be coming with this child-aimed experience sooner than later! You'll also want to have a peek at the recently released OLPC XO tablet as well as the nabi 2 with Tegra inside.