Samsung Galaxy Tab 3 8-inch and 10.1-inch tablets pack optional LTE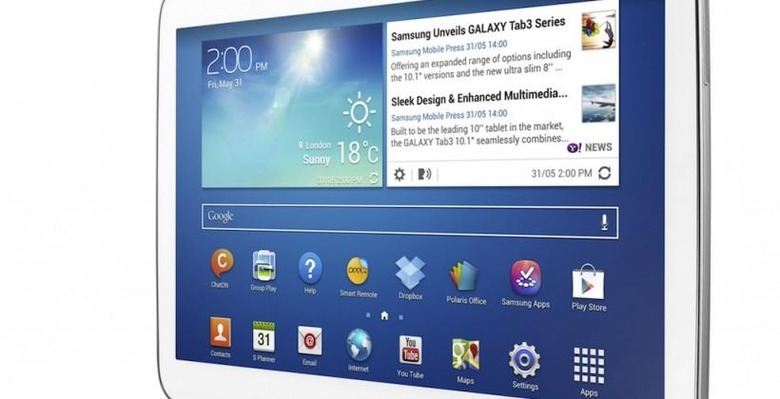 Samsung has added two new Android tablets to its Galaxy Tab 3 range, an 8-inch model and a 10.1-inch model, each running Android 4.2 Jelly Bean. The Galaxy Tab 3 8-inch has a 1280 x 800 display, 1.5GHz dualcore processor, and optional 3G/LTE, with a 5-megapixel camera on the back, and Samsung claims it's designed for single-handed use with a weight of just 314g. As for the Galaxy Tab 3 10.1-inch, that has a 1280 x 800 display and a 3-megapixel main camera, along with a 1.6GHz dualcore processor which happens to be the first Intel has supplied for a Samsung tablet.
Both tablets get a 1.3-megapixel front camera, WiFi a/b/g/n, and Bluetooth 4.0. There's also a choice of 16GB or 32GB of internal storage, along with a microSD card slot to add to it. The 8-inch model has 1.5GB of RAM, while the 10.1-inch model has just 1GB.
Samsung Galaxy Tab 3 7-inch
There's also A-GPS and GLONASS for positioning, and the usual brace of sensors: accelerometer, magnetometer, and ambient light. The 10.1-inch version offers MHL-HDMI output, too, for hooking up to your TV, and both versions have WatchON, Samsung's remote control app for taking charge of your A/V rack.
Other apps include Samsung ChatON, S Translator, Dual View and Pop-up Video, and the Samsung Hub for multimedia downloads across apps, games, music, video, and ebooks. There's also all the usual Google software.
Samsung Galaxy Tab 3 10.1-inch
Three versions of the tablets will be offered, depending on connectivity. There'll be a basic WiFi-only model, together with a 3G version, and then finally a 4G LTE model, though Samsung hasn't said which bands the LTE radio will support.
The two new models will join the previously-announced Galaxy Tab 3 7-inch, and will arrive on the market from June. No word on pricing at this stage.