Samsung Galaxy Tab 10.1 Spotted On Best Buy Site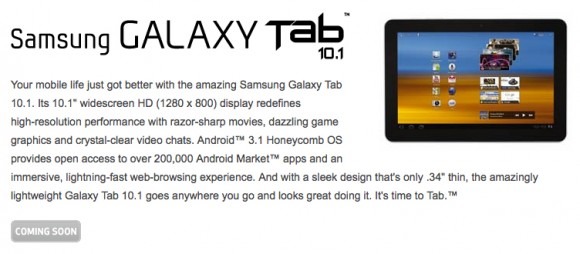 We may receive a commission on purchases made from links.
The much anticipated Samsung Galaxy Tab 10.1 has just popped up on the Best Buy website. We recently reviewed the Google I/O limited edition Galaxy Tab 10.1, and we're looking forward to see if the actual production units address some of our concerns. The tablet is rumored to launch on June 8th, and its appearance today on the site suggests that it should be right on track.
Unfortunately, the Best Buy page for the Galaxy Tab 10.1 only shows a "Coming Soon" label, without any specifics on a timeline or pricing. There's also no option to pre-order. But, the page does give a good refresher on its specs and highlights while confirming that the tablet will indeed come running the latest Android 3.1 Honeycomb.
The tablet features a 10.1-inch HD 1280x800 display and is powered by a dual-core NVIDIA Tegra 2 processor. It will sport a 2-megapixel front camera and a 3-megapixel back camera with LED flash. It's also ultra thin and lightweight, beating out the iPad 2 in both departments. The tablet weighs in at 1.25lbs and measures only 8.6mm or about 0.34-inches thin.
Let us know how you're feeling about the new Samsung Galaxy Tab 10.1. Are you saving up for it? You can check out the Best Buy product page here.