Samsung Galaxy Tab 10.1 tipped to be "days away" with Android 3.1 onboard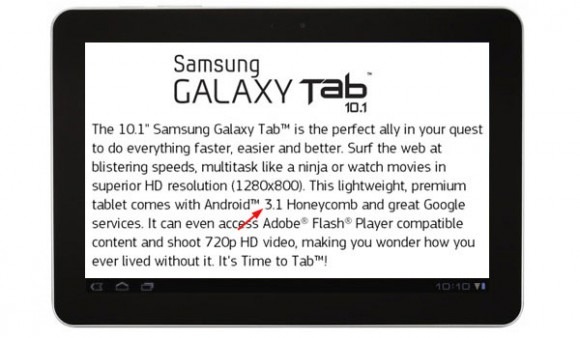 Many Android fans have their tablet hopes attached to the Samsung Galaxy Tab 10.1 that has been expected on June 8 for a while now. The tablet has some nice hardware under the hood with a 3MP rear camera and a 2MP front camera. It also has a dual core Tegra processor and a lot more. When we reviewed the limited edition version of the Tab 10.1 that was handed out at Google I/O we really liked it.
That limited edition version of the Tab 10.1 was running Android 3.0.1 as the OS. The Samsung Tab 10.1 product page has been changed and now shows that the tablet will come with Android 3.1 under the hood. A newer version of the OS onboard is a great thing indeed, unless it pushes the launch date out to allow Samsung time to get that OS updated on all the Tab 10.1's that it has ready.
To make things more exciting for Tab 10.1 fans a tweet was posted up that claims the launch of the Tab 10.1 is "days away." I hate teasers; I wish Samsung would just say when it is coming. If the upgrade on the OS takes a while, we could see the tablet roll past that June 8 launch we are hoping for. We can only wait and see at this point what the launch date turns out to be. Perhaps Samsung will give us more hints soon.
[via Android Community]