Samsung Galaxy Tab 10.1 Australian Launch Further Delayed Under Apple Assault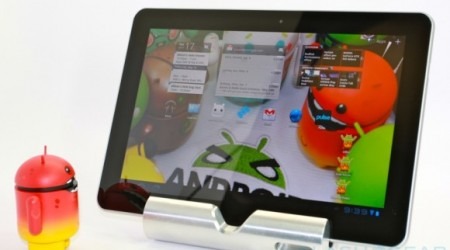 Samsung's concessions to the ongoing Apple legal onslaught continue, with news that the company has agreed to put Australian launch plans for the Galaxy Tab 10.1 on ice until September 30. The agreement – which comes despite Samsung's earlier protestations that it had a separate version of the 10-inch tablet for Australia, that did not infringe any Apple technology – will see Apple detail the patents it alleges its Korean foe has overstepped by September 5, the Sydney Morning Herald reports, with Samsung responding by September 16. Until the end of the month, however, Samsung has acquiesced to neither selling nor even advertising the Galaxy Tab 10.1 in the country.
Reports circulated in early August that Samsung had been prevented from selling the new Honeycomb tablet in Australia by a sales injunction Apple secured. The company later attempted to correct that interpretation, saying that it had merely agreed to delay sales until September 12 while the patent case progressed. However, Samsung also claimed that the agreement only covered the US-spec version of the Galaxy Tab 10.1, which had never been intended to go on sale in Australia, and that it had already readied an alternative model.
This new concession, however, suggests that Apple's legal argument that the modified tablet – while demonstrating "some reduced functionality", a claim Samsung unsurprisingly denies – "will still infringe" could have legs. "We don't have any evidence that makes their case. We have a different product, a new product ... we believe our device does not infringe" Samsung's lawyers argued, but conceded to the judges suggestion that putting the slate on sale and then potentially yanking it shortly after made little sense.
Instead, Samsung has filed a countersuit against Apple, The Australian reports, arguing that Apple's patents are invalid among other things. "Samsung will continue to pursue all possible measures including legal action to defend its intellectual property rights and ensure its innovative products remain available to consumers throughout the world" the company said in its statement.
"Today, Samsung Electronics informed the Federal Court of Australia it intends to file a cross claim against Apple Australia and Apple Inc. regarding the invalidity of the patents previously asserted by Apple and also a cross claim against Apple regarding violation of patents held by Samsung by selling its iPhones and iPads. Samsung will lodge the cross claim through the Federal Court in the coming days." Samsung statement
Apple claims the modified Australian tablet still infringes at least two of its patents, FOSS Patents reports, but that it is still examining the device for further evidence. Although a ruling against the company in Australia would not have a legal impact on the ongoing US and European suits, it would certainly impact Samsung's PR campaign that Apple's iPad was not, in fact, "novel" in its interpretation of a tablet.
[Thanks Dylan X!]