Samsung Galaxy S7 release date leak in China tips hat to theories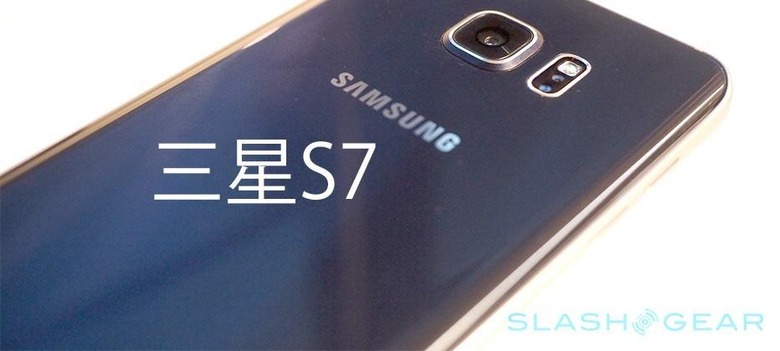 Earlier today a China Mobile conference leaked – or didn't seem to care about revealing – the release date of the Samsung Galaxy S7. Previously we'd been told by anonymous sources that the Samsung Galaxy S7 and Edge would likely follow the general release schedule of the Samsung Galaxy S6 and Edge, being revealed at a Samsung press conference during Mobile World Congress 2016 in February and coming to stores within weeks of that reveal. It would appear now that China Mobile has confirmed at least the flatter bit of this set of tips.
In the chart photographed by a Weibo micro-blogger this morning you'll find the release date range for the Samsung Galaxy Note 5 (32GB) as well. China Mobile will get this smartphone in late December or early January. They'll also be getting the Huawei Mate 8 and the ZTE Axon Mini during this date range.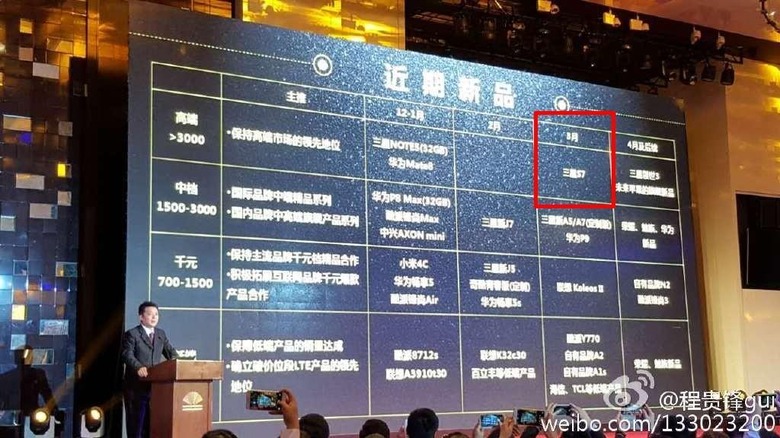 Joining the Samsung Galaxy S7 in March is the Samsung Galaxy A5 and Galaxy A7, as well as the Huawei P9. We can expect at least ONE of these smartphones to be released in the United States sooner than later.
Why Galaxy S7 will leapfrog iPhone 7 for true believers
The specifications you'll see below have been gathered by SlashGear from anonymous sources, tips, and rumors revealed over the past several weeks. These specifications are by no means guaranteed to be accurate, and should be taken with a grain of salt.
Samsung Galaxy S7 details (pre-official)*• Dimensions: 143.4 x 70.8 x 6.9mm (5.65 x 2.79 x 0.27-inch)• Display: 5.1-inch Super-AMOLED with 1440 x 2650 pixel resolution (that's Quad HD, or 2K)• Operating System: Android 6.0 Marshmallow• Processor: Qualcomm Snapdragon 820, Samsung Exynos 8890 (octa-core)• RAM: 4GB RAM• Camera: 20MP back-facing camera – similar to Sony Xperia Z5, with 4K video recording abilities, dual-LED flash *downgraded from our last report, which suggested 25MP• Front-facing camera: 8-megapixel (similar to this year's model)• Battery: 3,500mAh (guesstimate based on historical precedent)• Internal Storage: 16, 32, 64GB, microSD card slot for storage expansion• Special Features: Fingerprint scanner, Force Touch pressure-sensitive panel (under display), Corning Gorilla Glass 5 front and back panels
The design of the Samsung Galaxy S7 has been tipped more than once to be very, very similar to that of the Samsung Galaxy S6. Think of this as a "tock" year in a "tick tock" schedule for the smartphone maker. Expect a similar, glass and metal design with advanced innards – and maybe even a better camera, to boot.
VIA: Weibo (UPDATE: original URL removed)