Samsung Galaxy S7 camera details: bettering the best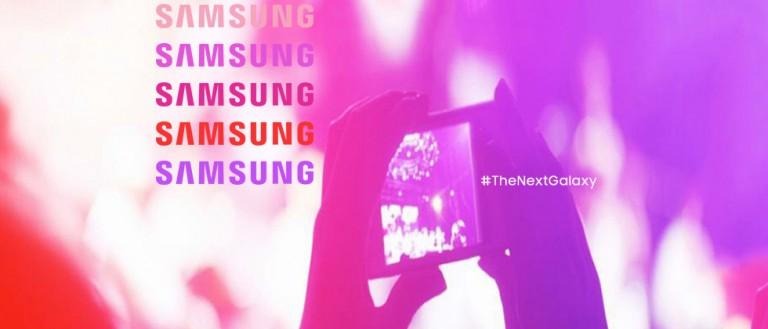 The Samsung Galaxy S7 and S7 Edge are likely headed toward a full reveal on the 21st of February, complete with a new set of cameras. Today we're having a peek at some of Samsung's newest in camera technology – mobile technology, that is to say – revealed in part all the way back in November. This camera tech will make the next Galaxy smartphone's camera powerful in all conditions. Not just outdoors. Not just in high lighting conditions. All places.
Again – as we noted earlier today – Samsung has not yet revealed the full collection of official details surrounding this device. Or these devices. Samsung has been tipped to be revealing two smartphones later this month, one a Samsung Galaxy S7, the other a Samsung Galaxy S7 Edge. Both with the same camera setups.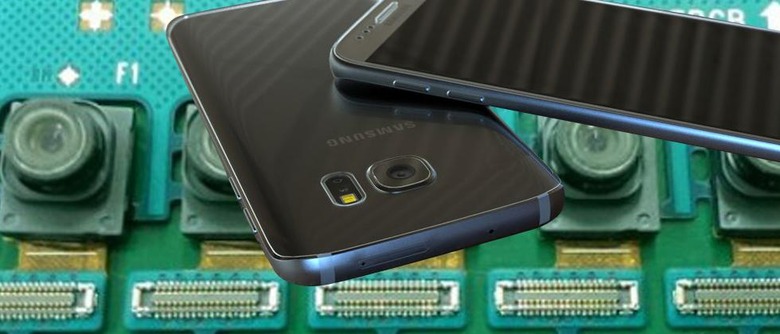 The information we're working with here comes from a Samsung Electronics Investors Forum, one which took place on the 16th of November, 2015. Samsung never explicitly mentions the Samsung Galaxy S7, but does speak about the innovations that'll be making their way to their best devices in the near future...
I.E. the Galaxy S line and Galaxy Note line eventually.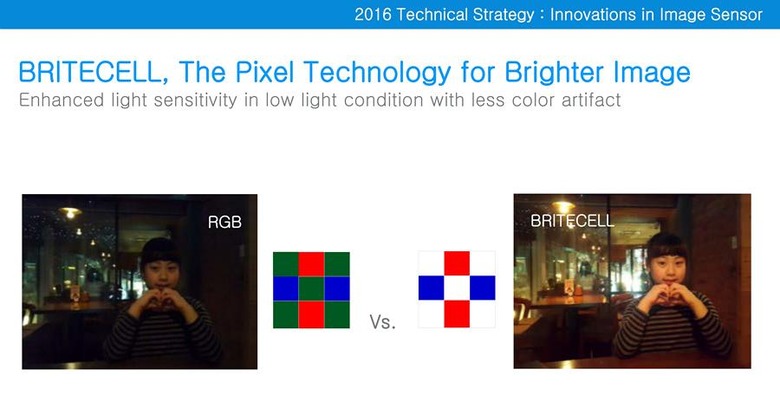 Using what's branded BRITECELL technology, Samsung will bring the light to the darkness with their mobile cameras on Galaxy smartphones. This technology resides inside the device's image sensor, where it allows the device to perform far better than its predecessors in low light situations.
To do this, the Galaxy S7 will reduce the amount of color artifacts present in modern day mobile photos. Less mess, basically.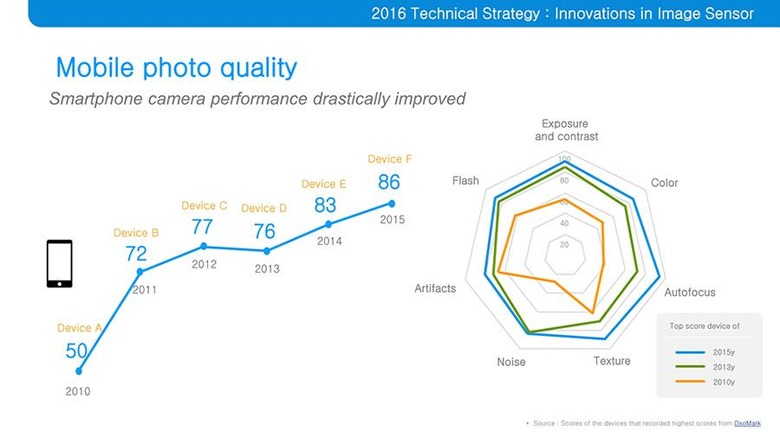 Above you'll see a chart showing how Samsung smartphones did in the camera department according to DxOmark.
A very TINY change in the size of the pixels you'll be working with in the camera for the Galaxy S7 also makes a difference in light sensitivity. Somehow. Perhaps by magic – Samsung hasn't made that trade secret entirely clear.
What they have suggested is that their next big jump in mobile camera technology's module height (pixel) is reduced by 17% while, at the same time, you'll be getting similar low light sensitivity as a 1.12um pixel.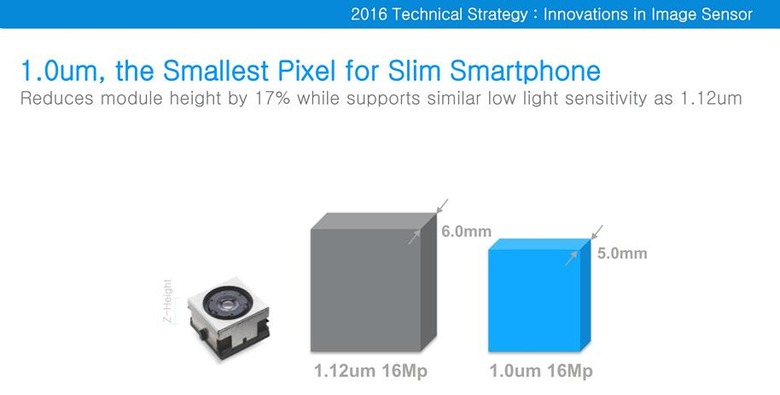 Samsung concentrated on these four features in their hero line of smartphones over the past year:
• Small Pixel Size
• Wide Dynamic Range
• Low Light Sensitivity
• Instant Auto Focus
Not that the Galaxy S6 didn't have these features, but the Galaxy S7 will be improving on the lot.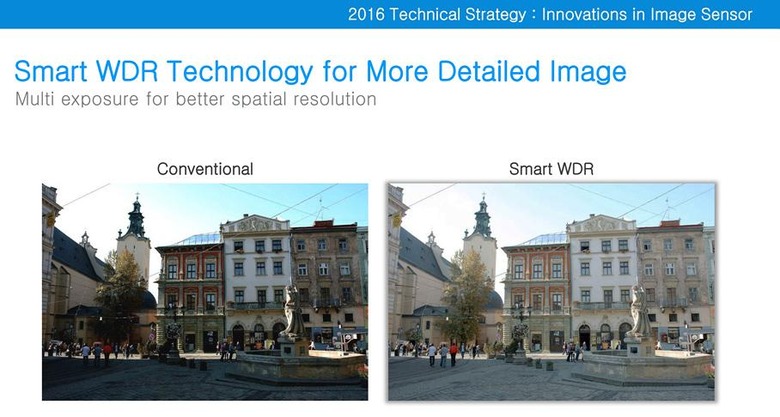 The Galaxy S7 will have the finest "Smart WDR" (wide dynamic range) in any Samsung smartphone. This means a better range of color and resolution throughout each image.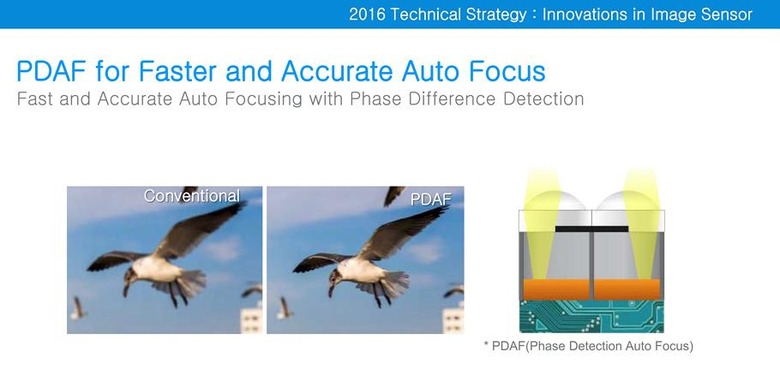 The Galaxy S7 will also roll with better PDAF. That's Phase Detection Auto Focus – faster speeds on your snappers. Better photos of seagulls.
Samsung Galaxy S7 details (pre-official)*
• Dimensions: 143.4 x 70.8 x 6.9mm (5.65 x 2.79 x 0.27-inch)
• Display: 5.2-inch Super-AMOLED with 1440 x 2650 pixel resolution (that's Quad HD, or 2K) (or 5.5-inch for the Edge)
• Operating System: Android 6.0 Marshmallow
• Processor: Qualcomm Snapdragon 820, Samsung Exynos 8890 (octa-core)
• RAM: 4GB RAM
• Camera: 16MP back-facing camera – 4K video, dual-LED flash, BRITECELL technology
• Front-facing camera: 8-megapixel (similar to last year's model)
• Battery: 3,500mAh (guesstimate based on historical precedent)
• Internal Storage: 16, 32, 64GB, microSD card slot for storage expansion
• Special Features: Fingerprint scanner, Force Touch pressure-sensitive panel (under display), Corning Gorilla Glass 5 front and back panels, curved glass edges on rear, similar to Galaxy Note 5
*NOTE: that the information in the specifications run-down is NOT direct from Samsung. Instead it is based on analysis based on precedent as well as data from anonymous sources and leaks from over the past several weeks.
Stick around for the March 21st Samsung Unpacked event which will be taking place in Barcelona, Spain, amongst other locations we're sure. We'll be covering the event right up close and personal. Hit our Samsung tag portal for more. Until then!