Samsung Galaxy S5 case hints at release date and iPhone-style flash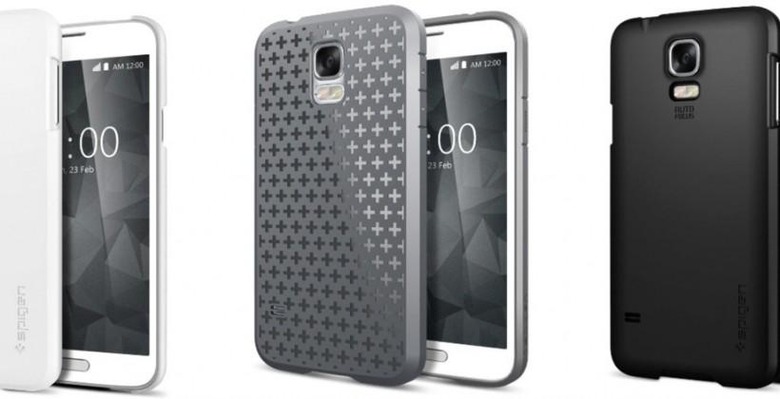 We may receive a commission on purchases made from links.
Samsung has managed to keep the Galaxy S5 pretty much under-wraps ahead of its presumed MWC 2014 debut, but that hasn't stopped case manufacturers getting in on the action, with protection for the Android flagship already showing up in the wild. Spigen has been revealing what look to be some Galaxy S5 design cues, Android Community spotted, with a premature Amazon listing including both images and a release date, as well as raising questions about a potentially iPhone-style LED flash.
The listing shows seven different variations on the case, ranging from clear through to soft-touch matte finishes. However, it's the device inside that we're most curious about, with a broader LED flash and what looks in some shots like a matte texture to the lozenge-shaped home button.
That could well be to accommodate a fingerprint sensor, bringing biometric security to the Galaxy S5, much in the manner that Apple included the Touch ID home button on the iPhone 5s. Previous leaks have suggested Samsung will offer a number of uses for the security feature, ranging from fully locking-down the phone to just securing a particular folder.
Interestingly, the flash shown on the device in Spigen's images also looks somewhat familiar. As on the iPhone 5s, it appears to have two slightly different colors of LED; Apple uses that system to dynamically adjust the warmth of its flash, so that it better handles a range of lighting conditions.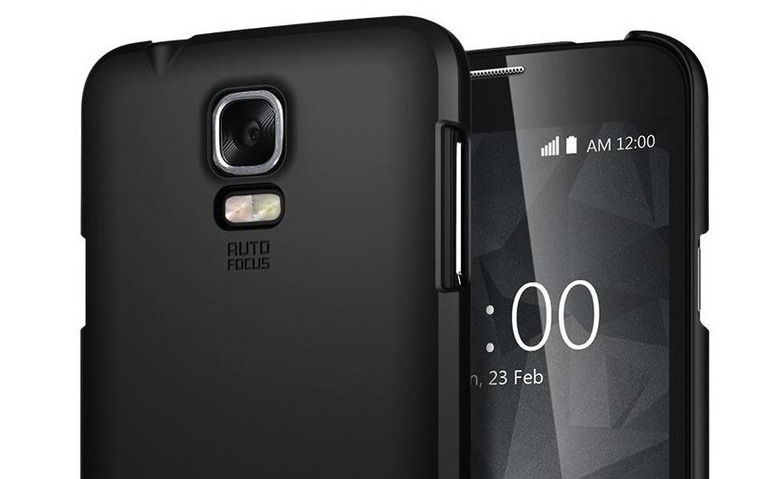 Samsung discussed its LED flash technology recently, all but confirming that at least one would feature in the Galaxy S5, though there was no mention of LED-temperature mixing at the time.
According to Spigen, the new cases will go on sale April 15th, though right now we don't know whether that's the same date that the Galaxy S5 itself will begin shipping. Of course, all this could be subject to change too, since we can't judge the accuracy of Spigen's own phone renders, but it wouldn't be the first time that new phone details had been prematurely spilled by third-party accessories to go with it.
We'll know more after Samsung's MWC 2014 event next week; SlashGear will be there to bring back all the details on Monday.