Even though we're so very close to the release of the Samsung Galaxy S4 Active here in the United States with AT&T, we got the opportunity today to have a peek at the machine up close and personal today in London. This device is essentially the full excellence of the Samsung Galaxy S 4 in rugged form – made to survive underwater adventures and dust storms alike. Have a peek at this machine in its Urban Gray form right this minute!
This device is coming to greater Europe as well as the USA, as evidenced by its appearance here at the Samsung Premiere event in London. What everyone will be getting is the same package, not counting mobile data connectivity. That includes a 5-inch 1080p HD display, TFT LCD technology, and an 8 megapixel camera on this machine's back.
The Samsung Galaxy S4 Active works with LTE, HSPA+, and other forms of lesser datas depending on where you're living, and also taps out with Wi-fi, Bluetooth 4.0, and NFC. Inside is also the Qualcomm Snapdragon 600 quad-core processor, the same unit as in the original Samsung Galaxy S 4 – high-powered.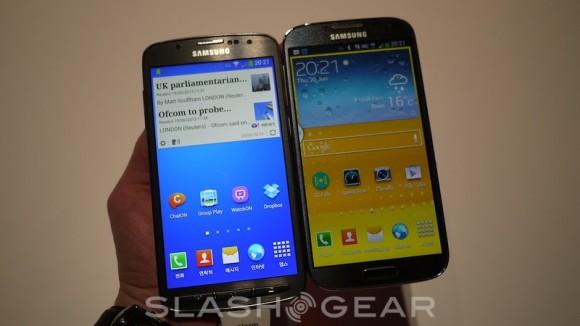 Note: This photo is for size comparison only – the displays aren't technically set at the same brightness, so pay no attention to that bit.
The smartphone you see before your eyes works with an Aqua Mode that'll allow you to take photos underwater with a bit of the ol' software compensation. In this case we've not yet been able to test said feature, but Samsung says we'll be able to increase quality and clarity for underwater shots when we do – can't wait!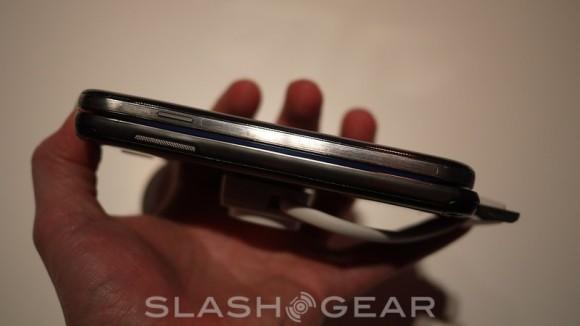 You'll find that this device is a bit shorter than the Samsung Galaxy S 4 while it remains essentially the same size basically everywhere else. It's a bit thicker as well – but unless you've got both devices next to one another, you'll never notice the difference. Stay tuned as we continue this heavy-duty investigation.