Galaxy S10 specs: Cameras on deck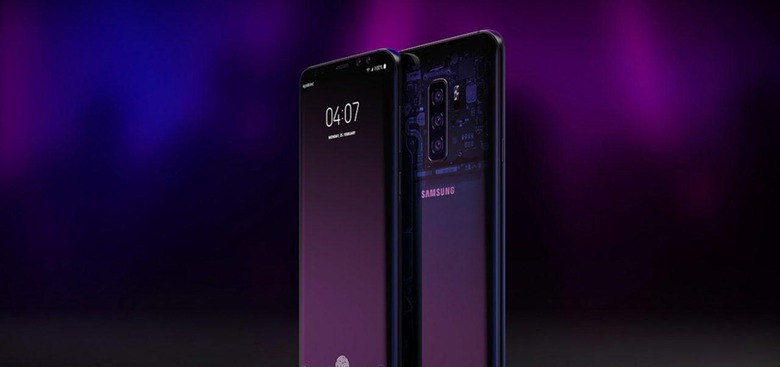 The camera array for the Samsung Galaxy S10 is this afternoon's subject of leaks from South Korea. It's become apparent that Samsung's plan for the most expensive of its multi-Galaxy-S lineup for 2019 will be delivered with some rather obvious differentiating factors. The most expensive device, that is to say, will have an extra camera on its back.
Samsung's strategy with the Samsung Galaxy S10 won't be all that unlike what Apple's done with the Galaxy X and 8 and 8 Plus. This year Apple will almost certainly deliver a lineup of three tiers of iPhone – iPhone, iPhone X, and iPhone X Plus. While the smallest of these is likely the iPhone X, the iPhone (midsize display) will be the least expensive, and iPhone X Plus is probably the biggest.
SEE TOO: Galaxy S10 tipped freed from iPhone X's shadow
But with Samsung, leaks indicate that there'll be three different devices and just two sizes. Imagine a Samsung Galaxy S10, a Samsung Galaxy S10 Plus, and some sort of third, far more premium model. Significantly more premium, in a set of ways that are instantly visible to the end user.
One of the ways we're expecting this to happen is with a third camera lens. We're expecting at least two lenses on the lesser 2 of 3 models, while the third will likely have three lenses. That's not unlike what we've seen with some of the most premium names in smartphones here in 2018 in China.
Huawei delivered a device called the Huawei P20 Pro here in the summer of 2018. On that device was a set of three – yes, three – camera lenses. Huawei's in hyperspeed mode at the moment, as its main bit of business is in China. In China, the smartphone industry seems to be slightly more hungry than the United States.
Here in the United States, there's a sort of relaxed, whatever works sort of attitude going on. Just make sure the phone looks just a little different or has one or two different features, and sure, I'll buy the new model. That's what the United States mobile market is all about right this minute.
Just so long as the device is the same brand as they've purchased before. Because why switch?
Samsung's method for worldwide dominance with the Galaxy S10 will focus on checking all the list items for each different sort of consumer. Where the history of Samsung smartphones was all about throwing wet noodles at a wall to see what stuck, here they're focusing a bit.
Instead of releasing a ton of different smartphones with different brands around the world, they're pushing a three-tier system inside the Galaxy S brand. At least that's what we've heard quite recently from sources of the anonymous sort.
Have a peek at the timeline below for additional bits and pieces in the ongoing Samsung Galaxy S10 story. We're expecting that Samsung will reveal the Samsung Galaxy S10 at their inevitable event taking place the day before the first day of Mobile World Congress 2018 – that'd be the 24th of February, 2019. If that takes place then, we'll expect the Galaxy S10 to be released around March 15th, 2019.