Samsung Galaxy S III Image And Reveal Date Reportedly Leak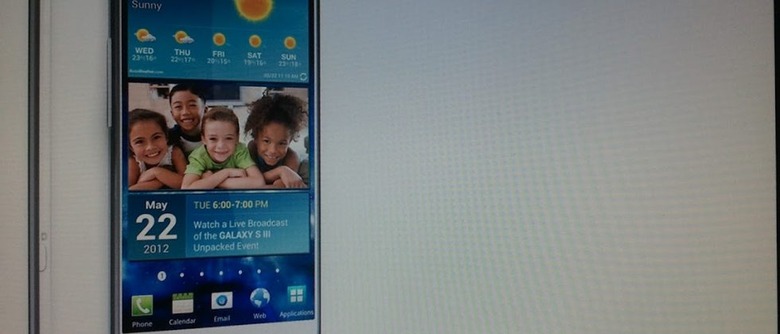 Samsung Galaxy S III rumors, renders and leaks have proliferated as the Korean company's next flagship approaches, and the most convincing render to date has emerged along with suggestions of a May 22 reveal. The image, shared at reddit, shows a device which resembles a Galaxy S II being hugged by the polycarbonate edging of an HTC One X, though the Samsung phone is believed to use a Rado-style ceramic casing instead of plastic.
It's the details shown on the screen that have prompted suggestions about when, exactly, Samsung might make the new smartphone official. According to the weather and calendar widgets, the Galaxy S III will make its debut in a London "Samsung Unpacked" event at 6pm on May 22, 2012.
Samsung has previously said it intends to officially announce the new phone sometime in the first half of this year, and it's not uncommon for smartphone and tablet manufacturers to theme their device mock-ups to suit the launch process. Still, keep a sizable pinch of salt to hand.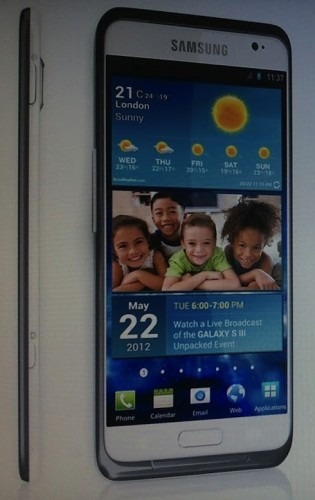 As for the side-profile, that shows a dedicated camera key and the expected 8-megapixel camera bulge itself, supposedly the only thing spoiling the roughly 7mm thick casing. We'll know more over the next few months, but we certainly don't expect this to be the last leak about Samsung's new flagship.
[via Xataka]