Samsung Galaxy S III hits UK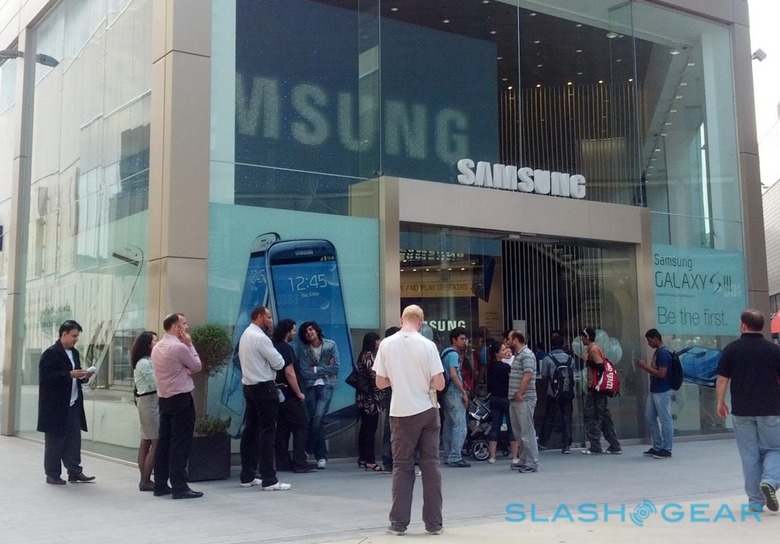 Samsung's Galaxy S III has arrived in the UK, with the company's third-gen flagship smartphone already facing stock shortages as demand massively outstrips supply. Released in mainland Europe yesterday - as well as a day early from Samsung's flagship UK store, where the queue (shown here a few hours before sales began) quickly outstripped stock – the much-anticipated 4.8-inch smartphone is hitting all major carriers and retailers in the UK. More details after the cut.
Supplies have been hampered by the unexpected issues Samsung is experiencing with the Pebble Blue model. The firm blamed its own "high standards" for the blue variant's delay, though unofficially it's believed that an issue with the "hyper glaze" applied to the phone's battery cover has left it mottled and imperfect.
Whatever the reason, Pebble Blue devices now aren't expected to reach shelves for the next 2-3 weeks, and that has seen many pre-order customers jump from their original blue choice to one of the increasingly rare white models.
Of the networks, O2  is reporting 5 days wait before orders ships, while Vodafone claims it has the Galaxy S III in-stock for home-delivery. T-Mobile UK expects orders to go out "after May 30th", while Three and Orange aren't giving estimates online.
Samsung Galaxy S III video review:
[vms 18a679e48b31c72c30de]
In-store, however, the situation can be very different. We're hearing some stores are already sold out of what stock they got in this morning, with replenishment not necessarily before the end of the week. In short, call before you travel.
As for unlocked devices, Clove is offering the Galaxy S III SIM-free for £499.99, with the first stock expected to ship out on Friday, June 1.
If you're still undecided as to whether to go for the Galaxy S III at all, check out our full review for all the details.