Samsung Galaxy S III at IFA offers Jelly Bean and hands-on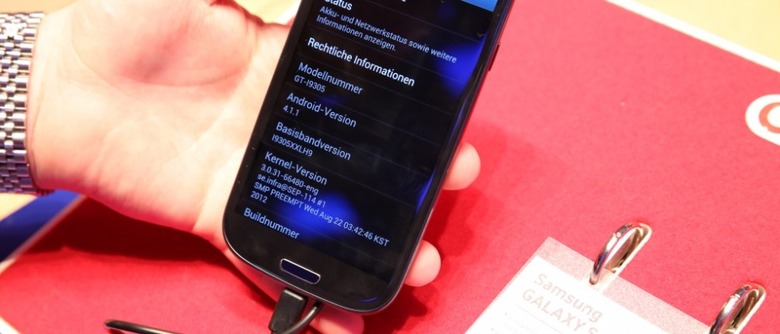 This week we got a quick hands-on with the Vodafone Samsung Galaxy S III LTE at IFA 2012 running the next generation of Google software: Android 4.1 Jelly Bean. This operating system upgrade has not yet been released for the Samsung Galaxy S III anywhere else in the world, but Samsung has promised that it will be out "very soon." We also got a Speed Test result for those of you wanting to see how fast the Vodafone LTE network can be in Germany.
This device is a lovely Plum color, too, a color that's certainly rare if not completely exclusive at the moment to Vodafone. This device otherwise has the same specifications as the Galaxy S III throughout Europe with a quad-core Exynos processor from Samsung – the difference between this and the USA being a Qualcomm Snapdragon S4 dual-core processor. Have a peek first at the LTE result from inside the IFA building: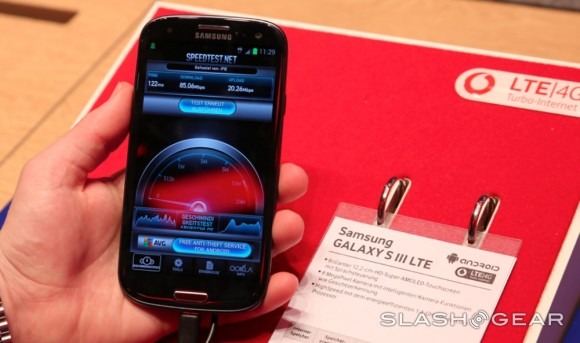 Next have a peek at a single Quadrant benchmark result, and note that the I/O and CPU are quite high. Compare them to the HTC One X with NVIDIA's Tegra 3 processor if you wish, and see how they're both handling four CPU cores in hardcore action. The HTC One X with Tegra 3 got CPU 6670, Memory 3305, I/O 4832, 2D 946, 3D 1244. Also compare if you will to the Galaxy S III we've reviewed in full – the International Version, that is.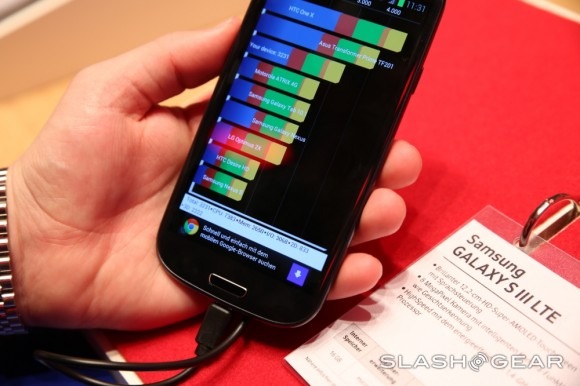 Finally hear this: the Jelly Bean upgrade appears here on the Vodafone version of the device to have made the device just a bit quicker, but certainly within a margin of error. There's going to be some changes done to the Samsung TouchWiz interface that we're not really seeing here yet as this is a bit of a pre-release build, so to speak. Stay tuned for the final build as it hits the USA soon.