Samsung Galaxy S III appears on official support site, details scant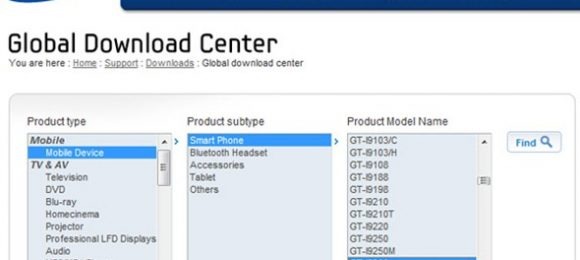 We may receive a commission on purchases made from links.
The Galaxy S III is a device that will be popping up some time inside 2012, and today's information leads us to believe that it will be sooner than later: a clue at Samsung's own Global Download Center support site, no less. Here we can see inside the Mobile Device and Smart Phone categories a brand new Product Model Name: GT-I9300, a model that's a grade above the rest. Here will find the next Samsung handset that will break down the walls previously set up by the Galaxy S II last year and the Galaxy S before that.
This device is currently having its release time considered by the powers that be, this information made public last night in Samsung's earnings call for the last quarter. Inside their talks it was said that they'd still possibly be releasing a new handset at Mobile World Congress 2012, but that they're considering what the best course of action will be. What with all the cash they just dropped on the "Samsunged" suite of advertisements on television and soon during the Superbowl, we're guessing a push back might be in order.
Last time Samsung had a giant product release, it was in Beijing, Samsung's own home turf, and the product was the official hero device for Google: the Galaxy Nexus. This device featured the newest operating system from Google, Android 4.0 Ice Cream Sandwich, and was released to the world in the following weeks, only a few weeks ago here in the United States. Considering the amount of firepower Samsung has in all sectors of the world right this moment, we're expecting a Galaxy S III to hit much closer to the second quarter of 2012 instead of here in the first.
[via Redmond Pie]