Samsung Galaxy S II Plus 1.4GHz Upgrade Tipped as Global iPhone 5 Competitor

As the Android world reels in awe of the awesomeness of the new king of Google mobile OS power, the famed Galaxy S II appears now to have an upgrade coming at or before the USA release. If you'll look below the second paragraph in the post you're reading now, you'll see a benchmark run on the standard Galaxy S II that's out on the world market right this moment. This benchmark shows that the Galaxy S II as it exists today is the clear forerunner for most powerful Android device benchmarked thus far. What we've come to understand today is that, if "sources in Asia" are to be believed, there's an even more powerful Galaxy S II coming soon.
This upgraded version of the Samsung Galaxy S II is said to have a bump in its processor power, that being the 1.2GHz we see today bumped up to a larger more powerful iteration, this new Galaxy S II Plus having a 1.4 GHz in its Samsung Exynos SoC dual-core processor – for total world domination, if this Android fellow would be so kind as to say so. This device will be set, if Samsung has anything to say about it, to go in direct competition with the iPhone 5, a device which similar sources report to PopHerald, the original source for this information, as coming out this September, 2011.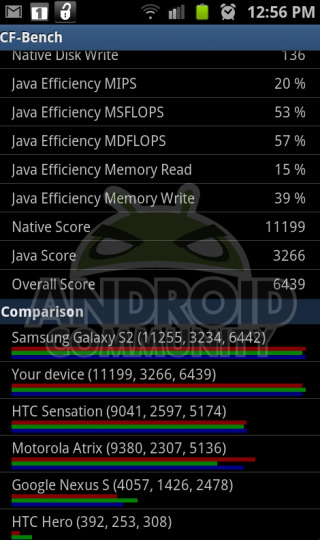 This Galaxy S II Plus would be featuring the same or an upgraded version of Samsung's TouchWiz interface, will have 1GB of RAM, and will have Android Gingerbread 2.3.4. With this version of Android comes support for Google Talk and Video support, this upping rumors furthermore that this version of the device will come with Google's new voice and video application pre-set in the device. Will this device be the new new king of smartphones? Apple may decidedly disagree, but the king of Android it shall be.
There's an additional rumor coming from the same sources that this device will be being released without the Galaxy name at all. This is similar to the factoid that we've come to know that the device will be released on several carriers here in the USA with different names: that being the Attain, the Function, and the Within. Will this device feature the most powerful processor on the market, or will the iPhone 5 surprise us all? What magic does summer and fall 2011 hold?
See our review of the Samsung Galaxy S II as it exists today, plus our review of its current accessories if you should feel to dare.
[via Android Community]