Samsung GALAXY S 4 Mini surfaces with Verizon branding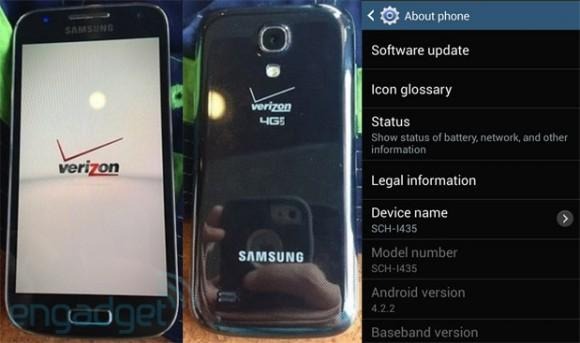 The Samsung GALAXY S 4 Mini, the smaller sibling of Samsung's well-known smartphone, will be coming to the US via Verizon, according to a couple of leaks that have surfaced, one of which features a couple shots of the handset with Verizon's branding and splash screen. You can see them for yourself, including a comparison shot with the iPhone 5, after the jump.
The images come from the folks over at Engadget, who scored a couple shots of the device, as well as a screenshot of its "About phone" menu showing a device name of SCH-I435 (with the SCH further substantiating the Verizon availability claims). The back of the handset features the familiar Verizon 4G branding, and the splash screen likewise features the carrier's brand.
We also get a comparison shot of it with the iPhone 5, with the About Phone menu being visible on the handset itself rather than just as a screenshot. Unfortunately, the leak didn't bring with it any particulars, such as when Verizon will begin offering the handset and how much it will be charging for the miniature GALAXY S 4.
We got our hands on the GALAXY S 4 Mini in London back in June, and have a gallery of comparison shots of it with its bigger sibling. Though "mini," the device is far from small, featuring a 4.3-inch qHD display and 124.6 x 61.3 x 8.94 mm measurements. Under the hood, there's a dual-core 1.7GHz processor and 1.5GB of RAM.
Around back there's an 8-megapixel camera, and on the front above the display there's a 1.9-megapixel sensor. Both cameras come alongside a bunch of features, such as Best Photo, Panorama, and HDR. In addition, users will also find – in addition to the Android 4.2.2 Jelly Bean – some of the typical Samsung offerings: S Voice, S Translator, WatchON, and Group Play.
SOURCE: Engadget