Samsung Galaxy Q folding smartphone tipped for MWC 2013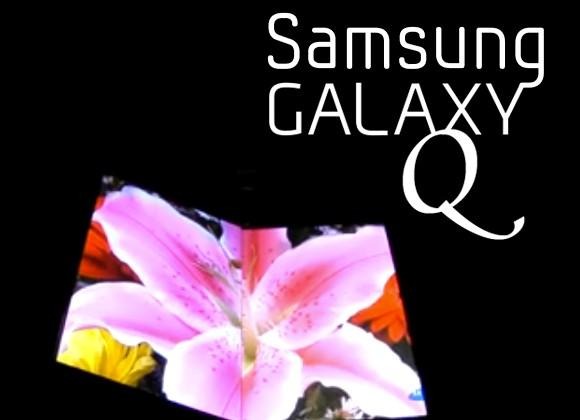 This month we may very well be looking at the first market-ready glimpse we'll have of the Samsung Galaxy Q, a dual-display smartphone-like device tipped by the manufacturer more than once before. The clues are lining up with MobileGeeks showing a GL Benchmark result that they suggest is the final straw on the pile that'll topple the whole mess in for a Mobile World Congress 2013 reveal. This device will be appearing in some capacity or another soon, bringing with it a 1080p set of two displays that fold out into one – is the world ready for such an oddity?
Though we were less than enthusiastic about the dual-display Kyocera Echo when we first saw it way back in February of 2011 – the technology that allows such a concept to be more of a real-world possibility for actual user-friendly working has come a long way since then. Now Samsung is up to bat with a smooth no-break display that spans both halves of this device – fold out with delight!
The keys to the puzzle that is this device's appearance work as follows: this device was given its first solid details back in October of 2012 with a note that Samsung would release it in early 2013. The images provided of this device thus far have each been from the FPD display show in Tokyo that took place in late 2010 and once again in May of 2011 where the hardware was a very early concept mockup. The GL Benchmark results appearing this week show the code-name of the device (GT-B9150) along with a change in specifications from 720p (tipped with the original release window info) to 1080p – much more realistic for 2013 and forward.
The video you see above is just about the earliest Samsung foldable display demonstration in the universe, all the way back from 2008. This should be seen as a very VERY loose concept demonstration/suggestion of what might be coming later this month. A whole lot has changed since back in 2008. Check out the original announcement of Samsung's YOUM brand as well for more timeline action on the origins of this display technology.
Samsung has also been tipped to be pushing around 6 new smartphone devices at Mobile World Congress 2013, mind you. Last year we saw devices like the Samsung Galaxy Beam – an interesting smartphone, to be sure, but much more on the niche side of the release spectrum than a wide-release hero phone sort of deal. Samsung will quite likely be showing off tablets and smartphones outside their Galaxy S lineup, saving the big announcement for the Samsung Galaxy IV for a separate singular event.
This device has been tipped to be coming with two displays at 5.3-inches each that fold out into one single larger display. Previous reports suggest a dual-core 1.7GHz Exynos 5250 processor inside alongside 2GB of RAM, an 8 megapixel camera on the back, 2 megapixel camera on the front, and a 3500 mAh battery. Inside we'll likely be seeing Android 4.2.1 Jelly Bean and the whole amalgamation would make a lot of sense as a limited release as sort of a "test-phase" release before wide adoption.
Stick around our Mobile World Congress 2013 tag portal for more information as it appears, and make sure you're down for Samsung's announcements especially. We'll be at MWC 2013 from then 23rd through the rest of that week, so keep it tuned to SlashGear!