Samsung Galaxy Beam Hands-on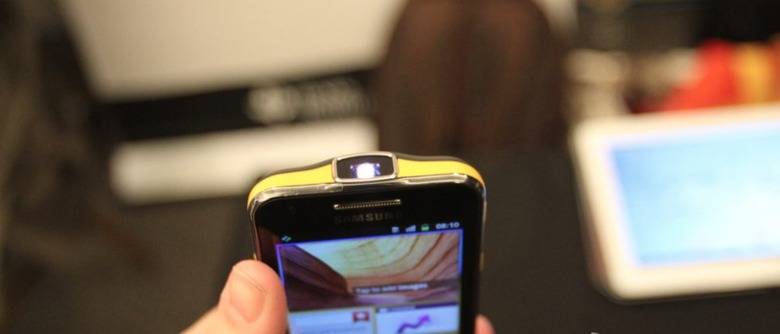 Samsung has another Galaxy smartphone for the world, only this time it comes equipped with a 15 lumen pico projector and might even land in the US. We saw this earlier in the week but were able to get some quick hands-on photos of the little projector today. It might not be the brightest but for those unique situations where it's needed it seems to work great.
The Galaxy Beam comes with a 15 Lumen brightness projector with the NHD 640 x 480 resolution processor. And while no further details were given it appears to project quite well up to 50" although it does need some adjustments. According to Samsung the volume up/down will double as the focus controls while projecting although it wasn't working on our display model at the moment.
The Samsung Galaxy Beam, if you missed the announcement earlier comes with a 4.0" AMOLED display and a 1.0 Ghz dual-core processor and 5 megapixel camera. For packing a projector under the hood they've managed to keep it reasonably thin at just 12.55mm. As far as battery and lamp life Samsung has included a 2,000 mAh battery that should make the smartphone last all day — the projector however is a probably a different story. With a suggested lifecycle of 20,000 hours you'll be able to project and play Angry Birds for hours and hours.
The curved rear feels nice in the hand although it features the usual Samsung plastic that happen to give it that usual cheap feel, even though it's actually quite durable. Samsung tells us we will see the Galaxy Beam inside of 2012 but that was it. Expect more details soon. Again keep an eye on our MWC 2012 Portal for the latest news from Barcelona.