Samsung Galaxy Player 5.0 vs Galaxy S II [Video]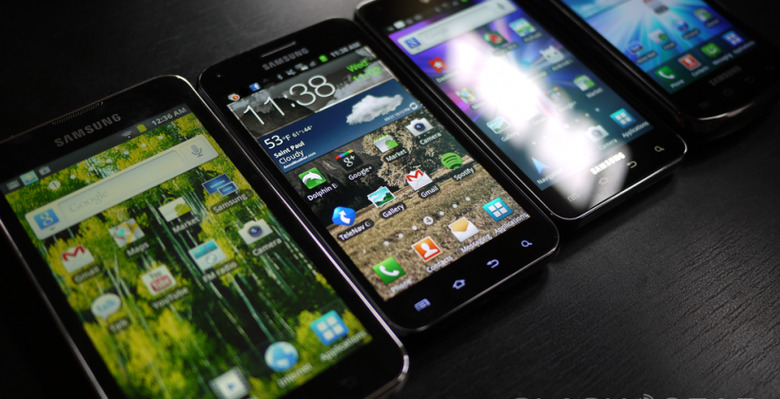 We may receive a commission on purchases made from links.
Now that we've reviewed the gigantic Galaxy Player 5.0 for what it is on its own, it's time to compare to the rest of the market a bit more in-depth, starting with what at first glance might appear to be the Player's closest cousin: the Galaxy S II. Before we continue, know this: it's almost as if these two devices aren't from the same family, that's how different they are. Though the Galaxy Player 5.0 is only being released now near the holiday season, the Galaxy S II (in all its forms here in the United States) takes no prisoners when it comes to power and abilities.
The Galaxy S II comes in several different shapes and sizes here in the United States, two of the more powerful ones being the two we've got right here, the Galaxy S II from AT&T and the Galaxy S II Epic 4G Touch. The first of two has a 4.32-inch display at 480 x 800 resolution and a 1.2GHz dual-core processor made by Samsung. The Epic 4G Touch has the same specifications on a 4.5-inch display. This means that the pixel density is down but the power is the same. The Galaxy Player 5.0 has a single-core processor at 1Ghz that's also made by Samsung and a display that's 5-inches large with the same 480 x 800 pixel resolution. In addition, the Galaxy Player has a TFT LCD display while the Galaxy S II units both have a Super AMOLED Plus display. Have a look here to see if you can spot the differences in quality: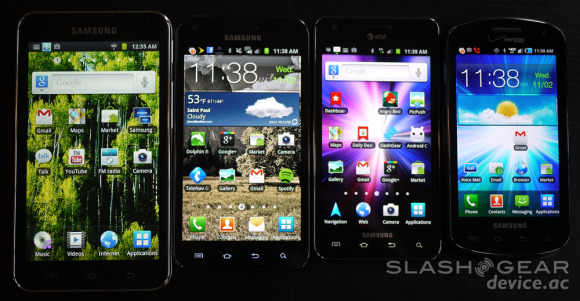 Each of the displays above are set to full brightness, and the device on the far right is the Samsung Stratosphere. This device is a 4G LTE enabled Samsung device with a Super AMOLED (not plus) display also at 480 x 800 pixel resolution. Again, see if you can tell the difference from the photo above. Have a peek at the video below for a hands-on comparison of the Galaxy Player 5.0, the Galaxy S II in the two flavors mentioned, and the Stratosphere, each of them in kind:
So what about price comparisons? Have a peek here at some prices that are live RIGHT this second here:
Galaxy S II AT&T $199 on contract $549 off contract
Galaxy S II Epic 4G Touch $99.99 on contract $599.99 off contract
Samsung Stratosphere $149.99 on contract $409.99 off contract
Galaxy Player 5.0 $259.00
And heed this again: the Galaxy Player 5.0 has no on contract price because there is no contract in any instance, it's a Wi-fi only device. The question you've got to ask yourself, as with all decisions between devices like these, is "what do I want this device to do?" If it's just having a one-time-only cost for a 5-inch display having device that'll work as a display for games and videos in a variety of places on a Samsung interface, the Galaxy Player 5.0 is your clear winner as it's essentially your only choice.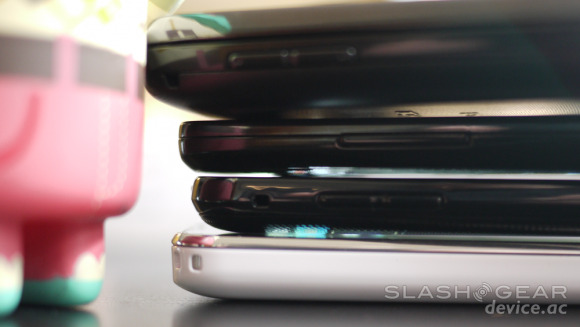 If on the other hand you want power, thinness, and connectivity wherever you go, you'll be best off with one of the Galaxy S II devices. For 4G LTE, you can either choose the Stratosphere here or the DROID Charge, another lovely choice from Verizon. Of course all of these are Samsung devices. What if you want a comparable device to the Galaxy Player 5.0 but don't mind if it's not a Samsung-made interface and set of hardware? We'll be working with an iPod Touch next – stay tuned to SlashGear for more!