Samsung Galaxy Note II vs Galaxy Note I: Specifications War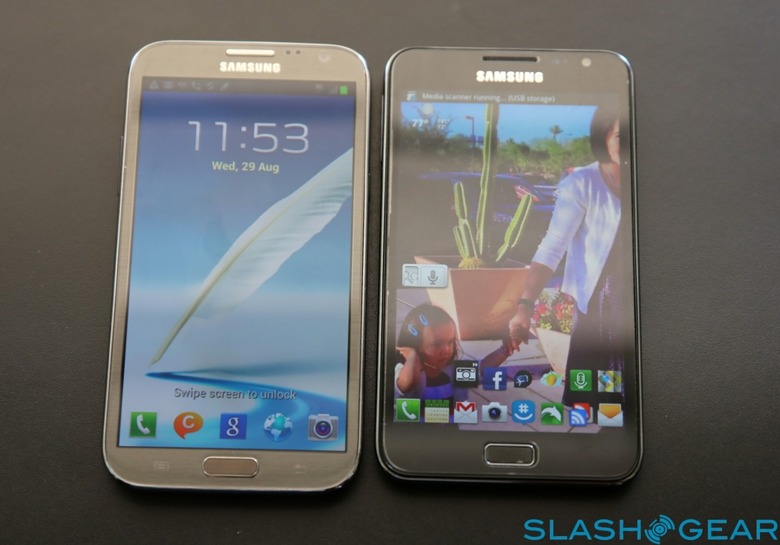 At IFA 2012 we've gotten our first glimpse of the next phablet, the Samsung Galaxy Note II – now it's time to compare to the original from one year ago to see what's been improved. First you'll notice that the casing for the device has taken on a whole lot more "Galaxy S III" styling, just as the original Note did with the Galaxy S II. The back and front are more than likely going to feature different color combinations even beyond the blue and white we've seen thus far.
With this new Galaxy Note II you'll be working with a display that's 5.5-inches rather than 5.3-inches but the amount of pixels has gone down (from 1,280 x 800 pixels (285ppi) down to 1,280 x 720 pixels (267ppi)). That's perfectly OK though since the display technology has changed as well – you'll be working with HD Super AMOLED rather than Super AMOLED Plus. The chassis have obviously changed also, now 5.95 x 3.16 x 0.37 inches (151.1 x 80.5 x 9.4mm) rather than the slightly fatter and shorter 5.78 x 3.27 x 0.38 inches (146.9 x 83 x 9.7 mm) of the Note 1.
This new iteration of the Galaxy Note has a microSD card slot that can carry up to a 64GB card while the original only had the ability to work with 32GB. The new version also has three device iterations based on internal memory: 16GB, 32GB, and 64GB. The rear-facing camera stays the same quality as far as numbers go with 8 megapixels and the ability to capture 1080p video, but the front-facing camera has been changed from 2 megapixels down to 1.9 megapixels.
For a bit more explanation on why some of these odd changes were made, have a peek at our Samsung Galaxy Note 2 hands-on post.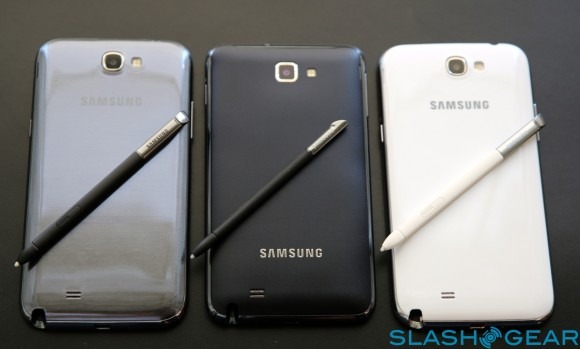 Above: Galaxy S III vs Galaxy Note vs Galaxy Note II
The new Galaxy Note II has NFC in all variations from start to finish, and you'll be working with Bluetooth 4.0 rather than 3.0 which the old model came packed with. The Galaxy Note II comes with 2GB of RAM rather than 1, and its Exynos processor is a 1.6GHz quad-core SoC rather than dual-core. Finally you'll be working with Android 4.1 Jelly Bean right out of the box while the original Note was just updated to Android 4.0 Ice Cream Sandwich several weeks ago.
Have a peek at our Galaxy Note II timeline below to learn more and, again, check out our hands-on with the device via the link above. Also be sure to check out the rest of our IFA 2012 coverage to stay up to date on all things pushed in Berlin!