Galaxy Note 9 release date and price: The fine print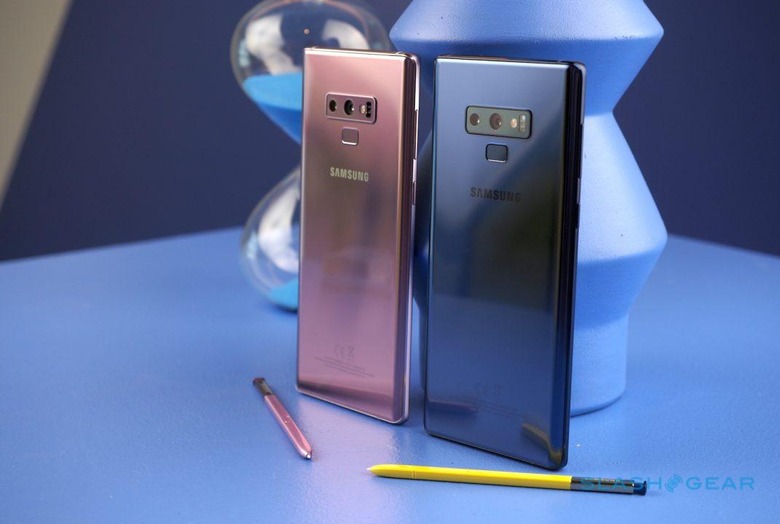 Samsung's Galaxy Note 9 is official, and now you need to know pricing, availability, and carrier details. The Android flagship was announced this morning in New York City, at Samsung's latest Unpacked 2018 event, and the company is wasting no time in getting it to stores, either. After all, with the new 2018 iPhone X line-up just around the corner, time is of the essence.
Galaxy Note 9 Colors
Samsung's color strategy is changing for 2018. In previous years, the company's flagship phones have typically launched in fairly sober finishes – mainly black, and maybe with a silver option – with more interesting colors following on later. This year, though, it's not playing things safe.
According to the company, colors have been very successful on the Galaxy range in general. As such, the Galaxy Note 9 won't launch with a black version, at least not at first. Instead, for the US at least, there'll be two colors: Ocean Blue, which is Samsung's de-factor "hero finish," and Lavender Purple.
The purple phone, which is a sort of pale lilac, has a matching S Pen. The Ocean Blue Note 9, though, has a contrasting yellow S Pen. As a neat touch, the digital ink that you write with on the lock screen memo app matches the color of each pen by default. Two other colors – Metallic Copper and Midnight Black – will be available internationally, and if Samsung's previous strategy holds up, will likely follow on to the US in the coming months.
Galaxy Note 9 Storage
Note owners are power users, Samsung says, and the Note 9 is specified to suit. The entry-level Note 9 now gets 128 GB of storage as standard, up from the 64 GB of last year's Note 8. It's combined with 6 GB of LPDDR4 memory.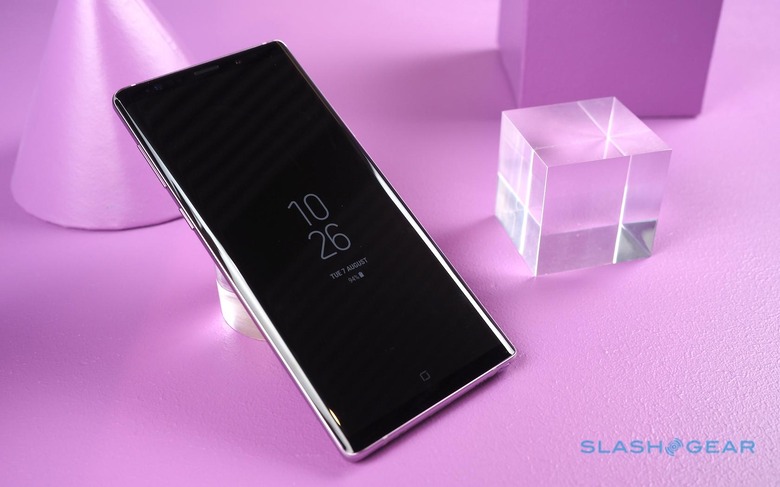 There'll be a second version, however, for those who really do refuse to compromise. The 512 GB Note 9 has some of the largest onboard storage of a phone you can get, and Samsung also adds extra memory, bringing it up to 8 GB of LPDDR4 RAM.
Both versions also have a microSD slot, and are compatible with up to 512 GB microSD cards. That means, if you combine the 512 GB card with a 512 GB Note 9, you're looking at a full terabyte of storage in your pocket. Plenty of space for games, work documents, and 4K video files.
Galaxy Note 9 Carriers
You won't be surprised to hear that all of the major carriers are getting in on the Galaxy Note 9 this year. As one of the most hotly-anticipated phones of 2018, there's plenty of demand for this new flagship. However, not every carrier will offer every variant of the phablet.
The Galaxy Note 9 128 GB will be the easiest to find. In the US, that will be sold by AT&T, Sprint, T-Mobile, U.S. Cellular, Verizon Wireless, and Xfinity. It'll also be sold unlocked by Samsung, as well as at Amazon, Best Buy, Costco, Sam's Club, Straight Talk Wireless, Target, and Walmart.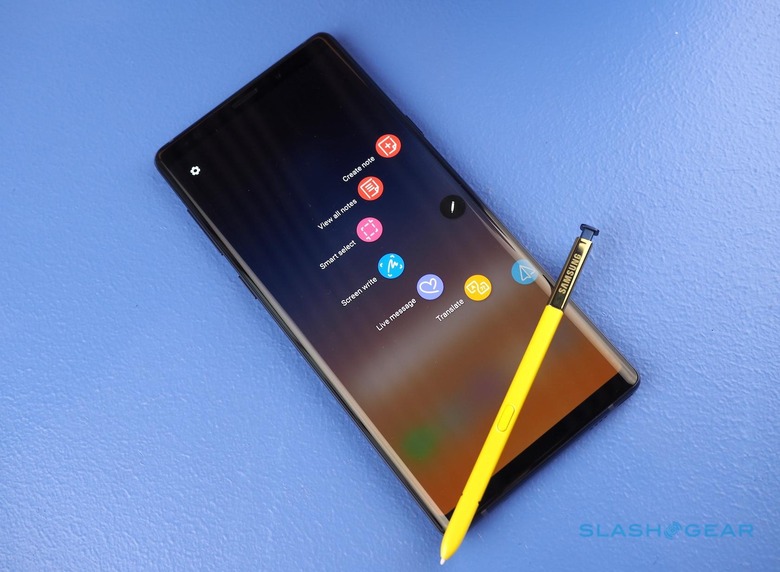 As for the Galaxy Note 9 512 GB, that won't be offered on every carrier. So far, AT&T, T-Mobile, Verizon, and U.S. Cellular have been confirmed to offer the larger-capacity version of the phone. It'll also be sold unlocked, from Samsung direct.
The carriers are likely to announce specifics of their payment plans, promotions, and more this morning. We'll add more details as they come in.
Galaxy Note 9 Pricing
Nobody said a flagship phone would be cheap, and that's certainly the case for the Galaxy Note 9. The cheapest Note 9 will be the 128 GB version, priced at $999.99.
As for the 512 GB Note 9, expect to pay handsomely for all that extra storage. Samsung has priced it at $1,249.99. We'd expect carriers to offer payment plans for those who want the maximum storage and upgraded memory, but don't want to spend the whole amount in one fell swoop.
Galaxy Note 9 Preorders and Release Date
Pre-orders for the Note 9 kick off tomorrow, at 12:01 am EDT on August 10, 2018. At that point you'll be able to buy the Note 9 from carriers and from Samsung direct, as well as through other retailers. The Note 9 ships from August 24, and will show up in stores from the same date.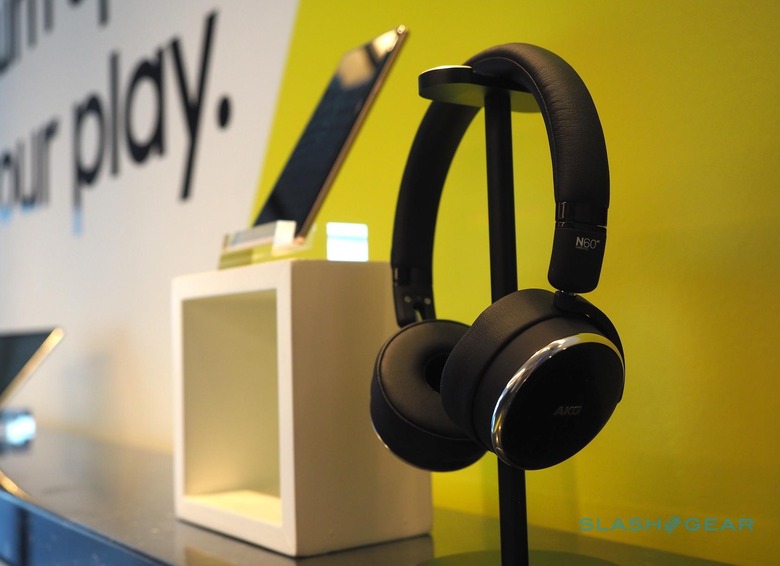 To tempt you into preordering, there are some deals to sweeten the price. Order the Note 9 between August 10 and August 23, and Samsung will throw in either a pair of AKG noise-cancelling headphones – usually priced at $299 – or 15,000 Fortnite V-bucks, worth $150. Alternatively, you can get both the headphones and the V-bucks for paying $99 on top of the phone.
You might want to act fast, though. Samsung says supplies of both extras are limited, and that there'll only be 102,000 sets of the AKG headphones, 46,000 game bundles, and 36,000 bundles of both available. There's also an exclusive Fortnite beta for Galaxy owners, including Note 9 buyers.
Galaxy Note 9 Accessories
As you'd expect, there's no shortage of official accessories for the Note 9. Samsung will have its usual range of case options, including Note 9 folio cases which cover the whole phone, and soft-touch-finish shells. Pricing hasn't been confirmed at this stage, but expect plenty of color options and typically a $40-80 price range.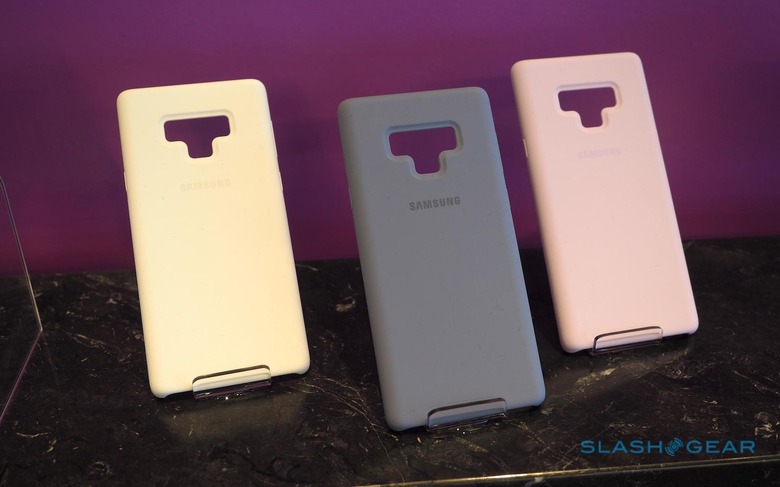 Unlike previous Notes, there'll not be a complex Samsung DeX docking station. Instead, if you want to use your Note 9 as a desktop PC replacement, all you'll need is a USB-C to HDMI adapter. Samsung will sell one – pricing to be confirmed – but any standards-compliant dongle should work too.
One add-on Note 9 buyers might be particularly interested in, given the cost of the phone, is Samsung Premium Care. Priced at $11.99 and available through Samsung direct, it includes on-site technical support and assistance, along with a replacement device if yours breaks.