Galaxy Note 9 Unpacked 2018: How to watch the live stream here!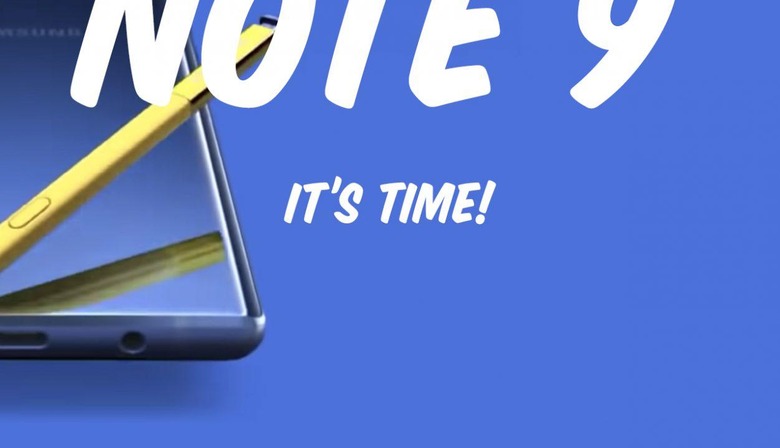 Today we're having a peek at the Samsung Galaxy Note 9 up close and personal – it's event day. This is the Samsung Galaxy Note 9 Unpacked Event, and right this minute we're running down the live event details, times, and other oddities you might want to know before and during said event. To begin, note that this event begins at 11AM Eastern Time, 10AM Central Time, 9AM Mountain Time, and 8AM Pacific Time.
The Samsung Galaxy Note event live feed will appear starting at the times listed just above. The live video will be right here, right at those times listed – that one time listed, that is – so you can take a peek! Also NOTE: You'll want to head out to the main SlashGear news feed as well and hit the refresh button every once in a while so you don't miss anything important – up close and personal important, that is to say.
To view this YouTube stream on a desktop computer you'll need the most recent version of Google Chrome, Firefox, Microsoft Edge, or Safari. Don't even begin to come up in here with Internet Explorer or Netscape, god help you. Operating system requirements (?!) are Windows 7+, Mac OS X 10.7+ or Ubuntu 10+. Or you could just use your phone.
In 360-degree spherical view
ALSO, look! There's a 360-degree spherical (VR) version of the Samsung Galaxy Unpacked 2018 event in the video below. Imagine that!
You'll want to take a tap at the above video inside your VR headset on your smartphone – Galaxy, probably. Inside you'll find the Samsung event in full spherical-vision. It'll feel like you're really there! But don't stick inside too long, or you'll miss your first opportunity to go hands-on with the Galaxy Note 9 right here in the main news feed on SlashGear – have at it!
Leaked Details
If you're all about that leaked action you could take a peek at our most recent set of amalgamated elements in a single article. In that one Samsung Galaxy Note 9 details post you'll find a device that's relatively similar to its predecessor except for a few important details. You'll find a slightly larger display, a slightly shorter phone body, and a new set of colors.
You'll also find a newly emboldened S Pen, if leaked information is correct, complete with Bluetooth connectivity. This new S Pen will be charged by the phone itself, and will allow the user to go NUTS with new functionality. This is going to be wild – wild indeed!