Samsung Galaxy Note 8 hands-on
Is the Samsung Galaxy Note 8 the most highly-anticipated Android smartphone of 2017? There's a good case to be made for that; certainly, given the fiery fall from grace of its Note 7 predecessor, launched to rave reviews and then forced into an embarrassing, and costly recall over battery issues, many have been waiting to see what Samsung would do with its new phablet. The answer, it seems, is double-down. More productivity, more S Pen features, more cameras, and more screen. If you expected Samsung to be coy, the Note 8 will prove you wrong.
When an S8 and a Note 7 fall in love
Largest of the Galaxy smartphone family, the Note 8 plays its strongest feature from the get-go. The fascia is dominated by its 6.3-inch Quad HD+ Super AMOLED Infinity Display – "See More, Scroll Less" will be Samsung's tagline – which now supports Mobile HDR Premium. Like the Infinity Display on the S8, it wraps around the edges of the phone, leaving only tiny bezels top and bottom.
Unlike the S8, though, you get Samsung's S Pen – now with the 0.7mm nib and 4,096 levels of pressure sensitivity from the Galaxy Tab S3 – and so the Note 8's Infinity Display has been tweaked some. It's flatter, the curves less pronounced, so that there's more usable space for you to write on. Both stylus and phone are IP68 water and dust resistant, whether or not the S Pen is docked in its silo.
Inside, little has changed from the S8. The Note 8 will use the same, 10nm processors – Qualcomm's Snapdragon 835 in the US; Samsung's own Exynos 8895 elsewhere – though pair them with 6GB of RAM. It'll have gigabit Cat16 LTE with 4/5 carrier-aggregation for up to 1 Gbps downloads and 150 Mpbs uploads, carrier-depending, together with the usual WiFi, Bluetooth, and NFC. 64GB of storage as standard can be augmented by a microSD card, and you get both USB Type-C and a 3.5mm headphone jack for the bundled AKG earbuds.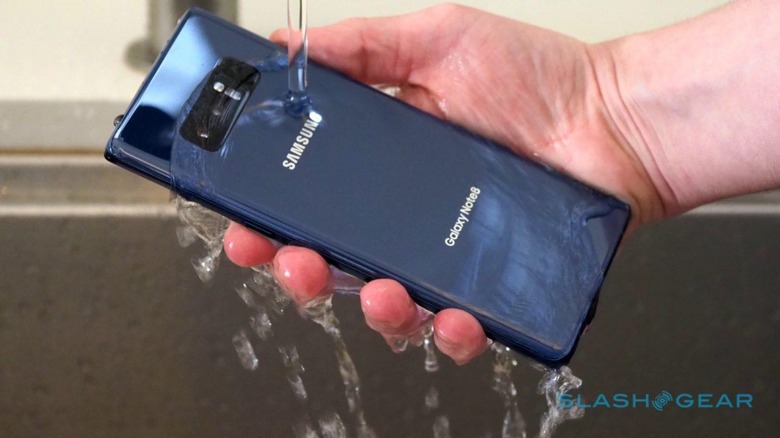 Two cameras done right
On the back is where the Note 8's other big change can be found. It has twin cameras, each packing a 12-megapixel sensor: one has a telephoto f/2.4 lens, with autofocus; the other, a wide-angle f/1.7 lens, with dual-pixel focus. Together, they give the Note 8 a 2x optical zoom, just as you get on the iPhone 7 Plus. Unlike Apple's phone, though, Samsung has found space for optical image stabilization (OIS) on both the wide and telephoto cameras.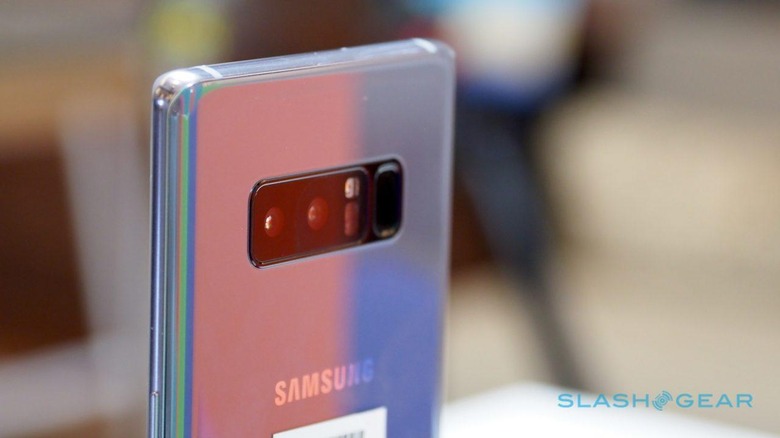 It should make even the 10x digital zoom more usable and relatively free of hand-shake. More importantly, it opens the door to a faux-bokeh portrait mode, which Samsung has dubbed Live Focus. Like Portrait Mode on the iPhone 7 Plus it keeps the foreground subject crisp while giving their backdrop a pleasing blur.
Samsung goes further, though. Live Focus allows you to adjust the degree of blur in real-time as you take the photo, showing you exactly what you'll get through the camera app. You can adjust it again later, too, in the gallery app. When you capture a Live Focus picture, the Note 8 also saves both the wide-angle and telephoto images.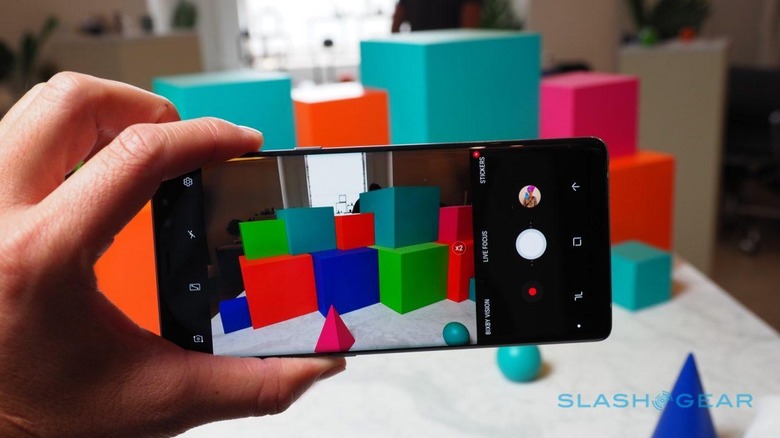 The 2017 Galaxy family
Just from first glance, it's clear that the Note 8 is the closest to its Galaxy S counterparts of any of the phablet lineage. That's partly down to the Note appealing to a progressively larger and larger mass-consumer audience, no longer averse to big screen devices. On the other hand, though, the Galaxy S8 shows how what would've long been considered Samsung's "mass market" phones are steadily encroaching on the Note.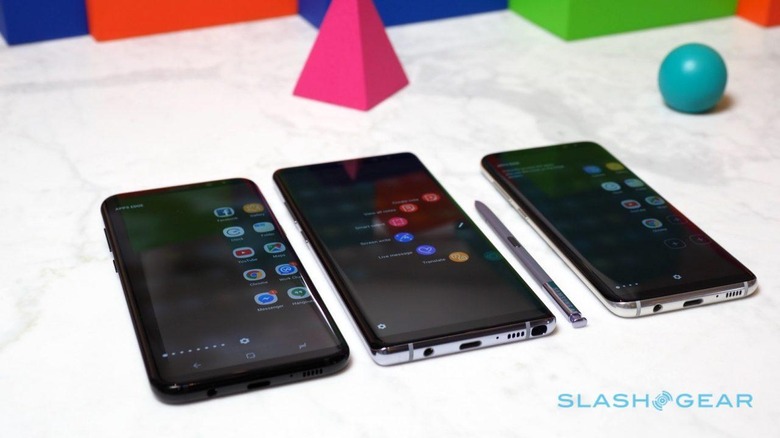 The narrowing gap is most conspicuous when you look at the Galaxy S8+. Its 6.2-inch screen is a fraction of an inch smaller than that of the Note 8; it has the same processor, and the same internal storage. It even, bizarrely, has a larger battery: 3,500 mAh, versus the 3,300 mAh in the Note 8.
The list of key differences, then, is small, though for the right audience it's still a compelling one. Obviously the Galaxy Note 8 has the S Pen stylus, which the Galaxy S8+ does not. The new Note also throws in its dual cameras, whereas the S8+ only has one on the back. Finally, there are the software tweaks, many of which are designed to work specifically with the S Pen, but which generally position the Note 8 as more of a productivity device.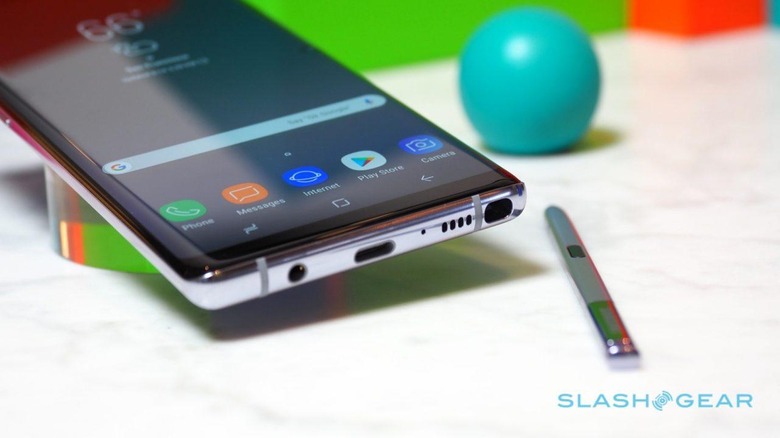 Will that be enough? Samsung seems to think so, yes, and its research would be inclined to agree. Its survey – carried out this spring, so post-recall – found eight out of ten users said they "love" their Note. Productivity time spent with the phablets is significantly higher than with other devices, too, including 40-percent more use of split-screen apps.
The new Note Experience
Understandably, then, Samsung has put at least as much thought into the Note 8's TouchWiz as it has the hardware that runs on. Many of the changes are based on how users of previous Notes interact with their phones. A new App Pair feature, for instance, allows you to join two apps together in the Apps Edge launcher, opening both in split-screen mode with a single tap. That could be useful for juggling email and Google Docs simultaneously, but also for quickly opening Google Maps and Spotify when you get into the car.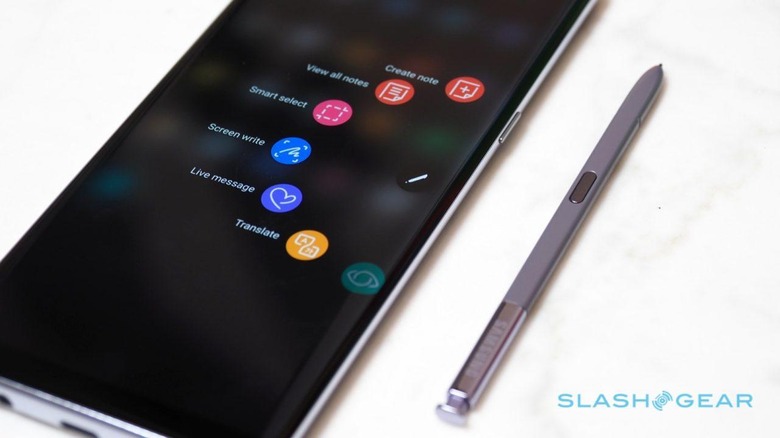 S Pen related features have also been supercharged. Screen-Off Memo, introduced as a way to quickly start a new note from the lockscreen just by whipping out the stylus, has been wildly popular: 60-percent of all notes taken, Samsung says, rely on it. Now, you'll be able to write notes up to 100 pages long, as well as pin them to the Note 8's lockscreen.
Live Message works a little like sketches on the Apple Watch, only with a much bigger screen and the greater precision of having a stylus to draw them with. You can jot down a message or sketch out an image, and send that as an animated GIF to contacts. Samsung's PEN.UP community of artists is still there, and now the Note 8 gets downloadable coloring books too.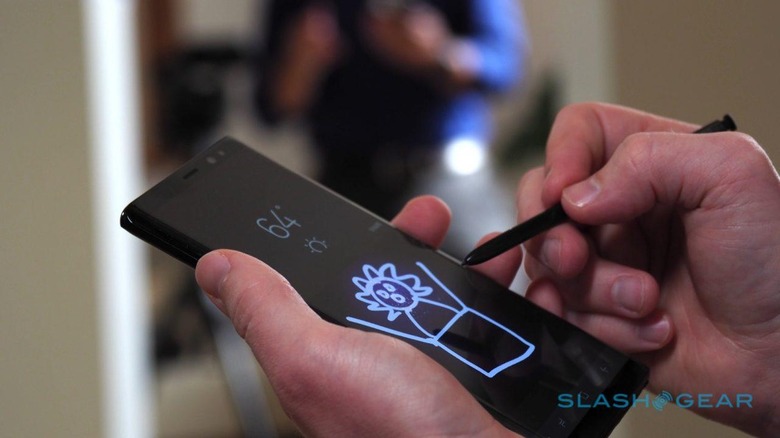 Translation, which had been enabled for individual words on previous iterations of Note, now can support converting whole sentences between more than thirty different languages. Of course, you also get Samsung Bixby, the virtual assistant launched on the Galaxy S8, together with Samsung DeX with the optional desktop dock. The latter will support a new Game Launcher interface and redesigned app drawer, together with the ability to hold video conferences – and switch seamlessly between docked and undocked without dropping the call – out of the box. Those features will find their way to the S8 and S8+ with a future firmware update, Samsung says.
Ticking all the boxes... but is that enough?
Beyond that, it's business as usual for the Note 8. There's the same choice of PIN, face unlock, iris unlock, or fingerprint biometrics as the S8, and the same frustrating positioning of the fingerprint sensor up by the camera on the rear. You get fast wireless charging and Samsung Pay, along with Knox 2.9 support and of course compatibility with the Gear VR and Gear 360.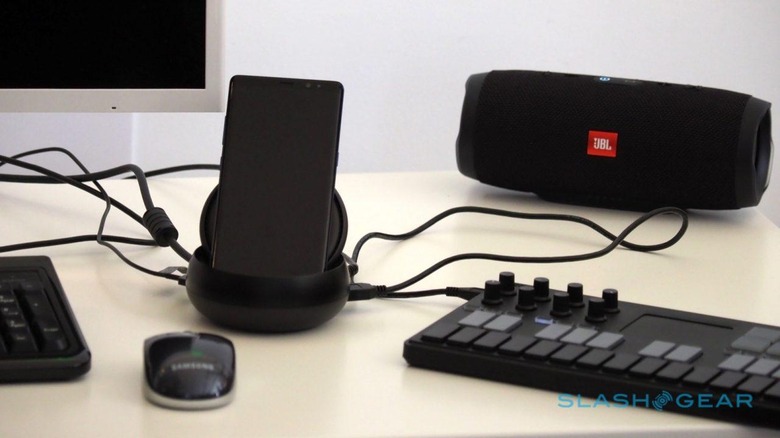 Indeed, you could feasibly find yourself looking at the Note 8 and finding yourself a little short on excitement. It's not that the phablet is lacking in tech, just that the S8 gave us so much, and some of the more far-fetched tech rumors – like in-display fingerprint sensors – clearly aren't ready for this generation of phone. Factor in the iPhone 8-shaped specter looming on the horizon and, with only a few weeks to to go until we see what Apple has for its tenth smartphone anniversary, you'd be forgiven for holding off on any purchase until then.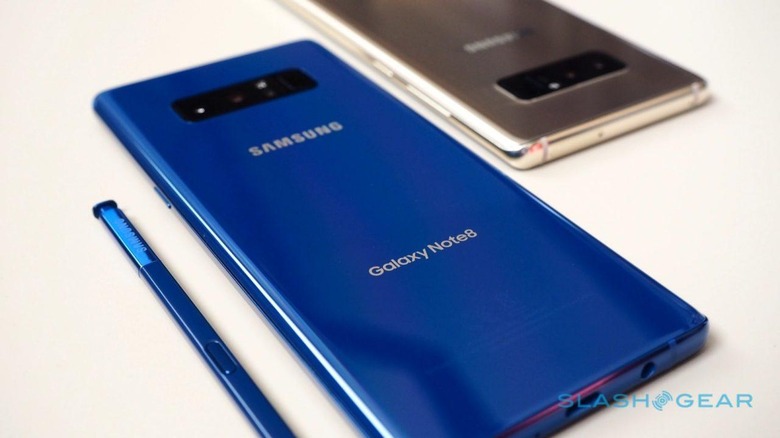 Of course, the Note faithful won't want to wait, and Samsung will reward their impatience. Although the eye-catching Deepsea Blue and Maple Gold versions of the Note 8 won't launch in the US, at least not initially, preorders of the Midnight Black and Orchid Gray models will come with either a 128GB microSD and fast wireless charger, or a Gear 360 camera.
Pricing will be confirmed by individual carriers, though Samsung has confirmed that it'll also be offering a SIM-free, unlocked version itself. If you're tempted, there's not long to wait. Preorders will kick off from August 24, with the Note 8 showing up in stores on September 15.