Samsung Galaxy Note 8.0 benchmarked: Tiny tablet packs a punch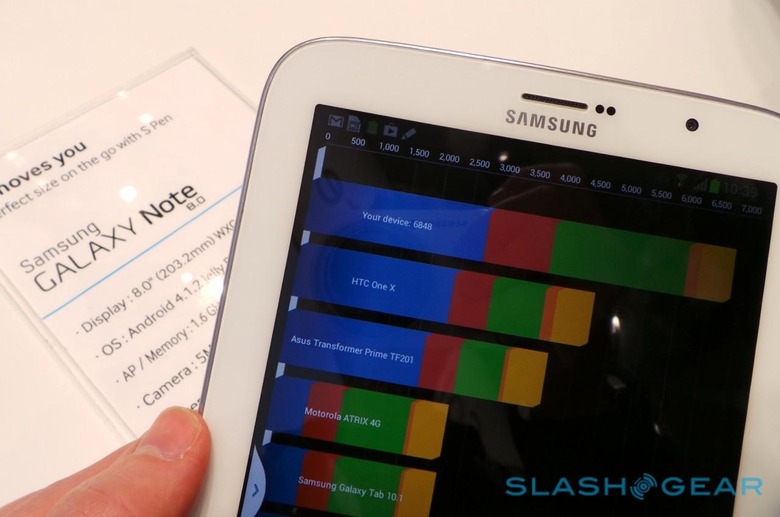 Samsung wasn't too keen on us benchmarking the Galaxy Note 8.0 back when it was announced on Sunday, but we couldn't resist stopping by here at Mobile World Congress to run some preliminary tests on the 8-inch Android tablet. The pen-enabled digital notepad runs a 1.6GHz quadcore A9 processor with 2GB of RAM, and so we had high hopes for Android 4.1.2 Jelly Bean. Sure enough, the iPad mini rival put in a decent showing.
In Quadrant, the Galaxy Note 8.0 scored 6,848 overall, with a CPU score of 14,608, memory score of 5,386, I/O of 11,035, and 2D/3D of 1,000/2,211. That's actually more impressive in all but the CPU category than the Galaxy Note 10.1, running Samsung's 1.4GHz Exynos quadcore, though the 8-inch tablet's software is likely to get a last-minute polish before it ships.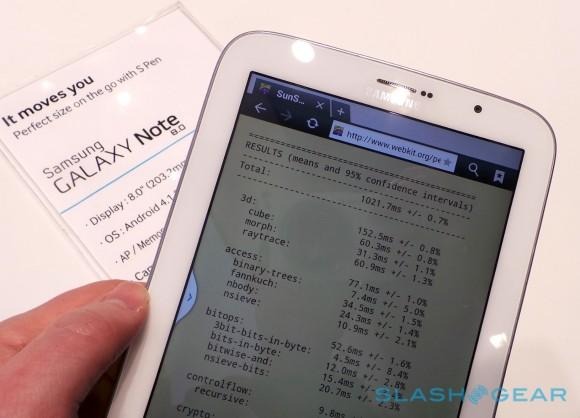 Turning to SunSpider, the JavaScript benchmark of browser performance, the new Galaxy Note completed the test in 1,021.7ms. Faster is better in SunSpider; in contrast, the iPad mini completed it in 1,698.9ms.
In practical terms, we had no trouble multitasking on the Galaxy Note 8.0, even when using Samsung's window-in-window system which allows you to view two apps on-screen simultaneously. The most pressing test, of course, relates to digital inking: if the experience of writing and drawing on-screen isn't smooth and accurate, then the pen becomes near-worthless.
Samsung Galaxy Note 8.0 hands-on:
Happily Samsung got that right too, and it's the same clean ink-flow as we've seen on the Galaxy Note II, simply with more space to take advantage of. That could be the best argument for the 8-inch model overall, in fact; the Note II is pocketable, but arguably not quite large enough to replace a typical notebook, something the Note 8.0 is far closer in size to.
We've more on the Galaxy Note 8.0 in our full hands-on.