Samsung Galaxy Note 10.1 spotted in pre-MWC ads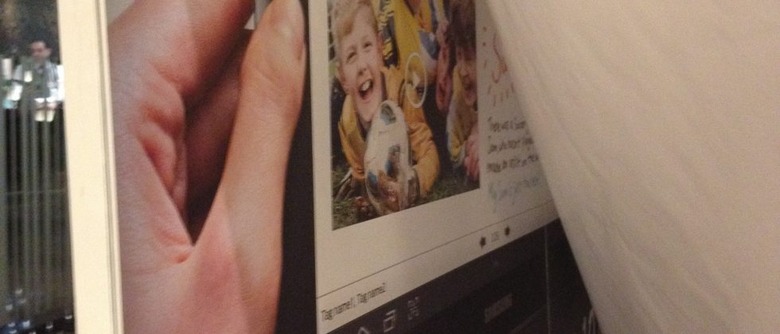 Well well well: this would appear to be some pretty solid evidence that Samsung's latest stylus kick is getting even more plus-sized come Monday. Swedish blogger Anders Frick spotted a couple of large-scale advertisements in and around the Fira de Barcelona, where the first pre-show events for Mobile World Congress are set to begin in just a few hours. While he was clearly doing a little surreptitious snooping, what he caught with his camera is pretty clearly the Samsung Galaxy Note 10.1, a full-sized tablet version of the original Galaxy Note. The device itself should get a proper unveiling sometime on Monday.
The branding matches the gigantic banners we saw for the Galaxy Note at CES last month, and jives with Samsung's earlier hints that we'd see more of the S-Pen stylus technology on bigger devices. There isn't much revealed in the photos themselves, though you can see what appears to be a basic notation app running. Since we haven't see hide nor hair of Samsung's TouchWiz running on a tablet, there's no way to tell if it's Android 4.0 Ice Cream Sandwich or the older Honeycomb. We also don't get a good look at the 10.1 version of the S-Pen, though it's save to assume that it would be larger due to a more spacious housing.
The question is, will the Note tablet family supercede the Galaxy Tab, since it's basically the same form factor with a little added functionality? The 5.3-inch Note isn't about to replace any of Samsung's more normally-proportioned smartphones, but a tablet with expanded pen input might just take the place of a "Galaxy Tab 10.1 2". And how does this fit in with previous rumors of an 11.6-inch Samsung tablet running a monster 2560x1200 resolution? With any luck, we'll find out in just over a day. Keep an eye on SlashGear's Mobile World Congress 2012 portal for the official unveil.
[via Cnet]