Samsung Galaxy Note for AT&T confirmed, spotted at CES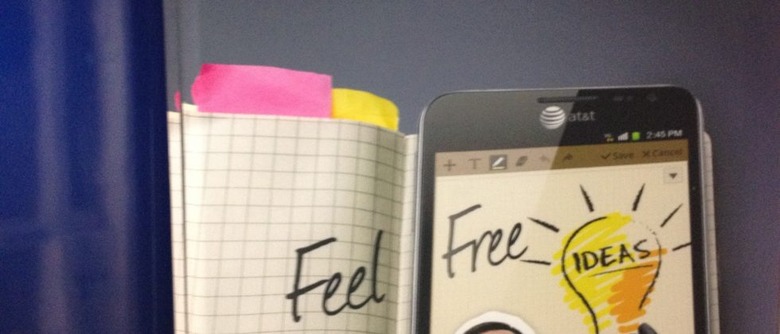 We've mentioned the Samsung Galaxy Note more than a few times in the recent weeks. With multiple leaks and even press images rocking the AT&T logo we've had a pretty good idea it was coming. Not to mention Anymode spilling the beans. Now that our team is all here at CES ready to rock, we're seeing plenty of the AT&T branded Galaxy Note being advertised.
Samsung is ready to bring their 5.3" Super AMOLED HD packing smartphone tablet hybrid to the states. Since first being unveiled at IFA late last year we've been patiently awaiting more details. As we our wandering the halls and streets here at CES we are seeing plenty of posters around. It looks to be headed to AT&T and soon, with the standard 4 Android capacitive touch buttons on board.
The images don't reveal much and don't mention anything about 4G or LTE but I'm sure we'll hear all the details from Samsung and AT&T shortly — not to mention the SlashGear team will run and get hands-on as soon as possible. Samsung recently announced an LTE version of the exciting Galaxy Note so hopefully AT&T will add the Note to their ever expanding LTE lineup.