Samsung Galaxy Note 10.1 LTE gets Jelly Bean plus VoLTE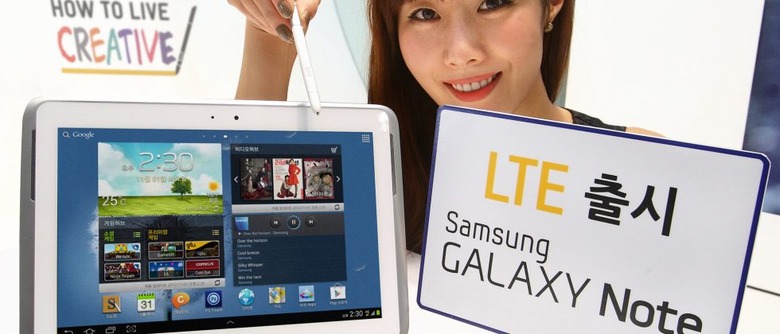 Samsung has begun pushing out Jelly Bean for the Galaxy Note 10.1 LTE, the 4G-enabled version of its stylus-toting tablet, complete with simultaneous voice and data support over LTE. The new update - which will initially be pushed out across three South Korean carriers – adds VoLTE support to the tablet, in addition to the niceties the newer version of Android delivers, and Samsung's own tweaks such as Multi-Window.
Multi-Window, as we've already seen on the Galaxy Note II, splits the display into two panes, allowing two apps to be accessed simultaneously, and Samsung says it has been improved in this newest firmware version. It's particularly useful on a larger tablet when used for researching, where one pane can show a browser or ebook textbook, and the other a digital notebook of some sort.
Samsung is hoping that users' digital notebook of choice is its own preloaded S-Note app, and the new update brings with it enhanced S Pen functionality including the Easy Clip feature also debuted on the Note II. There's also Air View, giving a preview of photo and video galleries, message content, calendar entries, and other data when the nib of the pen is hovered over them, and Quick Command which triggers new emails, searches, and other features with an upward swipe of the stylus.
As for simultaneous voice and data, that addresses one of the common complaints about LTE devices. VoLTE is an enhancement to traditional LTE, which would normally drop a data connection when a voice call was being made; that's usually acceptable on a smartphone, but less so on a tablet where a hands-free kit is more likely to be used, and access to the internet more commonly required in-call. It does require carrier support, however.
Samsung hasn't confirmed an exact roll-out schedule, and nor has it said when international Note 10.1 users might expect to see Jelly Bean as well.