Samsung Galaxy Note 10.1 advert stokes stylus suspense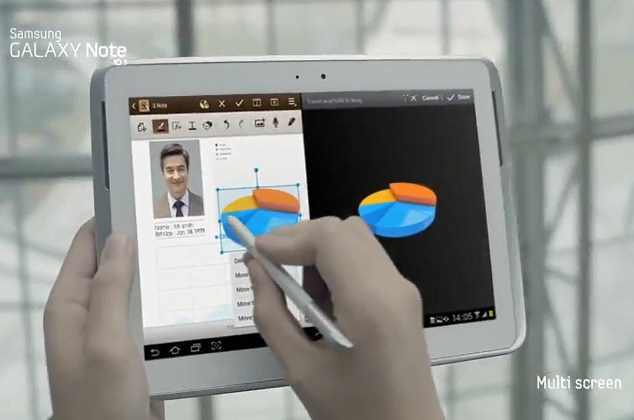 Samsung's Galaxy Note 10.1 pen-enabled Android tablet may be taking its sweet time getting to shelves, but sales may well be beginning soon if the arrival of a new advert is any indication. The 10.1-inch slate has its business credentials firmly on show in the thirty second spot (which you can see after the cut), with the stylus used for signing digital contracts, sketching out delicious pie charts, and generally futzing around with presentations.
The gist of Samsung's advertising attentions are clear: the Note 10.1 is just as useful in the business environment as Apple's iPad can be, and in fact arguably more so thanks to the dedicated pen. We've already seen the stylus at play in the Galaxy Note, but Samsung upgraded the Wacom digitizer tech in the step up to the bigger screen device from the phablet, for more precision and smoother digital ink.
Of course, the business market is still a minority share for Android tablets, and so we'd be very surprised if Samsung didn't also have a collection of consumer-centric Galaxy Note 10.1 commercials waiting too. Art is the obvious medium to suit a stylus, but the pen could also come in handy for notetaking or even precise control over music and video editing.
As for specifications, back when announced in February the Note 10.1 had a 1280 x 800 PLS TFT display, and ran Android 4.0 Ice Cream Sandwich on a 1.4GHz dual core Samsung Exynos processor. A 3-megapixel camera on the back was paired with an LED flash, while a 2 megapixel camera on the front could be used of video calls or taking vanity shots (with the stylus then employed to give yourself the mandatory mustache annotation).
There's more on the Galaxy Note 10.1 in our full hands-on back at MWC 2012.
[via AllAboutSamsung]